PLAYLIST PICKS: Stoney
Written by Kate Ferguson. Published: February 03 2014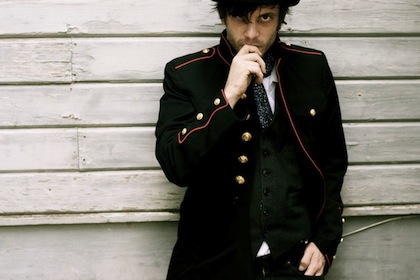 Singer and multi-instrumentalist Stoney (born Mark Stoney) is well known in his homeland of the U.K., but you might not be familiar with his name quite yet. You have probably heard some of his songs, however, as the musician's indie/alternative/rock/pop sound has been featured in a variety of television shows and he is a prominent songwriter and performer in England.
After a Stateside performance at the South By Southwest festival a couple years ago, Stoney decided to pack up and move to Austin, TX, where he currently resides. What happens when you move a Brit to the American South? A lot, apparantly. He set up home and set up shop, with a studio where he recorded his latest album.
More Than Animals, released January 14, is going to be a little more sophisticated and dark than his previous albums, so you can expect it to get a little more personal. His sound has been compared toDavid Bowie and Beck; in fact, NPR called him "a younger David Bowie with the dapper swagger ofThe Kinks." And who can argue with NPR?
That's not all that Stoney was doing in Texas -- he also formed a new band upon arrival called Bobby Jealousy that specializes in a "dirt-pop" sound and some super high-energy performances. He toured for a while with the band before switching back to his solo work, which is where we find him now.
The single "We Belonged" off the new album offers a look into the talented instrumental arrangements he specializes in. He can commonly be found on the keyboards and the guitar. The song is one of the more folk-oriented tracks on the album and provides a nice contrast to the more high-energy options. Stoney isn't really tied down to one genre because, truly, he can make a good song from them all and pull off a complex arrangement that feels familiar but new all at once.
"Devil on My Back" is one of the more alternative rock songs on the album and deals with restless demons in a darker but ultimately catchy way. Stoney has a gentle lift to his voice that works well for lighter songs and evokes thoughts about London history, but then it easily lends itself to full-bodied, more rock-type songs as well. He is a true talent… if we're lucky, he'll stick around in the States for a while.
You can stream More Than Animals via Bandcamp and SoundCloud. Keep up with Stoney viaFacebook, Twitter, Reverbnation, and his Official Website.
(Photo via James Moore)
Kate Ferguson is a Los Angeles local and freelance writer for a variety of blog genres. Look for article links (and the occasional joke) on her Twitter @KateFerg or check out her personal blog ThatsRandomKate.blogspot.com