PLAYLIST PICKS: i am Love
Written by Kate Ferguson. Published: December 10 2014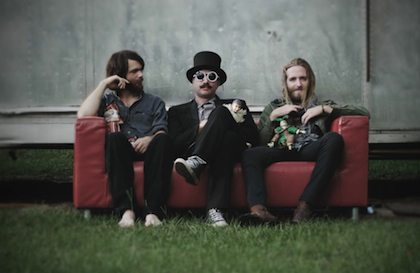 It's nice when music is born out of happy circumstances, but sometimes it takes a trial and some growth to really solidify itself in someone's life. This seems to be the case with the band i am Love.
The self-defined folkster band uses a progressive acoustic approach that includes the cello, woodwinds, zither, sax, and reverb. All of that mixed together creates, according to them, "the archaic sound of the future." Their style could be labeled as indie folk/psyche/rock.
Members of the band include: Joshua Christopher on vocals, guitars, and chorded zither; Will Whitmire on bass and banjo; and Kris Jackson on percussion, keys, and vocals. Originally, the band was a solo operation when Joshua started it as project outside Philadelphia, Pennsylvania. He cites the area for having a huge influence both on his musical styling but also on his way of living. He says: "This is where many of our Founding Fathers lived when they birthed this great nation. The countryside has a strong influence on our style of living, as well as our music. I sing a lot about overcoming difficult times but with an overall sense of hopefulness. I want to make music that will generate good feelings."
As for that aforementioned trial and growth, Joshua found his musical insight and inspiration when he was recovering from an accident that almost took his life. During his 12-month recovery period, he didn't listen to any music at all, but he did focus on writing it. His experience during the recovery was a lot of meditating while strumming his guitar, and the lyrics just started flowing through and out of him.
He shared the music with his friend (and future bassist) Whitmore, who helped him fine-tune the songs. The first EP was recorded with the help of seven other musicians to capture the sound that they were looking for. They eventually whittled the members back down to the current three in an effort to keep the musicmaking processed streamlined and cohesive.
With a refocus on their sound, the three released their most recent album and have been touring, including hitting festivals like SXSW, NXNE, CMJ, and the Brandywine Folk Festival.
One listen and you can tell that the group found their perfect mixture of members, instruments, and magic. "Ghost in the Hallway" is part-storytelling, part-vaudeville, slightly sinister, so strangely and majestically presemted that you can't really look away (unless you're closing your eyes to listen better). Check out the video below:
"Pillar of Salt" is a hauntingly upbeat jam, while "Swiftness" leans on more elements. "Pants on Fire" is like the soundtrack to that journey of a dream you had last night. Or maybe that's "Spew". Come to think of it, none of the songs would be out of place in a dream or dreamlike indie. i am Love's sound can be compared to other bands in similar genres, but it's also unique and totally unified throughout the album. Definitely a group to look out for.
Joshua says: "We make music to inspire people to be their highest selves, to know that they too can create. I play an autoharp to show people that you can use anything to make songs; it's about expression in its purest form."
Keep up with i am Love on Soundcloud, Bandcamp, Facebook, Twitter, and their Official Website.
(Photo via James Moore)
Kate Ferguson is a Los Angeles local and freelance writer for a variety of blog genres. Look for article links (and the occasional joke) on her Twitter @KateFerg or check out her personal blog ThatsRandomKate.blogspot.com