Macaulay Culkin Takes His Love for Delicious Cheese Pizza to a Whole New Level!
Written by Kevin Donaldson. Published: December 10 2014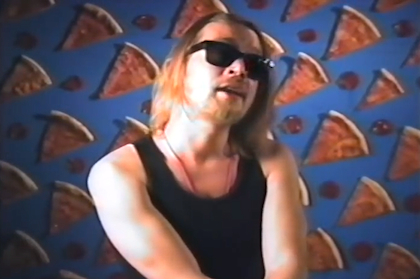 Former child star and current king of hanging out, Macaulay Culkin is proving to us that Home Alone isn't just a moive… it's state of mind. Now in his 30s, Culkin certainly doesn't live with his parents anymore, but he also doesn't have to worry about much with all the money he made (and continues to make) from his smash-hit movies.
Does he sound like somebody who cares what you think of him? Absolutely not! He's a man who knows what he wants to do and gets it done, but he'll also get it done whenever he pleases. There's no clock in House Culkin because there are no rules saying he has to have one. He'll stay up late watching mob movies with graphic murders while eating ice cream. Criminals have seen his work and are scared. Cops leave him alone because they know what he's capable of. He even smokes cigarettes in his house! To top it off, Culkin has also revealed that he is very much into art and is now showing the world that he is a prolific cover band musician.
For those of you who didn't hear about the band he started last year, let me fill you quick before you listen to them. They are a Velvet Underground cover band with a twist. The members of the group realized that all of the Velvet Underground songs can be altered pretty easily to be about pizza, thus the Pizza Underground was born. The Pizza Underground is a prime example that Culkin is a man who lives by his own rules, which, once again, means no rules at all. To get the band started, Culkin made a video parodying artist Andy Warhol, a well-known friend and supporter of the Velvet Underground.
And now let me formally introduce you to…
THE PIZZA UNDERGROUND!!!
What a set! It's got me in the mood for more a cheese pizza of my very own. Some people might get angry and say to Culkin, "Look what you did, you little jerk." Let's be honest, though, they just envy the Prince of Pizza. If you liked what you heard and want more, no need to worry, that's not the only cover band Culkin has in the works. There's word out there that Culkin and his fellow pizza-advocating musicians are starting another cover band involving Billy Joel and cats, which seems to be titled #PussyJoel. The only music released to the public right now is here:
Nothing like "We Didn't Start the Fire" set to a cat theme to get anybody ready for more songs about cats. Expect to soon hear such classics as "Piano Cat", "The Angry Young Cat", "Italian Restaurant Cat", "Uptown Cat", "You're Only Human (But You're a Cat)", and, of course, "She's Always a Cat".
When I was a kid watching Home Alone, I always thought that that was the life. Being left alone to do anything you wanted and take out ruthless criminals with flame torches and industrial-sized nails. Now that I'm older and have to work to have such luxuries, I've realized that Macaulay Culkin himself has the life I want.
(Screenshot via YouTube)
- Kevin Donaldson, YH Staff