Our Favorite Looks From The Emmys Gold Carpet!
Written by Caroline Thayer. Published: September 18 2018
Hollywood is always abuzz -- a record-breaking album here, a new scandal there, but it's around this time in September when L.A. emits a different kind of electric energy, one suppressed until that coveted time known as Awards Season.

Last night, the 70th Annual Emmy Awards took place, and despite the toasty weather, stars embraced the colors of Fall, showing up in yellow, red, brown, and black looks, to name a few. But as always, there were some standout stars that not only crossed boundaries but made fashion statements worth remembering and earned the award we all really care about: Best Dressed. Let's take a look at the slew of talented actors and actresses that showed up looking to stand out!

Now I know I said many stars embraced the aroma of Fall…but a few women chose to do something different.

CATEGORY IS: Yah, nobody cares about the "you can't wear white after Labor Day" rule. Because we can and we will.

Penelope Cruz (Chanel)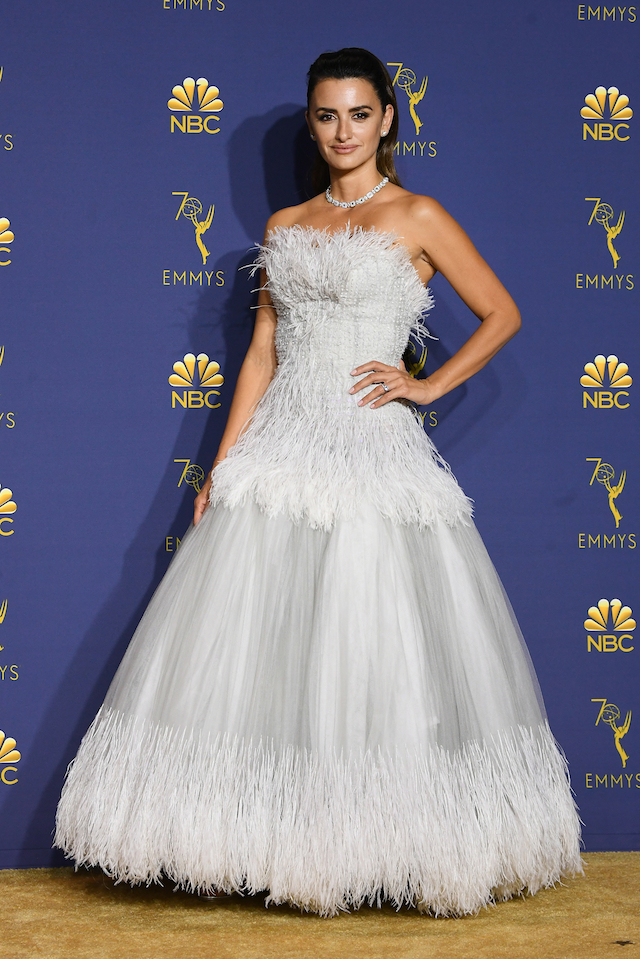 Penelope Cruz looked like a combination of Old Hollywood glam andPrincess Diana-era class in this stunning Chanel dress. The top portion featured a tweed corset with excess fringe/feathers, which flowed effortlessly into a tulle, very pale aqua skirt. The bottom of the dress was complimented with the same fringe/feathers that made for some ethereal imagery. With her hair pulled back in a sleek ponytail and a gorgeous statement necklace by Atelier Swarovski, Penelope's look is iconic. According to Harper's Bazaar, the top portion of her dress took 280 hours to create… which amounts to almost 12 days. It's surely no coincidence that Penelope debuted a look that will go down in history, as she attended the Emmys as a nominated Supporting Actress in the Limited Series or Movie category for playing the legendary designer Donatella Versace.

Jessica Biel (Ralph and Russo)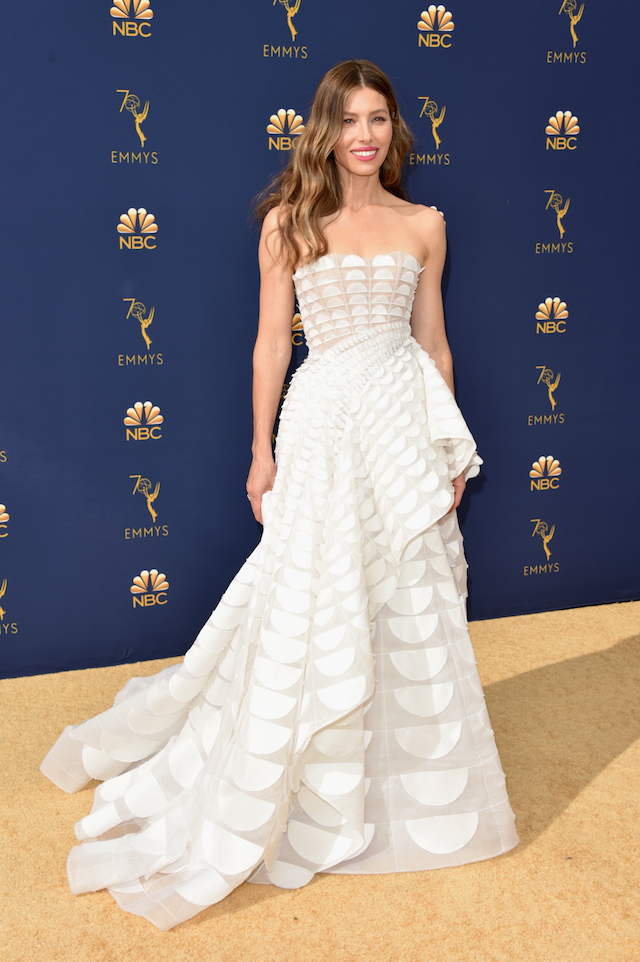 (© John Shearer/Getty Images)

Where to begin with this super cool, geometric Ralph and Russo number worn by Emmy nominee Jessica Biel? This dress is eye-catching because the half-circle pieces of fabric that run up and down the dress decrease or increase in size, depending on where your eyes start looking at the dress. At first glance, it looks like the bodice of the dress is transparent, but it's really just skin-toned, making for a more jarring emphasis on each piece of half-circle fabric. The dress has a swooping side train that falls to the right and makes me think anyone wearing such a dress should sashay herself into every room she enters. Shapes on dresses are always tricky; you run the risk of looking discombobulated and less appealing because your dress is doing too much talking, but Jessica absolutely killed this look.

Kristen Bell (Solace London)
                                                                                                                                                        (© Axelle/Bauer-Griffin/FilmMagic/Getty Images)

Not all will agree that this look from Kristen Bell is worthy of making the Best Dressed list. This gorgeous Solace London bodycon is only one color (white) and no embellishments. However, the daring square neckline that flows into fitted long sleeves and an equally fitting train is so chic and effortless that it makes me want to go out and wear a long white dress everyday. Kristen must really be feeling the wintery elements of her character Elsa fromFrozen, as she commanded the gold carpet looking like an ice queen -- but a nice ice queen!


CATEGORY IS: ~ FALLING INTO FALL ~

Alison Brie (Miu Miu)
                                                                                                                                                        (© Axelle/Bauer-Griffin/FilmMagic/Getty Images)

This yellow number on Alison Brie is the perfect color for that transitional period where Summer is just out of your grasp and we're just barely starting to taste Fall. This Miu Miu dress features a bodice reminiscent of an itsy-bitsy-teeny-weeny-yellow-polka-dot-bikini, but instead of polka dots, there are crystals! Attached to the center of the bodice, a piece of fabric dips low on either side, creating simple triangular cutouts that lay above the silky bottom portion of the dress, adorned with more crystals that slowly fade around the hip area. And of course you'll notice the daring slit directly down the middle of the dress, which compliments the middle piece of fabric responsible for connecting the skirt to the top of this look. I am a huge fan of this, Alison. And also Miu Miu.

Sandra Oh (Ralph and Russo)
                                                                                                                                                                            (© Matt Winkelmeyer/Getty Images)

No matter what she wore, Sandra Oh was destined to be a star at the Emmys last night. While I will always know Sandra as Christina Yang from "Grey's Anatomy", she was nominated as Outstanding Lead Actress in a Drama Series for her role in "Killing Eve". While any nomination is monumental, Sandra made history by being the first Asian woman to be nominated in this category. While she may not have won this particular award, she truly won the night. Not only did she bring her parents with her as her dates to the red carpet and awards ceremony (they were so cute and immensely proud of her), but she also crushed all competition on the carpet with this unique, red V-neck dress that had red jewels lined along the chest, waist, and shoulders, making for a regal belt and cap sleeved look.


CATEGORY IS: Dark and Defiant

Darren Criss (Armani)
                                                                                                                                                                                (© Frazer Harrison/Getty Images)

He may be holding an Emmy in his hand (as he won Best Lead Actor for a Limited Series or Movie), but Darren is literally the fire flame emoji in this Armani suit. Rocking a simple dark black undershirt with a shiny tux jacket and pant combo, both ablaze with metallic patches evoking what some might perceive to be flames of fire, I found myself questioning if this was ever the man who played Blaine on "Glee". In addition to splashes of metallic, rhombuses were embroidered into the suit, creating a very defined geometric design.

Keri Russell (Zuhair Murad Couture)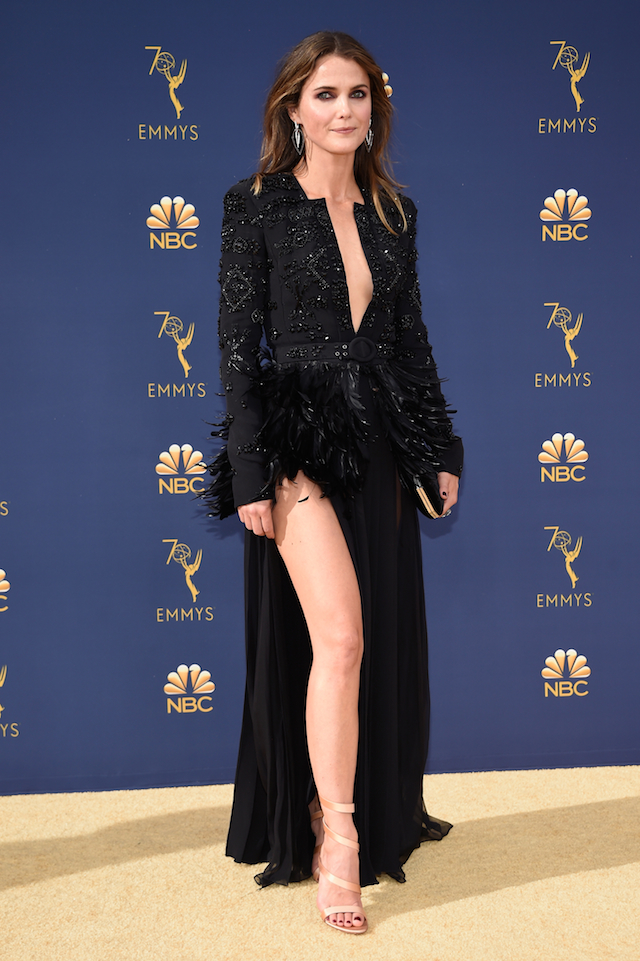 (© Kevin Mazur/Getty Images)

There is something so chic about the use of feathers, or the illusion that there are feathers on a piece of clothing. Keri Russell's incredible jacket and skirt combo from Zuhair Murad was just that -- so fun and fabulous. The plunging black jacket with pretty standard beaded designs doesn't look necessarily unique… until you get to the waist area where the jacket "lets loose" and becomes all feathers. The skirt is there to complete the look, and adds an element of sleekness with the very high leg slit! The contrast of the feathers with the simple elegance of the black belt works because of the circular buckle. Putting this out into the universe: I need this outfit.

Antoni Porowski (Balmain)
                                                                                                                                                                                     (© Kevin Mazur/Getty Images)
I mean, would you expect anything less from one of the members of "Queer Eye"'s Fab Five? Looking incredibly handsome in his Balmain angled buttoned blazer and skinny black pants, the real show was saved for Antoni's feet, where he shined brighter than a diamond with chrome shoes, also by Balmain. When you look at the shoes at a closer angle, they almost appear to be shingled. For anyone who says articles of clothing, bags, or shoes are not art, I challenge you to look at Antoni's shoes. I think you might have a change of heart. The choice to wear a cummerbund was the right one, as it tied the whole look together. It says elegant, but with a little pizazz.

The Emmy Awards this year were full of incredible fashion, but also equally incredible moments on the stage. There was a proposal, a funny singing/dancing routine, and a whole lot of jokes by SNL cast members and co-hosts of the night, Michael Che andColin Jost.

What stood out the most to you? Were you enthralled in all the high-fashion being served on the red carpet, or were you more interested in who won those gold, shiny trophies? Let us know!
(Top image via Matt Winkelmeyer/Getty Images)
- Caroline Thayer, YH Contributing Writer