Our 5 Favorite "SNL" Duos!
Written by Emmy Freedman. Published: September 29 2017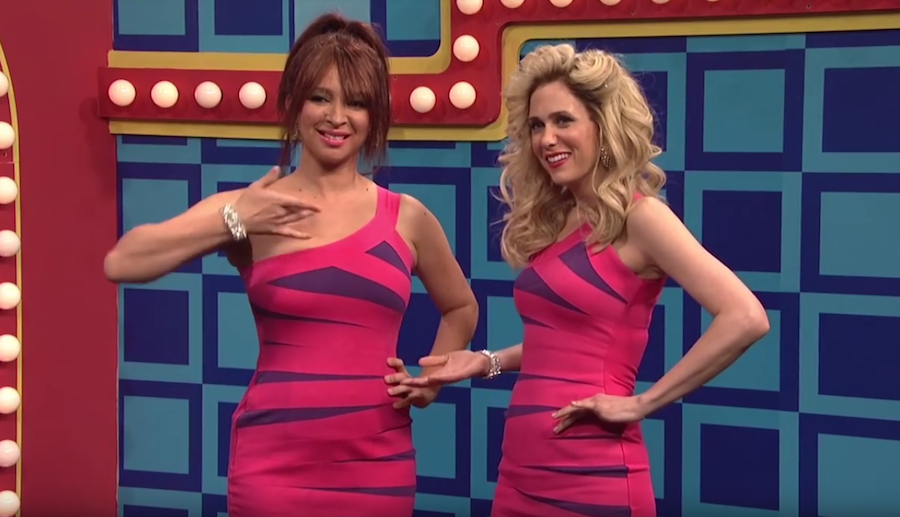 "Saturday Night Live" provides us with poignant comedy, but it also gives us an enviable cast of #squadgoals every year. When cast members stick around on the show for a few seasons, you start to see them settle into specific characters and which of the comedians are pals. So in honor of the brand new season beginning this Saturday (September 30), here are some of the best duos from the last few years!
1. Maya Rudolph and Kristen Wiig
Before they both starred in Bridesmaids, Kristen Wiig and Maya Rudolph overlapped on "SNL" for a couple of years. During their time on the show, they appeared in the "super showcase" recurring sketch in which they both played models. They always looked like they were having so much fun in those bits, especially when Kristen drove a golf cart through the set. Imagine if every job looked like this much fun.
2. Amy Poehler and Seth Meyers
Seth Meyers ran "Weekend Update" for a long time, but he got his start by co-hosting the segment with Amy Poehler. The two had an incredible energy, which was best seen in their "Really?!?" bit, in which they called out all the crazy, stupid things people do. And because of their contagious energy, it also seemed like they had a cute, funny friendship.
3. Amy Poehler and Tina Fey
Yes, Amy and Seth were adorable. But the very best pair of "Update" hosts were Tina and Amy. Girls get stuff done, and they made that apparent by making the segment the best it ever was. Not only did they make us laugh week after week, but they gave us an enviable friendship, too — they seemed more like sisters than buddies.
4. Aidy Bryant and Kate McKinnon
Aidy and Kate are like the new Tina and Amy. They appear in sketches together all the time, which makes sense because they frequently collaborate with the same two writers to form one perfect quad squad.
5. Beck Bennett and Kyle Mooney
Beck and Kyle are relatively new additions to the cast, and upon their arrival it was evident that the two played well off each other. Since then, they've carved a niche for themselves and their unique sense of humor. Plus, Beck and Kyle have been pals for a long time as they first became noticed for their comedic chops when they were part of the four-piece comedy group, Good Neighbor. Because of their brotherly love, their sketches are made all the better.
Who are your favorite SNL duos?
(Image via NBC/YouTube)
- Emmy Freedman, YH Contributing Writer