One to Watch: Andrea Riseborough
Written by . Published: August 30 2011
It's a breakout year for British ingenueAndreaRiseborough.
After supporting roles in
Happy-Go-Lucky
 (starring
Sally Hawkins
) and
Never Let Me Go
 (starring
Carey Mulligan
,
Andrew Garfield
, and
Keira

Knightley
),
Riseborough
steps up to leading lady in pair of stylish period films: the British gangster drama
Brighton Rock
 and
Madonna
's much-hyped directorial effort,
W.E

.
And
Riseborough
has a slew of projects on the way, including the spy thriller
Shadow Dancer
 with
Clive Owen
, the crime tale
Welcome to the Punch
 with
James

McAvoy
, and a new adaptation of
Leo Tolstoy
's
Anna

Karenina
 starring
Keira
Knightley and
Jude Law
.
It's been a meteoric rise for the promising up-and-comer, a Royal Academy of Dramatic Art (
RADA
) grad who first gained notice in the
U.K
. for playing the young
Margaret Thatcher
in the BBC telefilm
Margaret Thatcher: The Long Walk to

Finchley
 in 2008, beating
Meryl

Streep
— who plays Thatcher in
this fall's
The Iron Lady
 — to the punch.
The normally stunning
Riseborough
de-glammed
herself for her role in
Brighton Rock
 as a mousy, sheltered waitress in the English seaside resort town of Brighton in the
1960s
who inadvertently gets mixed up in a mob turf war and falls for a young bad-boy gangster played by
Sam Riley
(
Control
).
Brighton Rock
, which also features
Helen

Mirren
and
Andy

Serkis
, is the second major film adaptation of the novel by renowned author
Graham Greene
. The first, in 1947, starred
Richard

Attenborough
and was released in the
U.S
., somewhat amusingly, as
Young

Scarface
. This version moves the setting from the 1930s, when the book was written, to 1964, incorporating the mods and rockers riots happening at that time in the country. Interestingly,
Riseborough
landed the part after Carey Mulligan — her co-star from
Never Let Me Go
 — dropped out to do
Oliver Stone
's
Wall Street: Money Never Sleeps
.
Brighton Rock
, which premiered last year at the Toronto International Film Festival and has already opened in much of Europe, is currently in limited release from
IFC
, and will be
available
on video-on-demand beginning August 31.
But it's Madonna's
W.E

.
 that will really put the spotlight on
Riseborough
when it has its world premiere at the Venice Film Festival early next month. Australian beauty
Abbie

Cornish
plays a love-starved New Yorker in 1998 who becomes obsessed with the love story of King Edward VIII (
James

D'Arcy
) and American
divorcée
Wallis Simpson (
Riseborough
) in the 1930s, which caused such a scandal in Britain that it threatened the monarchy, and the film flashes back and forth between the two time periods.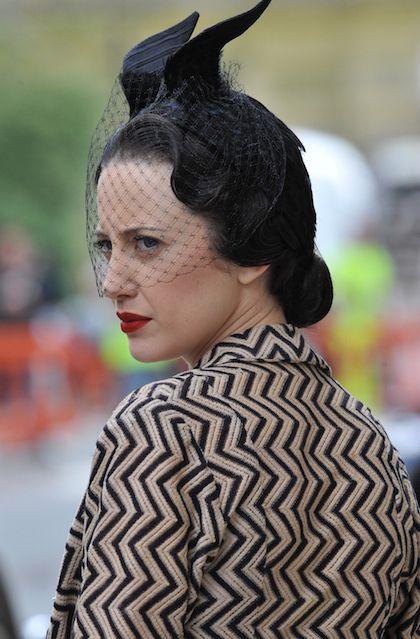 Of course, King Edward VIII's abdication of the throne to be with Simpson was just recently depicted, albeit in a briefer fashion, in last year's Oscar winner for Best Picture,
The King's Speech
, with the couple played by
Guy Pearce
and
Eve Best
. But in
W.E

.
, their relationship is put front and center. It's early yet, but The Weinstein Company, which opens
W.E

.
 in limited release on December 9, has been positioning the film as as Oscar contender. Whatever the reaction will be on the famed Lido in Venice, it's clear that
Riseborough
is just at the beginning of her cinematic ascent.