Nick Offerman's 'Hearts Beat Loud' Is The Feel-Good Indie Flick of the Summer!
Written by Meg Spaulding. Published: June 08 2018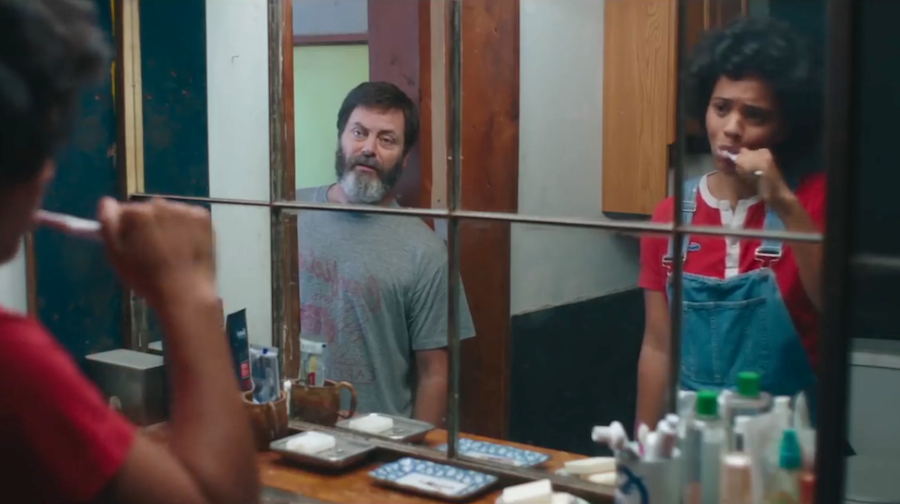 While you are overloaded with trailers and billboards for this year's Summer blockbusters, don't let Summer indie movie Hearts Beat Loud fly under your radar! This little movie currently has a 100% on Rotten Tomatoes and had a successful premiere at Sundance this January. Your favorite outdoorsman, Nick Offerman, stars as a city-slicker in a nice break from his typical roles. He plays Frank, the owner of a record store that's in decline, and a father to Sam, who just got into UCLA for pre-med. Sam is played by Kiersey Clemons, who you might recognize from her role as Kira Starr in Disney Channel's "Austin and Ally" or as part of Lady Gaga's haunting "Till it Happens to You" music video.
Frank and Sam have a close relationship and share a passion for music. They record a song together, Frank comes up with a band name, and before they know it, their song is on Spotify in the New Indie Mix playlist. They make it look so easy! Then the question becomes what to do next. Frank thinks his daughter should take a year off to see what happens with the band, and Sam can't believe her own father is suggesting she skip college to be in a band. Of course we have to wait and see the movie to find out what will happen.
At its core,Hearts Beat Loud looks like it will showcase the ranging emotions and difficult decisions that come with leaving home for the first time. Nick Offerman has called Hearts Beat Loud"the sweetest film of the summer" and the trailer certainly backs up his claim. This movie looks like it will be warm and uplifting, and with some new music to love, it comes as a perfect start of Summer treat. It hits theatres starting today (June 8)!
(Image via Gunpowder & Sky)
- Meg Spaulding, YH Contributing Writer