New "Stranger Things 3" Trailer Promises a Summer That Will "Change Everything"!
Written by Katie Marzullo. Published: March 20 2019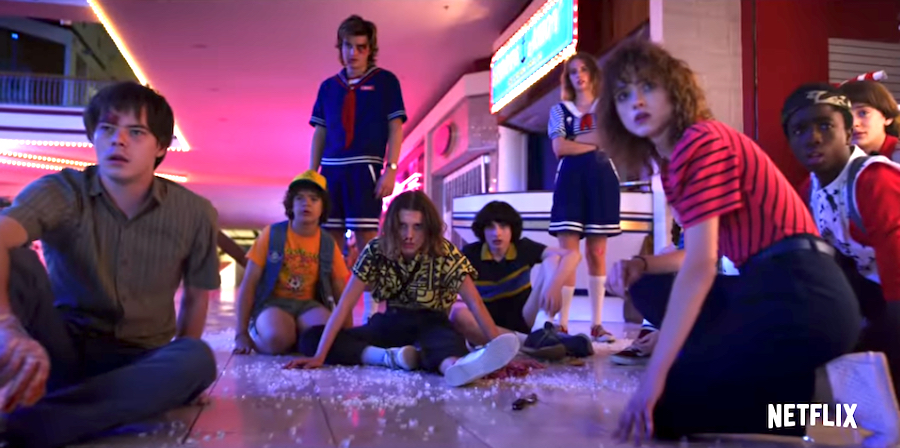 The hair! The fashion! The monsters! Get hype, kiddos, because the '80s are back in a big way and so is "Stranger Things", bringing you a Summer you're not likely to forget!
At long last, Netflix has dropped the first trailer for the 3rd season of "Stranger Things" and we've never been more ready for anything, ever. After almost 2 years since the previous season, theDuffer Brothers have shifted focus from a Fall/Halloween setting to a Summer of fun, sun, malls, and, of course, murderous creatures from another realm. One year after the events of Season 2, our favorite kid gang is back and seem closer than ever. Eleven, now going by the name Jane Hopper, is finally adjusting nicely to a normal life, doing things all normal kids do -- but, of course, as we know, she is NOT normal, as we see in the opening sequence of the trailer, where she uses her telekinetic powers to play a little well-meaning prank on Dustin. She also appears to be BFFs with Max now, which I for one and relieved to see, considering the end of last season when Eleven gave her the cold shoulder out of jealousy of her friendship with Mike.
Meanwhile, life just got a whole lot more exciting for the residents of Hawkins, Indiana, with the opening of the Starcourt Mall, which boasts all the latest, trendiest stores, a food court, and is in no way a cover for a shadowy corporation. But while working mom Steve Harrington is serving up scoops of ice cream for the local kids, a new threat from the Upside Down is rumbling just beneath the surface...
- Katie Marzullo, YH Staff Editor