NBA All-Stars Spin the "Wheel of Fortune"!
Written by Katie Marzullo. Published: February 01 2013
Pat, I'd like to solve the puzzle: "It's NBA Week On Wheel Of Fortune"!
Start pooling your cash prizes now, basketball fans, for the slew of vowels you'll be buying next week when five NBA franchises team up with legendary game show "Wheel of Fortune" for an entire week of special guests and themed prizes!
Just in time for the NBA All-Star Game, Hall of Famer James Worthy, along with current superstars such asLeBron James, Dwyane Wade,Kobe Bryant, Dwight Howard, and many more will be paying a visit to "The Wheel" to help Pat Sajak and Vanna White hand out some custom NBA goodies to the lucky contestants! From February 4 through the 8th, the classic game show's set will be converted to a basketball wonderland, and winners will be treated to super groovy prizes like tickets to home games and shopping sprees at the NBAStore.com!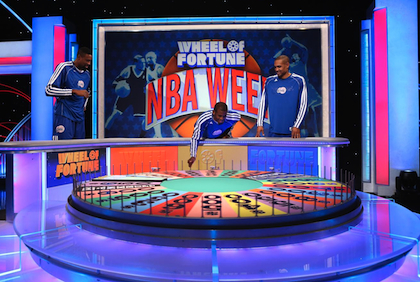 "Wheel of Fortune" celebrates its 30th year on the air this year, with Pat and Vanna having held their posts for the entire duration. What a gig, eh?? I remember watching the show with my grandparents when I was little, and kicking their butts every round! Ha! At any rate, kudos to the people at the show for their astounding longevity, and be sure to tune in all next week to see the NBA All-Stars take over the studio!
(Photos via NBA)
- Katie Marzullo, YH Staff Editor