My Day With Fake Celebrities
Written by Katie Marzullo. Published: April 10 2010
In the words of Stanley Kowalski to Blanche Dubois in A Streetcar Named Desire: "We've had this date with each other from the beginning."
(It's a movie "" go rent it!)
Last summer, Madame Tussaud's famous wax museum finally opened a branch in the one city that, let's face it, it was made for "" Hollywood!
Mere steps away from Grauman's Chinese Theater, Madame Tussaud's is just the latest in a string of tourist traps to be found in the Hollywood & Highland area, but this one offers something a little extra than, say, the Ripley's Believe or Not!Museum "" namely, a world-renowned attraction offering quality artistry combined with public interactivity. Or, in laymen's terms: really, really life-like wax figures of celebrities that you can grope!!!
MJ in the background chooses the winner. Sorry,J.Lo!
I finally had the opportunity to visit Madame Tussaud's recently, and it did not disappoint! For the most part anyway.
On the whole, most of the figures were extremely impressive "" to the point where I expected them to blink and come to life at any moment. However they do the eyes (a painstakingly detailed process where they make sure every vein in the white area is consistent!) is what really makes them stand out.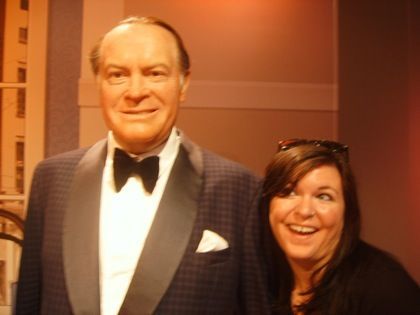 Bob Hope's new straight(wo)man!
Most surprising was how accurate the figures from Old Hollywood came out "" Vivien Leigh (as Scarlett O'Hara from Gone With the Wind), Fred Astaire and Ginger Rogers, andGloria Swanson were spot-on!
Some other figures"¦ Eh. I had to actually look at the name on the plaque to figure out who it was, such as the case with the George Clooney,Mel Gibson, Marlene, Dietrich, and Penelope Cruz figures.
Every figure it out in the open, and guests are invited to interact with them as they see fit "" except, no touching of the face and no putting hats on them (uh, okay!). So, anything from the neck down is fair game. I witnessed one young lady taking much advantage of this with the Leonardo DiCaprio figure"¦ Oh my!
Three floors of sparking celebs around every corner, Madame Tussaud's is definitely worth the $20 ticket price "" way more so than the $5 dollars you would have to pay to get your picture taken with one of the celeb impersonators next door at Grauman's. It also offers a rare perspective on the actual dimensions of some movie stars "" I had no idea "So-and-So" was so short!*
(*Names omitted to protect the vertically-challenged.)
So, the next time you're in Hollywood, do visit the freakishly life-like representations of Hugh Jackman, Britney Spears, Will Smith, Tom Hanks, Clint Eastwood, Al Pacino, Branjelina, Jackie Chan, and, of course, my future husband:
Sigh.
Check their Website for more info.
- Katie, YH Staff Editor