Miss America 2020: Meet Our Winner and Runner-ups!
12-20-2019 by Courtney Allen
  ( © Donald Kravitz/Getty Images)  
And the winner is…..Miss Virginia!
Our 2020 Miss America, Camille Schrier, was crowned last night and she officially kicks off her royal reign today. The newly crowned queen is a dedicated student at Virginia Commonwealth, an enthusiastic scientist, and a determined advocate for drug safety. She wowed the judges with her entertaining yet informative science demonstration and an attention-grabbing social initiative presentation on drug education and safety. The well-deserved winner had every eye in the room on her then and in the end during her beautiful crowning moment.

Of course there was only one lucky lady, but we just can't forget about the other 50 fabulous women that we absolutely adored. There's enough love to go around! Just before the queen bee was granted the ultimate title, she competed in the Top 3 alongside first runner-up Victoria Hill (Miss Georgia) and second-runner up Simone Esters (Miss Missouri). We've got to give it up to these two ladies who absolutely killed the talent portion of the competition. Simone performed a dance routine with not two, but three batons, and Victoria sang opera in notes that we could never hit.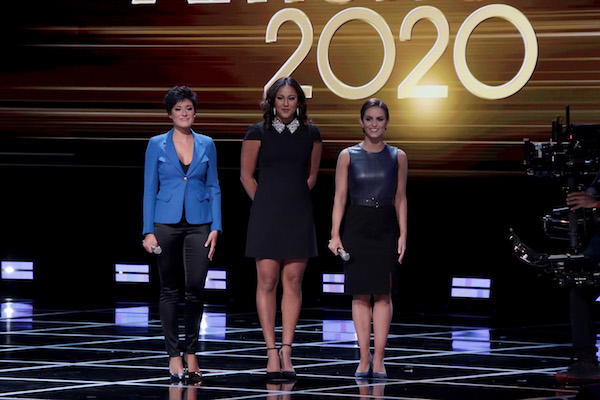 ( © Donald Kravitz/Getty Images)
If you know anything about the Miss America pageant, it's that everyone at home has different opinions on who should take home the crown. But this year, there wasn't much we disagreed on with the three dynamic judges who consisted of Grammy-winning recording artist Kelly Rowland, "Queer Eye" culture expertKaramo Brown, and "Superstore" star Lauren Ash. Here is where we differed:
Miss Missouri Simone Esters would've been moved to first runner-up. We loved Miss Georgia Victoria Hill, but ultimately Simone's authentic spirit, upbeat attitude, and interview answers completely stole our hearts! Miss Connecticut Jillian Duffyis also worth mentioning. Although she made it into the Top 5, we think she could've very easily been the second runner-up. Her story about her battle with cancer and her commitment to it now made a strong impact.
Congratulations to the 51 beautiful ladies who made it to the Miss America stage last night, and biggest of congratulations to our new Miss America Camille Schrier! We wish you all the best during your reign. We know you'll make us proud.