Meet The 2023 MTV VMAs Nominees Up For Best New Artist!
Written by Brooklynn Taylor. Published: September 01 2023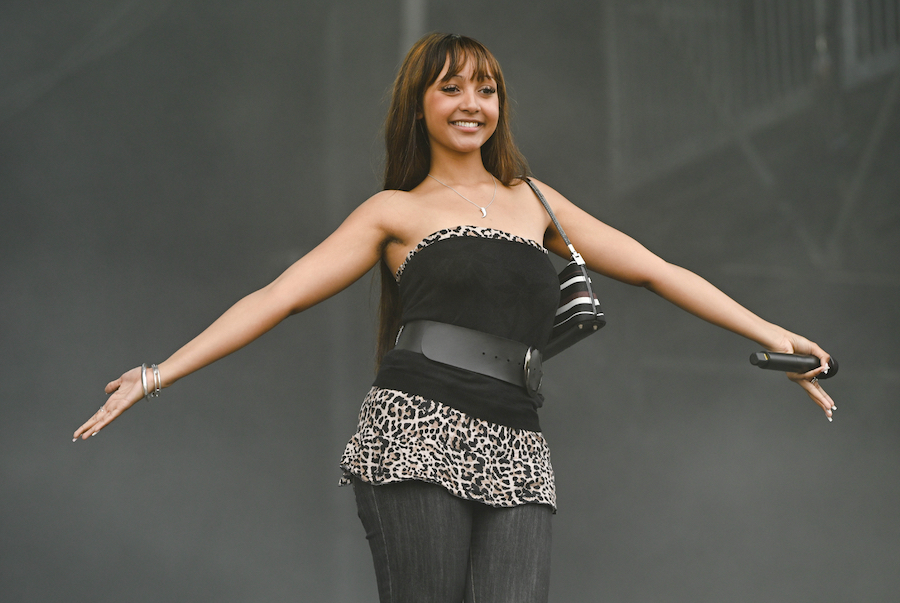 (Photo © Astrida Valigorsky/Getty Images)
The 2023 MTV Video Music Awards are right around the corner! Before these young stars hit the carpet on Tuesday, September 12, take a look down below and meet the nominees to help cast your vote for Best New Artist!
1. GloRilla
As a North Memphis native rapper, GloRilla got her big break after the release of her viral single "F.N.F. (Let's Go)" in 2022. The song became a Summer anthem and earned the then-23-year-old her first Grammy nomination for Best Rap Performance! Since her debut, GloRilla has had several star-studded hit collaborations with some of today's hottest artists, including "Tomorrow 2" withCardi B and "On Wat U On" with Moneybagg Yo. Revealed as a member of XXL's Freshman Class in June 2023, GloRilla is among a hand-picked class of emerging rappers on the rise.
2. Ice Spice
After the release of her debut EP Like…? back in January,Ice Spice has quickly skyrocketed to stardom. Known for her catchy bars, drill beats, and, of course, her signature ginger curly-Qs, she has become one of the biggest breakout stars of 2023 so far. The People's Princess, as her devoted fans have dubbed her, is on fire with four Billboard Hot 100 Top 10s, with her highest reaching hit to date at No. 2 withTaylor Swift's "Karma" remix. Her other highly notable features include "Barbie World" and "Princess Diana" with her idol, Nicki Minaj, and "Boys a Liar, Pt. 2" with PinkPantherss, who is also a nominee!
3. Kaliii
At just 12 years old, Kaliii started her rap career and had big dreams that soon turned into reality. The now-23-year-old's hit single release "Area Codes" has racked up nearly 140 million Spotify streams to date in the U.S. alone and has become a viral sensation on TikTok. She has earned spots on Billboard's Hot 100, Hot R&B/Hip-Hop, Mainstream Top 40, and Rhythmic charts. She is trailblazing her own path in hip-hop through her lyricism, unique style, and flow! Kaliii is gearing up to go on tour as a special guest with rapper A Boogie Wit Da Hoodie across the U.S. in 12 cities on his Me vs. Myself: The College Tour starting this month.
4. Peso Pluma
In his brief period since joining the music industry, Peso Pluma's resume is already successfully stacked up. Currently holding the record as the most listened-to artist on Spotify in Mexico, his rhythms and hooks have earned him millions of fans worldwide. His biggest release, "Ella Baila Sola" with Mexican musical group Eslabon Armado, racked up 24 million streams and punched a spot at No.1 on Billboard's Global 200. Several of Pluma's collaborations have hit the Top 50 Global chart five times! With over 10 million monthly Spotify listeners, Peso Pluma's sound is one-of-a-kind.
5. PinkPantheress
The U.K. singer-songwriter's breakthrough singles "Break It Off" and "Just for Me" in 2021 gained quick traction on both Spotify and TikTok. PinkPantheress's eclectic sound with samples of pop and funk is one which she refers to as "new nostalgic". Her 2022 EP Take Me Home featured the original track of "Boy's A Liar" that she later collaborated with Ice Spice on for "Boy's A Liar Pt. 2", securing the No.1 spot on U.S. Apple Music charts. PinkPantheress's latest single "Angel" appears on the Barbie movie soundtrack.
6. Reneé Rapp
In addition to being actress -- best known for her starring role as Leighton in the HBO Max Series "The Sex Lives of College Girls" --Reneé Rapp is also a powerhouse vocalist. Her first hit song "Tattoos", released in 2022, marked the beginning of her successful musical career, with over 15 million plays on Spotify to date. Reneé Rapp recently announced the release of her debut studio album, Snow Angel, which she will be taking on tour across several sold-out cities in the U.S. Canada, Scotland, Ireland, Quebec, and the U.K. Her first stop? September 15 in Houston!
To vote and view the complete list of all the categories and nominees. clickhere!
Who will take home the iconic Silver Moonman? Tune in live for the 2023 MTV Video Music Awards on Tuesday, September 12, at 5pm PT/8pm ET on MTV or stream live on Paramount+!