Mads Lewis Shows Off Her Harry Potter Collection & We Are Obsessed!
12-16-2021 by Meredith Reilly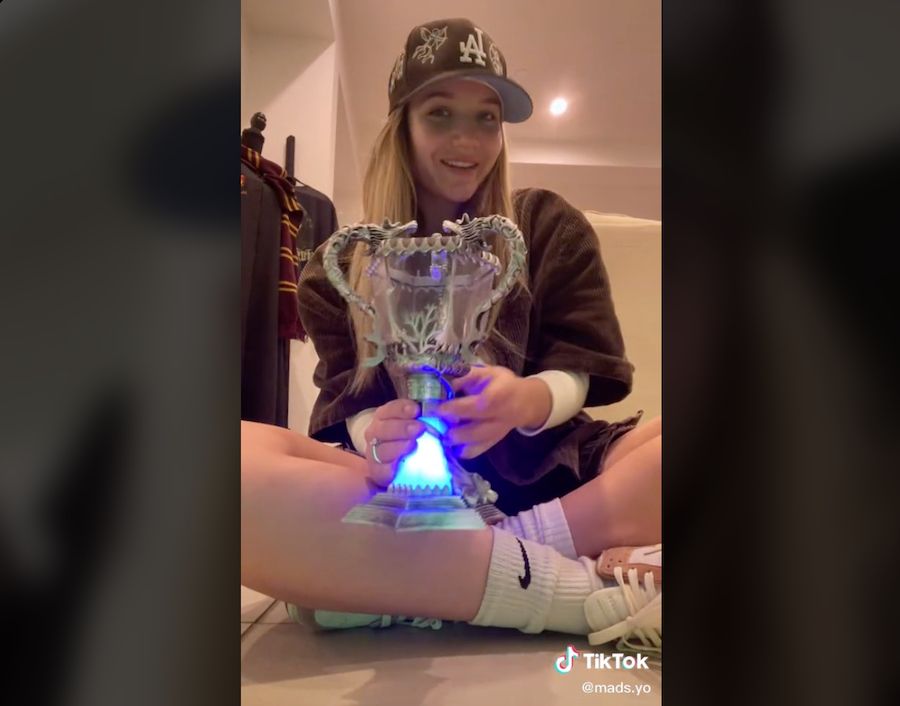 (Madison Lewis/TikTok/@mads.yo)
Attention Harry Potter fans: it's okay to be jealous! TikTok queen Mads Lewis stunned her followers recently by showing off her impressive Harry Potter collection. Mads took to TikTok to show her 12.5 million followers the extensive collection over a four-part series. 
Mads took part in the "collector check" challenge, showing off (a) the most expensive item in her collection, a Harry Potter chess set; (b) the least expensive item, a Dobby stuffed animal; and (c) the item everyone wants to steal, which was obviously a Nimbus 2001. But let me tell you, she was just getting started. This particular video featured 10 items, which isn't even half of her collection.
After showing off some of her collection in the challenge, fans demanded to see more. Therefore we were blessed with four videos of Mads explaining each item she has. Mads kicks off Part One by showing viewers the Mirror of Erised, which her boyfriend so kindly gifted her. Next she goes on to show us all of her wands. Don't worry, I counted so you don't have to -- she has around 22 of them! 
Mads jumps right into Part Two by letting fans know that Sirius Black is her second-favorite character after Severus Snape, and simultaneously shows off her collectable Sirius Black T-shirt. Then, she goes on to show viewers some Harry Potter artwork that she has displayed. Finally, my favorite part of the video is when she shows all the potions she has, and the best part is, she made them herself! 
Part Three highlights a quill and ink that Mads can actually use, as well as a purse, both of which she purchased from Universal Studios. Next, viewers get to see Harry Potter-themed steamer trunks where she keeps her Bellatrix Lestrange costume and Hogwarts acceptance letter. The video goes on to show many more collectors items we can all be jealous of, like Lucius Malfoy's cane, for example. 
In Part Four, Mads shows us her custom Gryffindor cloak that says "Madison" on it, but don't worry, she's not a poser -- she took the test and is in fact a Gryffindor! Even though she kind of wishes she was a Slytherin, like boyfriend Christian Plourde. Next in her collection, she shows off Petunia's cake, as well as Harry's birthday cake from Hagrid. both of which are made out of styrofoam. Finally, she shows viewers the first item she ever collected: Hermoine's time-turner!
Mads's collection of Harry Potter memorabilia is one of the most extensive I have ever seen, and as a fellow "Potterhead", I am quite jealous. It makes me wonder, though: what will she collect next?!