Lindsey Stirling/Pentatonix's Killer Imagine Dragons Cover!
Written by Katie Marzullo. Published: March 15 2013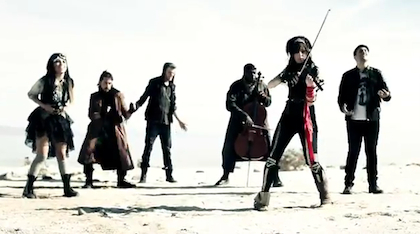 Imagine Dragons +Lindsey Stirling +Pentatonix = Say no more!
If you watch TV, you're aware that Imagine Dragons's "Radioactive" has pretty much become the official trailer theme song for post-apocalyptic/dystopian movies and TV shows like The Host, "Revolution", "The Vikings", and more. And it's no wonder – an epic story needs an epic soundtrack. And it's the perfect vehicle for a couple of musical acts that have become hits on YouTube.
So, when you combine the flawless vocal stylings of a cappella group Pentatonix with the contemporary-classic violin playing of Lindsey Stirling, this already stirring song takes on all new proportions. Whereas the original Imagine Dragons version has a distinctive revolutionary, call-to-action feel to it, this new take uncovers the hidden melancholy and humanity just under the surface. It's totes goosebump fodder. Welcome to the New Age, indeed!
Check out Lindsey and Pentatonix slaying the Imagine Dragons jam below!
(Photo via Lindsey Stirling/YouTube)
- Katie Marzullo, YH Staff