L.A. Food & Wine Festival Serves Up First-Class Dish!
Written by Katie Marzullo. Published: August 13 2012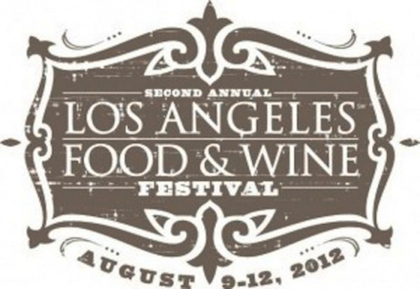 I came. I saw. I ate.
For the second year in a row, a culinary extravaganza descended upon the City of Angels – a little slice of foodie heaven known as the L.A. Food & Wine Festival. Or, as I like to call it, Foodgasm '012.
For 4 days this past week (August 9-12), some of the hottest chefs, eateries, vineyards, sommeliers, etc., gathered in our fair city to share their wares with a series of events meant to celebrate the miracle that is food, glorious food. The highlight of the weekend – the one that everyone wanted to get their hands (or mouths) on, was Saturday evening's Lexus LIVE on the Plaza with Wolfgang Puck and Friends, at L.A. Live in Downtown L.A. So, naturally, I was there, with my stretchy pants and an empty stomach!
Though I saw no signs of Wolfgang personally, probably because my eyes were fixed firmly to my plate, his presence was definitely felt in some of the delightful, delicious delicacies being cooked up by his talented coterie of chefs and colleagues. As I made my way from booth to booth, every new offering seemed even better than the last.  My taste buds felt like they were getting a first-class spa treatment… or a full-body massage with a happy ending. I consider myself a gal with pretty good taste, but never any tastes THIS good!
I was able to sample the culinary masterpieces of chefs such as Gale Gand (of Chicago's TRU Restaurant), Gino Angelini (L.A.'s Angelini Osteria), Peter Armellino (Saratoga's The Plumed Horse), Hubert Keller (San Francisco's Fleur de Lys), and other such fine dining establishments like The Hitching Post (Buellton, CA), SBE Catering, and Payard Patisserie & Bistro (Las Vegas). Oh yeah, there was a bunch of wine too, but I don't drink and I was driving, so no vino por moi. I'm sure it was very tasty though.
Tickets for this event were well into the $200 range, but it was worth it (though I got in for free, obviously). Not only was the food outstanding, but it was served on REAL plates with REAL silverware, and the wine was poured into REAL glasses. That might sound trivial, but imagine trying to eat seared scallops on sweet corn cake with truffle glaze on a paper plate. Bite your tongue! (<- beef tongue also served on real china, btw)
Having not properly paced myself and made a point to completely finish every plate that was handed to me, I felt rather like a beached whale once I got to the end of the processional. But it was the best damn meal I'd ever had in my life. Check out some of the pictures I took of these works of art below: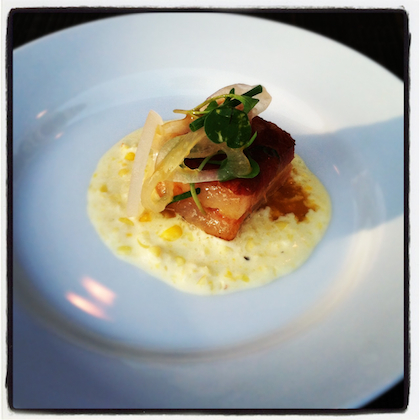 Pork belly with pickled onion and a corn sauce... Yum! (BTW, every other dish, it seems, had corn in it... what gives??)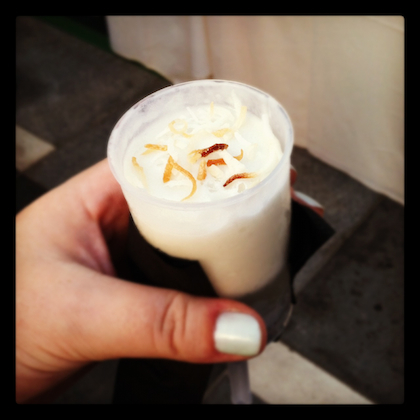 Piña colada push-up! Very yummy and refreshing, but I only got in a few licks before it started melting all over the place...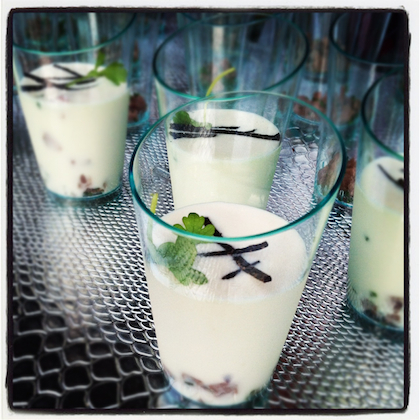 Duck rib shooters with truffle... Oh.Em.Gee.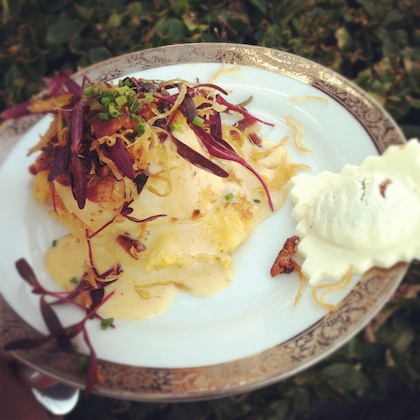 The aforementioned seared scallop; on the right, a chocolate ravioli.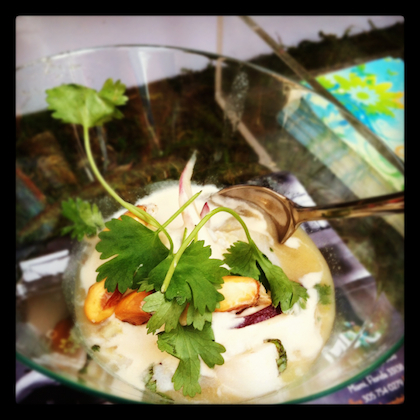 A lovely little ceviche. I'm not a huge seafood person, but I could just drink the broth!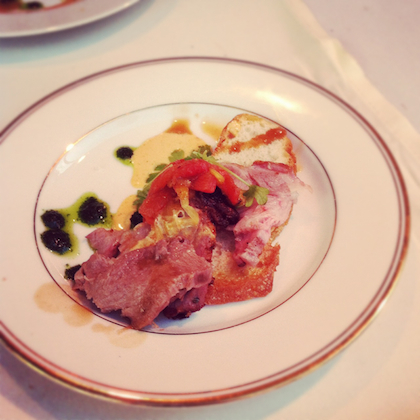 That beef tongue I mentioned; not a fan to be honest, but everything else on the plate was yummy.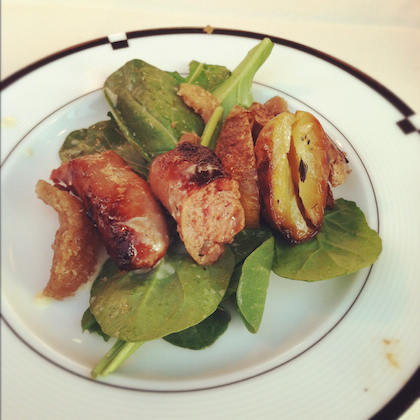 Now we're talkin': truffle sausage, arugula, fingerling potatoes, and duck cracklings... Seconds, please!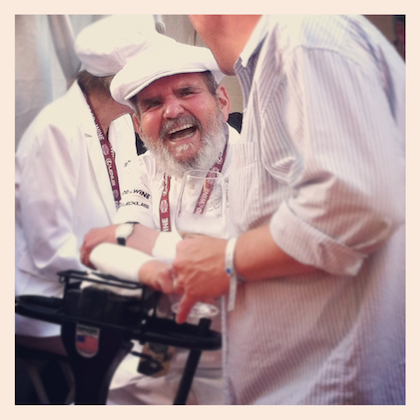 Legendary Chef Paul Prudhomme on the prems! I knew him immediately as I grew up seeing his smiling face on Mom's spice rack!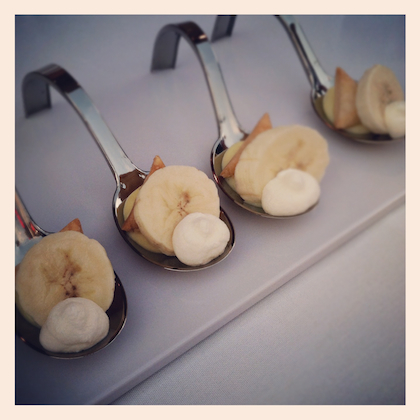 Banana cream pie bites!
Far and away, my fave of the day: fried squash blossom, stuffed with cheese, garnished with shaved truffles. Un.Be.Lieve.Able.
Dear friends, if you've never taken my advice before, do so this time: when this Fest comes around again next year, scrounge up your loose change and GO!!! Your taste buds will thank you!
- Katie Marzullo, YH Staff Editor