Kendrick Lamar, Tame Impala, & More Take The Stage at L.A.'s Annual FYF Fest!
Written by Ryan Keem. Published: August 29 2016
L.A.'s FYF Fest (which stands for something we can't print here on YH!) has been rocking crowds in Exposition Park for 12 years now, and this past weekend was no different! With a line-up that includedKendrick Lamar, Tame Impala,Vince Staples, and more across four stages, nobody was going home unsatisfied! I, along with my fellow intern Nikki, were fortunate enough to check out the festivities on Saturday -- here were some highlights!
1.Taking the Metro. I've never taken the Metro before; Nikki had only taken it once in her 21 years of living in California! Why don't more people take the Metro? It's super clean and efficient and it was filled with fellow FYF-ers. They even told us the right stop to get off. Thanks, guys! 
2.The Calm Before the Storm. After getting off the Metro, we shuffled into Exposition Park among a massive crowd. There were so many people! We were moving slow, but it was actually kind of nice. There was a great vibe -- everyone was really excited and promoters were giving out free M&Ms! Going slow isn't always bad...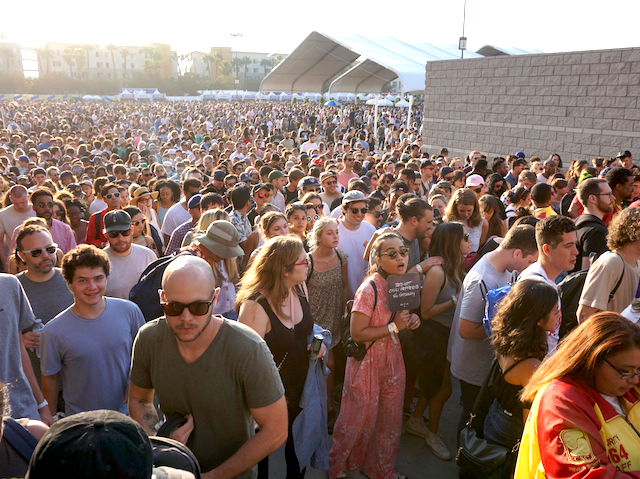 3.VIP Passes. Sometimes going slow is nice, and sometimes you finish all your M&Ms and just want to get inside. Luckily, Nikki and I got wristbands that let us right into the venue. Pretty sweet! We celebrated by getting hot dogs. 
4.Hot Dogs. I got mine with bacon and avocado. It's my new favorite food!
5.Vince Staples's Dance Moves. Vince Staples is a great dancer. He kind of flails his body around and somehow makes it look really cool. I wanted to try but there were people around me and I didn't want to hurt anyone. 
6.Port-a-Potty Urinals. They're just out in the open with no doors! I actually mistook one for a sink and tried washing my hands in it. Thankfully I realized what it was before it was too late. Welcome to the future!
7.Grimes Makes You Feel Like You're Her Best Friend.She talked about the inspiration behind her songs, asked for our help to get the loudness right, and warned us before she sang without a metronome (she killed it!). Grimes is like that one really cool kid in art class who just happened to make it big. You're awesome, Grimes!
8.Tame Impala's Insanely Colorful Set. Imagine diving in a bowl of Fruity Pebbles and Skittles and that's kind of what their light show was like. Tasty! They played all of their hits and the crowd sang along to every song. 
9.Kendrick Lamar. Enough said. He took the stage solo, moved like a lion prowling his kingdom, and rapped like his life depended on it. There was even fire that shot out of the stage! It was a great way to end Day 1 of the festival. 
10.The Ride Home. Have you ever noticed how nice it is to sit down? Thanks for an awesome time, FYF festival! Hope to see everyone at the next one!
- Ryan Keem, YH Contributing Writer