John Legend & More Set to Make You Swoon at Power 106's Valentine's Crush Concert!
Written by Amanda Baltazar. Published: January 08 2015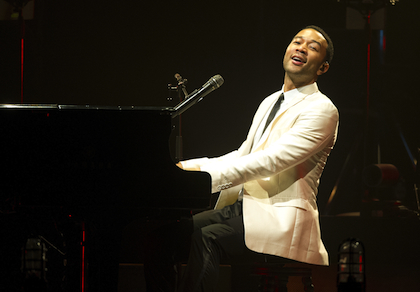 Power 106 is presenting their Valentine's Crush concert at The Forum in Inglewood, CA, on February 13th, and tickets are ON SALE NOW!


In true Valentine's Day fashion, scheduled performers include John Legend and Ne-Yo, who will serenade you and your boo. But if you're riding solo and/or if you are on the anti-Valentine's Day train, don't fret! Big Seanwill be there to sing his latest hit, "IDFWU"! Check out the video below (NSFW):
Oh, was that Power 106's very own Big Boy from the Neighborhood? Yes, yes it was.


Also on the performer list is Rico Love, Mila J, and Eric Bellinger.


Power 106's Valentine's Crush comes on the heels of their successful Cali Christmas concert over the holidays, featuring the likes ofChris Brown, Trey Songz,T.I., Tinashé, and many others. These headliners were also joined by newcomers Kalin & Myles.
But Power 106 isn't the only radio station that's bringing us amazing concerts with all our favorite artists. AMP Radio has been collaborating with Red Bull Sound Space to put on shows packed with names likeSam Smith, Jason Derulo,Iggy Azalea, Disclosure, and many more! KIIS FM's annual Jingle Ball gets us in the holiday spirit every year, with their last concert featuring Taylor Swift, Ariana Grande,Pharrell, and Rita Ora, just to name a few. 


These radio concerts are slowly giving fans an opportunity to see their favorite artists perform their favorite hits all in one crazy night! And they usually give out a bunch of tickets to their show, just in case they sell out quickly... Which they usually do, so don't wait to get yours!


I'll be getting my tickets to see the love of my life, Ne-Yo. 


For more, info on how to buy or win tickets to Valentine's Crush, check out the website!
(Photo via WENN)
- Amanda Baltazar, YH Staff