Jessica Chastain's Long Journey To Overnight Success
Written by Amanda Baltazar. Published: January 23 2013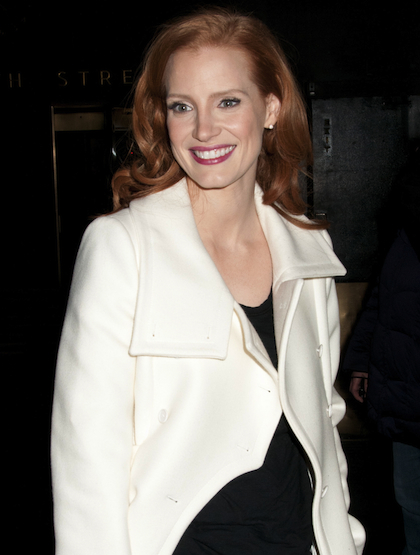 Could you imagine having your movie be #1 in the box office? That is quite a feat on its own, but the very talented Jessica Chastain owns the top TWO spots in the box offices this week!
Chastain's two movies that released this month -- Guillermo del Toro's Mama and Kathryn Bigelow's Zero Dark Thirty -- came in at the top spot with a little over $28 million and the #2 spot with $17 million, respectively.
Although it might seem like this redheaded powerhouse came out of nowhere, she's actually been trudging up the ranks for a while now. She started acting in theater when she was in college and later attended the prestigeous Julliard in New York for drama. Her first roles came as guest spots on television shows like "E.R.","Veronica Mars", and "Law and Order: Trial by Jury". She soon began landing larger roles in smaller movies that showed at film festivals until she got her big break in the Academy Award-winning film The Help. Playing the slightly bubble-brained Celia Foote, Jessica was nominated for an Oscar for Best Performance by an Actress in a Supporting Role. In 2011 alone, she appeared in no less than SIX big screen projects, includingThe Tree of Life, Coriolanus, and Texas Killing Fields. It seemed like she was suddenly everywhere, but the fact of the matter is, many of these films were delayed for various reasons and all just happened to be released simultaneously, making Chastain appear as if she had the best agent in the world! She carried her success into 2012 by appearing in other films including Lawless, co-starring Tom Hardy and Shia LaBeouf.
This actress is not one to shy away from a controversial topic either. Her role in Bigelow's film Zero Dark Thirty, which is up for an Academy Award for Best Picture, has landed Chastain a nomination for Best Performance by an Actress in a Leading Role.
In case her film resume isn't impressive enough, Chastain is currently performing on Broadway in The Heiress, a story about a wealthy father and his plain daughter, the man who tries to marry her, and the conflicts between the threesome. Fun Fact: Chastain had to miss one of her Broadway performances to attend the Golden Globes this year.
Chastain seems to have come out of nowhere and taken over the Hollywood and Broadway scene, but she has been working hard to get to where she is today. Did I mention that she's a vegan? Well, she is. It's hard enough for me to give up meat during Lent. I can only imagine the control and determination that she has -- Perhaps that's what makes her the breakout star she is today!
Jessica Chastain is definitely one to look out for in the future! Good luck at the Oscars, Jess! We're all rooting for ya! 
(Image via JMF/WENN)
- Amanda Baltazar