'Jem' Movie Adds Molly Ringwald & Juliette Lewis to the Line-up!
Written by Katie Marzullo. Published: May 22 2014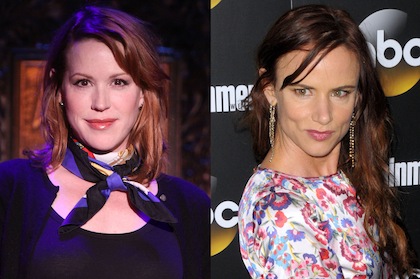 You, me, and everyone who fondly remembers the '80s have been salivating over ever scrap of news pertaining to the upcoming Jem & The Holograms movie, produced by Scooter Braunand Jason Blum and directed by Jon M. Chu. A quarter-century ago, Jem and her pals were IT when it came to all things fabulous. Their amazing fashion, their catchy tunes, and their heartfelt messages of friendship and altruism made us little girls (and possibly some little boys) giddy with excitement and wanting to emulate these cartoon heroines. (Of course, as I've already stated, I was always more into The Misfits, but it's the same general milieu…)
We already know at this point who will be playing Jem and her bandmates –Aubrey Peeples, Stefanie Scott,Hayley Kiyoko, and Aurora Perrineau. Basically, all relative newcomers tasked with breathing fresh life into these '80s icons. Now, a couple of much more well-known names have been added to the mix, and the possibilities they present are truly truly truly outrageous!
Molly Ringwald – an '80s icon in her own right – andJuliette Lewis have both been added to the cast. There is no word as yet as to whom they will be playing, but let me just throw this out there… They are both singers. Molly has had a very successful music career overseas, and Juliette fronts her own rock band.
So, what could this possibly mean?
That's right, I think they might actually be playing two of The Misfits! Sure, in the originally show, the Misfits were (presumably) the same age and at the same level as Jem & the Holograms. BUT, in this new version, The Misfits could be a well-seasoned girl group, maybe on the down side of their career, that finds itself competing with this new, upstart band. Sort of like "Nashville". That said, Molly could be the sneering frontwoman Pizzazz while Juliette could be her sharp-tongued bandmate Roxy (which leaves the role of their third member, Stormer, still open). OH YES SHE BETTER DO!!!
At least, this is what I am hoping. Fingers crossed that I am right!
What do you guys think? Who do you think Ringwald and Lewis might be playing?
In the meantime, check out our Studio chat with director Jon M. Chu below!
(Photos via Joseph Marzullo/Ivan Nikolov/WENN)
- Katie Marzullo, YH Staff Editor