Q&A: "RuPaul's Drag Race" Champion Bianca Del Rio!
Written by Sarah Osman. Published: May 21 2014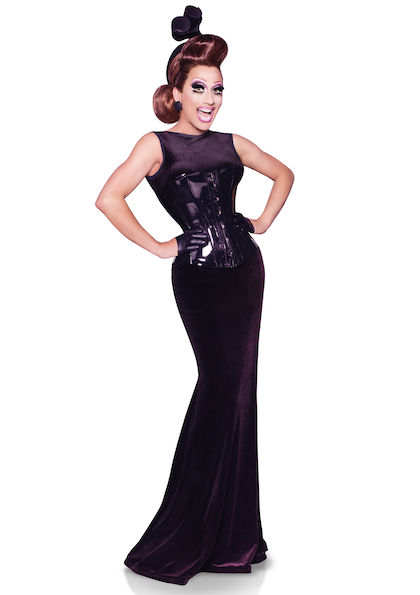 LONG LIVE THE QUEEN!
On Monday night, "RuPaul's Drag Race" crowned Bianca del Rioits Season 6 winner! Also known as Roy Haylock, Bianca slayed this season with her style, her no-nonsense wit, and, of course, her charisma, uniqueness, nerve, and talent. Not only did she excel in every single challenge and make us laugh our guts out every week, she also lent a helping hand to her fellow competitors. But what made her stand out the most were her unforgettable (and unfiltered) one-liners, including:
"I'm Clown Realness."
"Don't jump the gun yet, Miss Kimora Lee Kardashian." (on competitorGia Gunn)
"Wide and Sassy, that was my name in prison."
"I was raised by wolves, bitch."
"Girl, if I was gonna come for you, I'd come to your room at night and cut your f***in' wigs up!"
"This is notSisters of the Traveling Pantyhose."
"Not today, Satan!"
Originally from New Orleans, Bianca originally didn't set out to be a drag queen -- she got her start as a costume designer before making the switch to nearly performing every night. To further pursue her career, Bianca moved to New York City, and the rest is herstory.
I spoke with Bianca as she waited for her flight home in the Las Vegas airport. Though she will probably fiercely deny it, she is warm and friendly and even more witty than I could have imagined. She told me what her favorite challenge was, why everything is fair game in her famous "Rolodex of Hate", and how she learned to be so funny:
YH: Congratulations on being the new Queen! How does it feel?
BDR: It's insane because I haven't wrapped my brain around it. I was in the hotel earlier today, and it happened, and we watched it. I ventured out to the airport and it was surreal. 375-something text messages were sent to me. I haven't gone to Twitter yet, I haven't gone to Facebook yet, since I have a long flight ahead of me. I think it will all sink in when I get home tonight. As of right now, it's kind of like a big blur. It's crazy. I feel relieved, I feel grateful, but it's still surreal.
YH: How did you first come to be a drag queen?
BDR: It started early on. I was doing theatre, and I had always done wigs, costumes, and makeup. I was working for the opera in New Orleans. There was a show that I was doing the wigs and costumes for, and there was a small role at the end of the show they asked me to do that was a drag role. It just sort of happened from there. A few queens saw me and asked if I wanted to do a guest spot at a local bar, and then I started performing five nights a week at that bar for 10 years. 18 years ago, it just kind of happened. It's funny how that happens. I often think, what would have happened if I had become a dentist? You never know. It would have been different.
YH: Is anyone or anything off limits in your "Rolodex of Hate", or is it all fair game?
BDR: [laughs] I think it's all fair play. Look, nothing is sacred with me. Come on, I'm a man in a wig, I'm not curing cancer. I'm up there telling jokes. I'm the biggest joke there is. If anyone gets offended, they really need to rethink it and think about where they are and what they're watching. Nothing is off limits. And it's the same with me. If someone gets hit with a really good one, I'm the first one to say, "That was a good one."  I can dish and I can take.
YH: You have lived in both New Orleans and New York City. How have these two cities influenced you and your drag?
BDR: New Orleans is my hometown. I have nothing but respect for freaking New Orleans, because it started my career. That was one of the reasons why I moved. I was at this point in my career (I call it the "golden handcuffs") where I was treated very well, but I thought that there was something missing. I got a lot of support from the city. Everyone I talked to (when I told them I was moving) told me to go, experience it, live it. For me to be in New York when I was 30 (when I moved here) was just great timing. It shifted my life. I do have this love affair with both cities. I'm lucky enough to travel back and forth and experience both of them. There really is nothing better than New Orleans and nothing better than New York. I get the best of both worlds. Having the differences in my life helped me tremendously on a personal level. When I go home, it's like, "Oh it's home," but I feel like New York is home now too. I have dual citizenship for both cities. I'm beyond grateful. It's great, it's two different places to work in. Come on, I'm the luckiest little gay boy in the world.
YH: Did local New Orleans star Becky Allen have an influence on your drag?
BDR: A tremendous influence on my life. She is one of my favorite people on the planet. I met her when I was very young, when I was just 17. I worked for her theatre. We were roommates for 10 years. She is an amazingly respected, talented local celebrity there. She has always encouraged me in everything I do. I'm one of the luckiest people to get to know her. I learned a lot from her. She taught me about the business, how it works, and to not get lost in it. She told me that it's not your identity, it's work, and you are only as good as your work. She has been an amazing influence on me. It's so weird, among the 300 text messages I have a picture of her and some friends all wearing Bianca del Rio shirts. What I found out from a group of friends is that they would gather every week to watch the show, and she would go to watch me. It was amazing. I wouldn't be here without her. I find myself telling people things that she told me. I'm like, "Oh sh**, that's her!" It's crazy.
YH: Did you have a favorite challenge this season?
BDR: There were several that I liked a lot, but the main one I liked, the one that was the most fun and was out of my normal world, was the rap challenge. You don't think of me as a rap artist. [laughs] It was one of my favorites. You are given these opportunities on the show, and some of them play to your strengths, and others are completely out the box. This one was completely out the box for me. Don't worry though, I'm not going to put out a rap album or anything.
YH: As the season went on, you took (fellow contestants) Adore Delano and Trinity K. Bonet under your wing. Do you often take younger queens under your wing?
BDR: It was not a conscious thing. I remember being there and seeing two people who were very talented. Trinity is an amazing performer, and a very polished performer for her age. She's about 22, 23 years old. She is together. One of the things that I thought was really interesting when I was there was that I felt she was lacking confidence and being comfortable talking, which is something I do all the time. So I thought, why let that hold you back? So I just gave her that push that she needed. I did realize that it was a competition, but that's just a human thing to do. You should reach out and go, "Hey, let me help you with this." It was the same thing with Adore. I didn't change the world, I just gave her a corset. It wasn't difficult for me to do that, because I do things like that in my everyday life. I know that it's a reality show and a competition, but after the first day you're there, you forget that the cameras are rolling, because there is so much you have to get done in such a short period of time. It was just a normal thing to do, and I would do it again. In New York, I have several friends, older and younger, and we all help each other out. I think the great thing is, I'm friends with all these people, but we all have different talents and work together. It's a dream. Other people have helped me out. Why would I not give back to these other folks as well? It's a win-win situation. They're amazingly talented performers, and we get to all walk away being friends. It's very "kumbaya".
YH: When it comes to reading, does it come naturally to you? Have you ever had any comedic training in this?
BDR: [laughs] It's not necessarily conscious thoughts, it's just you say what everyone else is thinking. It comes from a place of truth. It's observations and obvious things. But once again, I'm the biggest joke there is. I have a big nose, I'm a man in a dress, I'm aware of all of that. I think it's a lot more fun when you're aware of yourself and you're ready to dish it as well as take it. With the Rolodex of Hate, I just kind of go over things in my head and say, "This is what I'm thinking." Sometimes it gets me in trouble, but I do think it just comes from truth. It's a lot about timing. Some people are great writers. I'm a bad writer, I'm not good at writing jokes. But I like to be in the moment. I never know what I'm going to say. I actually don't have comedy training. I think the only comedy training I've had is performing in New Orleans for 10 years, five days a week. That's the best training there is. You can't go to a class and learn how to be funny. It comes from hits and misses. I've had some really good shows and I've had some bad shows, and that's how you learn. I do shows in New York four nights a week, so I've learned a lot. When you're performing in front of  a live audience, sometimes it's good, and when it's bad, you need to say it before they do. [laughs] They're not all perfect by any means, but that's how you learn.
YH: What can we expect to see from you next?
BDR: I'm writing a one-person show I'm going to do in theatres across the country, and I'm also doing this independent film with a friend of mine named Matt Kugelman called Hurricane Bianca. Basically, what I don't think many people realize, is that in 29 states, you can be fired for being gay. It's crazy. It's a comedy about a guy who's a schoolteacher who's down on his luck, and he gets fired for being gay. He returns as a substitute teacher (as Bianca) to wreck havoc on the town. No one knows it's me, and I'm trying to wreck havoc. It's a comedy and it's brilliant. We're hoping to shoot next summer. If you go to http://www.hurricanebianca.com/, you can see all the information about it. I'm looking forward to it!
You can find out where Bianca is touring at her website, and if you would like her to visit your hometown, give her a shout out!
You can also keep up with Bianca on Twitter and on Facebook.
(Photo via Q Pittman/Viacom/LogoTV)
- Sarah Osman, YH Staff; additional reporting by Katie Marzullo, YH Staff Editor