It Was 50 Years Ago Today, The Beatles Came to Town to Play...
Written by Katie Marzullo. Published: February 07 2014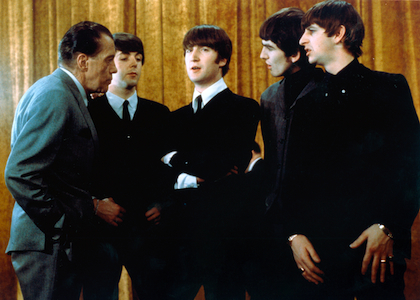 Gather around, kiddies, it's time for a history lesson.
50 years ago today, a rock and roll band consisting of 4 working class lads from Liverpool, England, landed in the United States for the very first time. Two days later, the music world would be changed forever when these guys who called themselves The Beatlesappeared on the enormously popular "Ed Sullivan Show".
The band, consisting of John Lennon, Paul McCartney, George Harrison, andRingo Starr, ushered in a completely new era not just for rock and roll but for music in general, their innovative talents and experimental nature completely reinventing everything we thought we knew about the genre. It was all very serendipitious, as the 1960s in general were all about revolution, and one could argue that The Beatles kickstarted it all, their passionate music sending girls into orgasmic tizzies, and young men shirking convention by letting their hair grow out (scandal!). Whether you enjoy The Beatles's music or not, there is no denying that music would not be what it is today without them.
Half a century later, only two Beatles remain – Paul and Ringo (John having been assassinated in 1980 and George succumbing to lung cancer in 2001). But that is not stopping CBS and the Recording Academy from paying tribute to this game-changing band. On Sunday, February 9, CBS will air a two-and-a-half hour special entitled "The Beatles – The Night That Changed America" in honor of the band's historic appearance on "The Ed Sullivan Show", which drew a then-record 74 million viewers. Many of today's biggest stars will be on hand to help celebrate and even perform covers of the band's classic hits, including Dave Grohl, Maroon 5, Katy Perry, Sean Penn, Johnny Depp, Alicia Keys, Imagine Dragons, Cirque du Soleil's The Beatles LOVE troupe, and even aEurythmics reunion.
It all goes down starting at 8pm, and if you have any degree of love for music whatsoever, you will tune in. Like I said, even if this sort of music isn't your bag, it's important to know where the music you DO love comes from. And even if you only tune in to see Katy Perry andJohn Mayer sing "Something" together (I don't know if that's actually true but probably is), then at least we got you watching!
So, take a break from your Winter Olympics binge-watching to switch over to CBS at 8pm Sunday night for a little music history appreciation! 
(Photo via WENN)
- Katie Marzullo, YH Staff Editor