ICYMI: Netflix Teases Martin Scorsese's Next Big Gangster Film 'The Irishman'!
Written by D.J. Rivera. Published: March 02 2019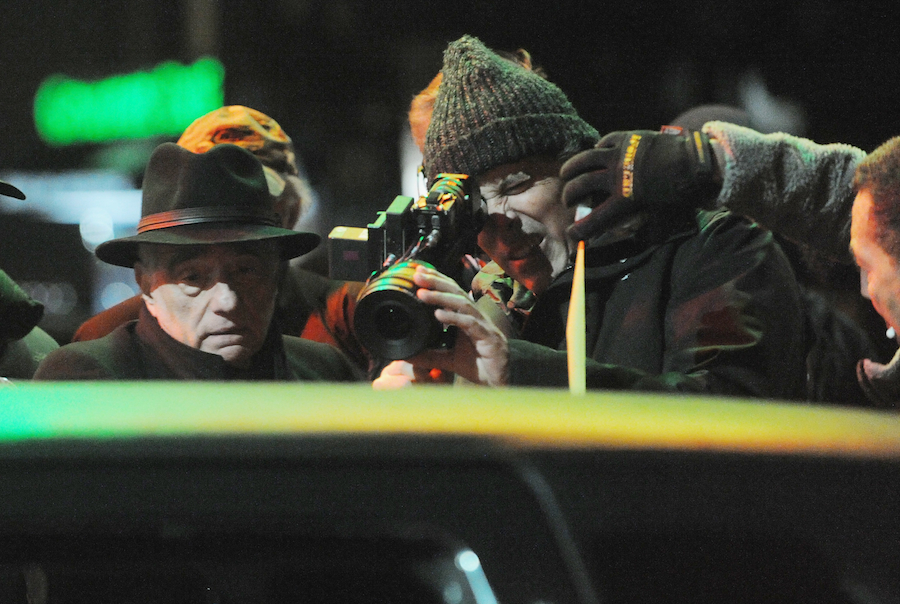 If you've been waiting your whole life for Al Pacino to share the screen with Robert De Niro in a mob movie directed by Martin Scorsese, then praise the movie gods that you have been diligently paying your Netflix bill. Because now it seems it has seriously all been worth it. This leads me to the big news that the next great Scorsese film will be about an Irish hitman played by De Niro named Frank "The Irishman" Sheeran who confessed to killing Jimmy Hoffa. In 2003, 30 years after Hoffa's notorious disappearance, Sheeran, Hoffa's friend and bodyguard, confessed to his murder claiming he got rid of the body in an incinerator. His confession hasn't been proven but was recounted in the book this film is based on calledI Heard You Paint Houses. And now, Netflix and the man behind Goodfellas tease our ears with an enticing glimpse with what could be another iconic gangster film.
Scorsese announced back in 2008 that he and De Niro would be making their 9th film together and it would, in fact, be The Irishman. The film's development had been halted several times due to its hefty price tag, which was rumored to be around $100 million dollars. The project kept everybody guessing and definitely messed with my emotions, as it was dropped and picked up several times. Paramount almost had cameras rolling back in 2016 until investors pulled out, leaving The Irishman metaphorically tied up in someone's trunk. But my prayers were answered in 2017, when the streaming giant Netflix, hungry for Oscar-caliber content, snatched up the buying rights for the highly-anticipated film, reportedly for $105 million. 
This cinematic endeavor took 106 days to shoot, making it Scorsese's longest production to date and allegedly 300 scenes were shot. It is estimated through post-production the budget has blossomed to a whopping $175-$200+ million dollars. The high price tag is due in large part to the digital de-aging process that needs to take place on its legendary actors -- Pacino and De Niro's characters meet in their 30s. So the prolific actors will need to get the same treatment audiences have seen in such films as Ant-Man,Guardians of The Galaxy: Volume 2, and Tron: Legacy. which were tasked with transforming Michael Douglas, Kurt Russell, and Jeff Bridges, respectively, back to their younger selves. This probably explains why the above teaser has no visuals, as this is a lengthy process that should not be rushed.
It's not too late! Order your copy of the book now to get the inside scoop! #TheIrishmanMoviepic.twitter.com/WdMI7aRy4n

— The Irishman Movie (@Irishman_Movie) May 9, 2016
Despite seeing nothing but titles and a bullet casing fall, you do hear the film's stars give an impactful back-and-forth. Pacino, who is heard asking if De Niro's character paints houses, makes surprisingly his first collaboration with Scorsese. Also in the film but not heard in the promo, Joe Pesci, who last starred in a Scorsese pic in 1995's Casino, has come out of retirement to join the star-studded lineup. Harvey Keitel,Bobby Cannavale, Ray Romano,Jesse Plemmons, and Anna Paquinround out this stellar cast. Netflix and company aren't risking anything on this huge roll of the dice and want to make sure when viewers get their first glimpse at the film that has been in the making for more than a decade, everything looks just right.
Robert De Niro and Al Pacino at work on Martin Scorsese's upcoming film, The Irishman... pic.twitter.com/4ldoJUS7pg

— Distracted Film (@distractedfilm) December 19, 2017
Between the talent, the story, and the budget, this will either help Netflix soar to the top or make them wish they were sleeping with the fishes (and presumably Hoffa as well). Netflix subscribers will get to enjoy this mob movie in the comfort of their own homes, but moviegoers will get a small window to see it too, as the streaming giant will opt for a theatrical release, mainly to qualify for certain awards. Scorsese's gangster films are some of the best Hollywood has ever produced. The Academy has recognized his work in the genre several times, including when The Departed won Best Picture. The Irishman has a bigger budget, a bigger cast, and an iconic story to tell. Netflix should definitely get ready to walk several red carpets after The Irishman makes this next awards season an offer it can't refuse.
Netflix will release Martin Scorsese's The Irishman later this Fall.
(Image via Bobby Bank/GC Images/Getty Images)
- D.J. Rivera, YH Contributing Writer