Hollywood & Washington Mingle at 100th White House Correspondent's Dinner
Written by Laura Carlson. Published: May 05 2014
The 100th White House Correspondent's Dinner in Washington, DC proved once again that when Hollywood and politics collide, anything can happen. This year, it was all about selfies and tech companies like Facebook throwing some star-studded parties. While "Community" starJoel McHale was set to roast President Obama, the elbow-rubbing with some of television's favorite First Families is what everyone was really looking forward to. The casts of ABC's "Scandal" and Netflix's "House of Cards" made the rounds, and everyone from 12 Years A Slave andPeople Magazine's Most Beautiful Lupita Nyong'o to "The Mindy Project" star Mandy Kaling were Instagramming their tours of the White House and the fabulous frocks they wore. Red carpets around town featuredRosario Dawson, Zooey Deschanel,Jessica Simpson, and Anna Kendrick. While the women dazzled, there was a few of our favorite guys on hand as well. Joe Manganiello,Kevin Hart, Drake Bell, andSean Giambrone of "The Goldbergs" were all spotted watching President Obama's comic relief on Saturday night at the Washington Hilton.
Friday night kickstarted the weekend into high gear with the Creative Coalition Supper Suite at STK. Their Celebration of Arts in America capped off a full day of celebrity advocacy on Capitol Hill.
The gala benefit dinner celebrated Arts in America with actors likeConstance Zimmer, Rose McGowan,Jonathan Groff, AnnaSophia Robb, and Mae Whitman. Creative Coalition President and "Private Practice" star Tim Daly, Zimmer, and "Scandal" villain Joe Morton dined on STK DC chefMarc Hennessy's petite filet and almond fudge brownies.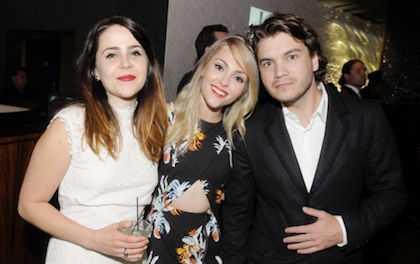 William Plowman, AP/Invision
The same night, over at the private residence of LMT Inc. CEO Lani Hay, the 7th Annual Rock The Vote "OFF THE RECORD" featured a private performance by Grammy-winning artist Michelle Branch while sipping Moët & Chandon champagne. Branch's vocal performances included "Goodbye to you", "All You Wanted", and her hit track, "Everywhere".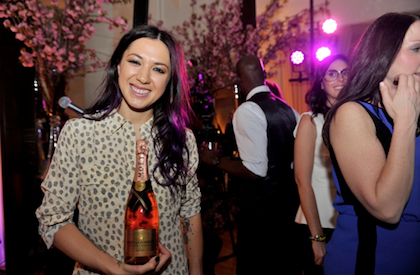 On Saturday, Facebook and Buzzfeed joined forces for their second White House Correspondent's Party. Aptly titled "Bowties and Burgers", the soiree was held at Jack Rose Saloon, steps from where the President and Joel McHale entertained at the Washington Hilton. The party had a fortune teller, photo booth, and tons of burgers, but the best part was when the cast of "House of Cards" arrived. Sadly,Kevin Spacey wasn't present, but we had fun tossing Princess Bride quotes Robin Wright's way!
                                                                William B. Plowman/Invision for BuzzFeed/AP Images
(Top photo via AP Images/BuzzFeed)
Laura Carlson is an entertainment reporter who has covered red carpets in Los Angeles and Washington, DC. She is a slave to celebrity news and has a passion for pop culture. You can follow her on twitter @lauraleecarlson.