Hollywood Halloween Costume Round-up!
11-01-2021 by Melissa Morales and Katie Marzullo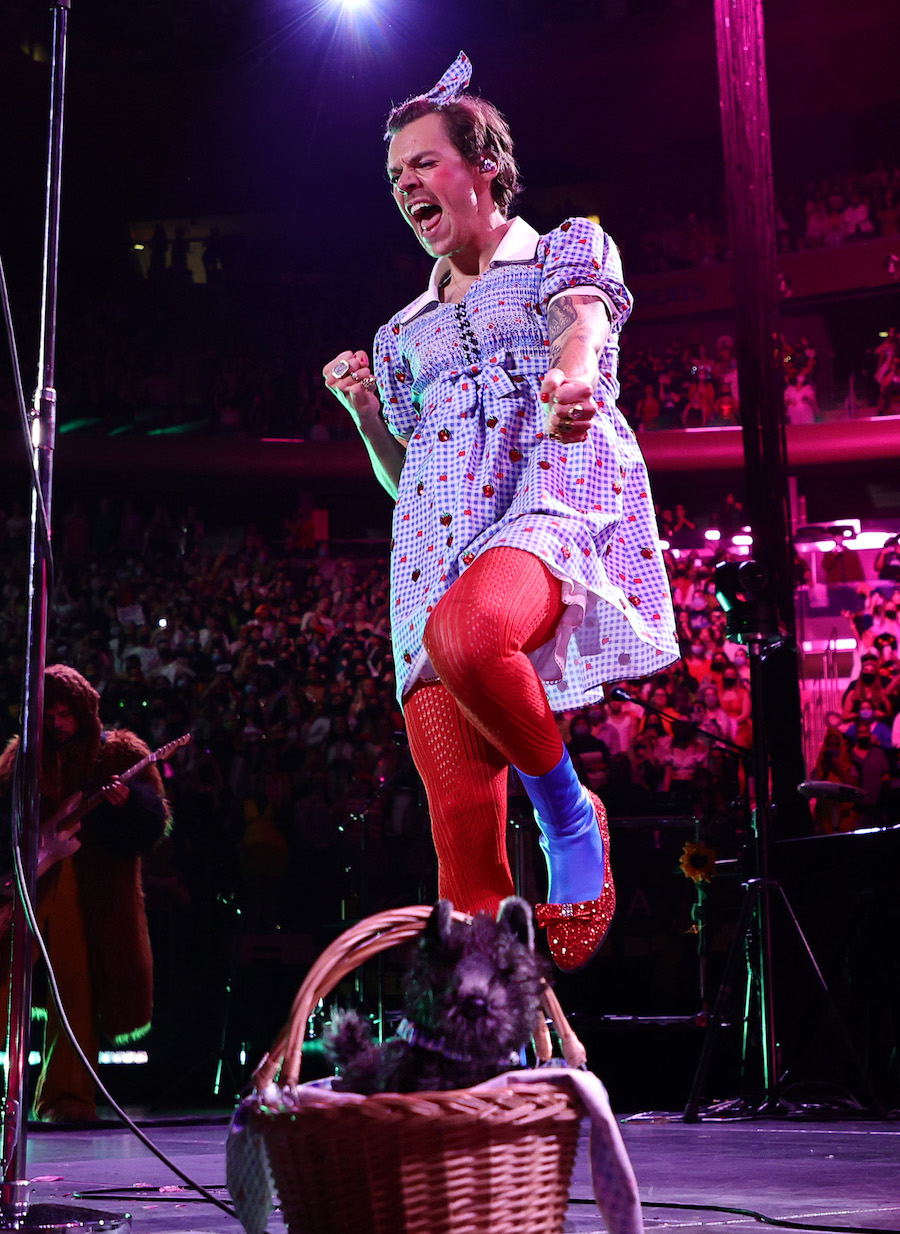 ( © Theo Wargo/Getty Images for HS)  
Another year, another opportunity for celebrities to do the most for Halloween. Since many celebs literally make a living being as over-the-top and fabulous as possible, Halloween is the time of year to really pull out all the stops, and man did they deliver! After last year's Halloween was pretty lowkey due to the pandemic, celebrities more than made up for it this time around! Let's highlight some of our faves!
Cardi B went full gothic glam with her take on the iconic Morticia Addams. Cara mia!!!
Lizzo pulled off not one but two amazing looks, showing off her takes on two current pop culture icons – Baby Yoda and the Red Light Green Light Robot from "Squid Game"!
Harry Styles went over the rainbow for his Halloween Eve concert at Madison Square Garden in NYC, going full Dorothy. And Toto too!
The Weeknd went above and beyond in the makeup/prosthetics department by completely transforming himself into Don Vito Corleone from The Godfather! It's a look we absolutely cannot refuse!
Janelle Monáe was another one getting into the prosthetics game, ringing in Christmas early with her take on the one and only Grinch!
Not to be outdone, though, was our girl Ariana Grande, who was unrecognizable beneath an elaborate (Miss) Creature From The Black Lagoon. Horror never looked so glam!
Lil Nas X did not disappoint either, serving up two completely diverse looks: first, The Basketball Guy from "Ned's Declassified School Survival Guide", and then the Dark Lord himself Voldemort!
Hailey Bieber had an entire photoshoot recreating several of Britney Spears's most iconic outfits and paid homage to some of her most famous music videos. Hailey definitely did not disappoint -- she slayed every fit!
Sabrina Carpenter channeled her inner early-Y2K diva by mimicking Lindsay Lohan's iconic role in Confessions of a Teenage Drama Queen!
Actor Rahul Kohli took a shortcut this year, combining three of his most memorable characters – Sheriff Hassan from "Midnight Mass", Owen from "The Haunting of Bly Manor", and Ravi from "iZombie" – into one!
Ciara took on ALL THREE of the members of TLC in this epic mash-up!
"The Boys" star Jack Quaid went the meme route this year, mimicking the "Shut up and take my money!" meme from "Futurama"!
Singer Ava Max dazzled in this fierce and fantabulous Harley Quinn costume!
And last but definitely not least, actor Steve Buscemi won the internet (again!) by recreating his own "How do you do, fellow kids?" meme!
Which celeb fits were your faves??