Hip-Hop Pioneer Grandmaster Flash Hired as Music Consultant for Baz Luhrmann's "The Get Down"
Written by Sarah Osman. Published: May 27 2015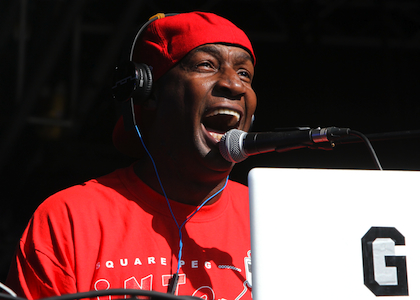 Baz Luhrmann is moving away from the fall of Gatsby and the salacious Moulin Rouge to journey to the wild streets of 1970s New York City!
Netflix recently ordered 13 episodes of Luhrmann's new show, entitled "The Get Down", which will follow a group of scrappy South Bronx teenagers as they help one another survive through the miracle of punk, disco, and hip-hop. I personally think that the teens' names should be the title of the show; in 2016, when the show premieres, we will get to meet Ezekiel (Justice Smith), Boo-Boo (Tremaine Brown Jr), Ra-Ra (Skylan Brooks), and finally, Shaolin Fantastic (Shameik Moore).
The actors, all of whom are relative newcomers, are actual performers who have danced everywhere from the subways of New York to the streets of Atlanta. To help the actors prepare for their roles (and to give them songs to perform), Luhrmann has hired DJ Grandmaster Flash as a music consultant. A native of the Bronx, he is considered to be one of the pioneers of hip-hop, DJing, and mixing. During the 1970s and '80s, he had his own group called The Furious Five, and they were the first hip-hop group to be inducted into the Rock & Roll Hall of Fame. Check out their classic jam "The Message":
Considering his history and his influence on hip-hop, Grandmaster Flash seems like the perfect consultant for the show. I'm sure that he will bring the right amount of spins and flair to "The Get Down". In addition to being a musical consultant, Grandmaster Flash will also appear as a character on the show himself, played byMamoudou Athie, which means that the show will have some basis in the musical history of New York.
In addition to the hip-hop quartet, "The Get Down" will also include Papa Fuerte (Jimmy Smits), a political figure who serves as an overlord in the south Bronx. He protects the citizens while also fighting against the corrupt government. I think that there may be a high possibility that he will help the burgeoning quartet find their true voice.
Are you excited to see "The Get Down" in 2016?
(Photo via WENN)
- Sarah Osman, YH Staff