Happy Valentine's Day! Love, After Romeo
Written by Simone Remington. Published: February 14 2014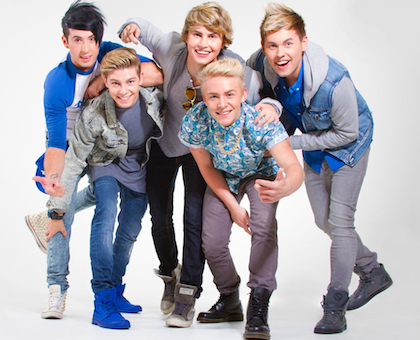 Ever since the era of the Backstreet Boys and*NSync, we have willingly embraced other talented boy bands who have come along in their footsteps. Our latest boy band discovery? None other than After Romeo.
When you've got After Romeo bumpin' in your speakers, you just can't help but get up and dance. What genre of music do you prefer? No worries, because After Romeo most likely has you covered! Whether its dance, pop, rock, hip-hop, or R&B, they bring it all to the table with equal intensity! Their single, "Free Fall", topped at the number one spot on MTV.com! A group that can sing, dance, and connect with its audience... What more could we really ask for?
After Romeo has proven to us that they do, in fact have, much more to offer than your average pop group. Members
Drew Ryan Scott
,
Jayk Purdy
,
Devin Fox
,
TC Carter
, and
Blake English
not only made an anti-bullying PSA, but they also travel for the awareness of anti-bullying, appearing at malls and schools campaigning for what they call
"The Bully Proof Tour"
; they share their own personal bullying experiences and urge their fans to make the right choices. All concerts are performed free of charge -- could they get any sweeter?!
Well, glad you asked, because YES, they can. Just in time for Valentine's Day -- today! -- the boys are putting on a special concert just for the occasion at L.A.'s Lyric Theatre! Not in L.A.? Didn't get tickets? No problem! Watch the live stream below! Show starts at 7:30pm PT! (Be sure to also check out the awesome BTS vid of the boys getting ready for the concert, along with web celeb Acacia Brinley!)
It's clear that we can not only expect a great performance from these boys, but also raising great awareness across the country. Their connection with their fans is undeniable, and we can't wait to see what else After Romeo has to offer!
(Photo via No.4 Entertainment)
- Simone Remington, YH Staff