"Grown-ish" Season 1 Gives a Fresh, Honest Perspective on Gen-Z!
Written by Kalia Kornegay. Published: April 03 2018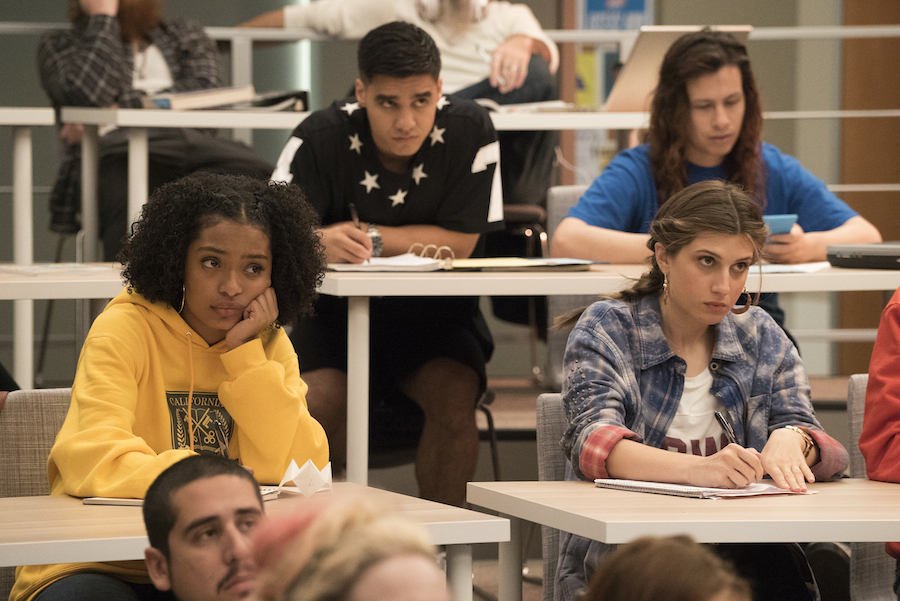 Where my "Grown-ish" fans at?! What did we think of that finale last week?? (Major season spoilers ahead!)
Following the success of ABC's hit sitcom "Black-ish", this Freeform spin-off follows eldest daughter Zoey Johnson (
Yara Shahidi
) and her journey into college and adulthood. She attends the fictional California University and deals with everything from friend drama and romance to Adderall addiction and FOMO. "Grown-ish" provides a look into a few modern college struggles incoming classes might be dealing with.
The series starts out with Zoey rooming with Ana Torres (Francia Raisa), a freshman she had ditched at a pre-semester party after Ana puked in public. Yikes! After a rocky start, Zoey's apology goes a long way and the two end up close friends. The rest of the gang, comprising of Aaron Jackson (Trevor Jackson), Nomi Segal (Emily Arlook), Vivek Shah (Jordan Buhat), twins Jazlyn and Skylar Forster (Chloe and Halle Bailey), and Luca Hall (Luka Shabbat), enter the picture in eccentric Professor Charlie Telphy's (Deon Cole) marketing class.
Zoey's friends are certainly something. While the show didn't shy away from real-er issues, like Jazlyn and Skylar's discussion about racism in the dating world and Aaron's constant #WokeBae status, the characters all have very real flaws.
The episode where Nomi, a bisexual woman, dumped her bisexual boyfriend because of his sexuality, had me in shock the entire time! But, as I realized after doing a lot of Google searching, Nomi's internalized biphobia is a very real thing. Doesn't make it right at all, but throwing that character flaw in there was a touch of reality that the show needed.
Another big WTF moment was when Cash Mooney (Da'Vinchi), Zoey's (thankfully now-ex) boyfriend, exposed her virginity online and then said he decided to date her because she fit his "brand" as a college athlete. Oh, and then casually declared on national television that she would be joining him on every step of his career, casting her dreams to the side. Did anyone else scream at their screens at that part? I'm not sure if that situation was as relatable as the others, but Cash's character still invoked discussions about the pressures college athletes face as unpaid money makers for the university.
The last few episodes brought Zoey's wild love triangle (or was it a love square by the end?) into focus as she had to give the theoretical final rose to either Aaron, Luca, or Cash. While your average college student likely isn't juggling the hearts of three gorgeous guys, the struggle is all too real with finding love during those four years. Although the final winner was everyone's favorite fashion designer/stoner Luca, I was much more interested in howZoey made her final choice -- She said that, while the other guys were great in their own way, Luca was the one who never wanted to change who she was and felt right for her in this stage of her life. Could it get any cuter?? (Dear Season 2, please don't take them away from me!)
All in all, "Grown-ish" took a firm stance in portraying the issues Gen-Zers are going through as they finally make their way into college. Again, take these situations with a grain of salt, as college does not always equal going to hidden luxury nightclubs on campus and lavish fashion internships, but the overarching lessons are incredibly valid. Good luck out there, and let's hope Season 2 is even better!
(Image via Kelsey McNeal/Getty Images)
- Kalia Kornegay, YH Contributing Writer