Grammys '14 Line-Up One of the Best Yet!
Written by Simone Remington. Published: January 23 2014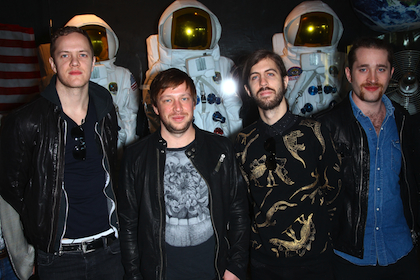 The 56th Annual Grammy Awards are just around the corner, and to say the performances will be groundbreaking is an understatement. As if a performance by Stevie Wonder isn't already exhilarating enough, the Grammys are stepping it up by addingPharrell Williams, Daft Punk, andNile Rodgers to the group performance -- wake me up because I feel like I'm dreaming!
Seriously… someone pinch me because the dream doesn't stop there! Here are some more remarkable performers to look forward to:
Imagine Dragons will be taking the stage; the rockers are nominated for Best Rock Performance and Record of the Year for the song "Radioactive". The group's success throughout 2013, with hit songs such as "It's Time", "Demons", and "Radioactive", has proven that Imagine Dragons is one to keep an eye out for! Rockers Metallica and Lang Lang will be returning to the stage for the second time after 23 years of performing at the Grammys. Also to look forward to, a mini Beatles reunion from Paul McCartney and Ringo Starr, who will be jointly recognized for the 2014 Recording Academy Lifetime Achievement Award.
Once this talented artist hits the stage, the crowd is guaranteed to ROAR -- If anyone can get the party started, it's Katy Perry; she's nominated for Song of the Year and Best Pop Solo Performance for her hit single, "Roar". Can we expect her to perform her number one hit for us, or will she opt for her new slow-jam "Unconditionally"? I guess all we have left to do is impatiently wait!
Nominated for an outstanding seven nominations, we can expect an entertaining performance from Kendrick Lamar. The rapper has an opportunity to go home with Best New Artist, Album of the Year, Best Rap Album (Good Kid, M.A.A.D City), Best R&B Performance  ("How Many Drinks?" feat.Miguel), Best Rap Performance ("Swimming Pools [Drank]"), Best Rap/ Sung Collaboration ("Now or Never" feat.Mary J. Blige), and Best Rap Song ("[Expletive] Problems"). Phew, you go, Kendrick!
Rapping duoMacklemore and Ryan Lewis will be performing on the Grammy stage for the first time ever. If that wasn't already rewarding enough, the two are nominated for seven awards!
R&B artist John Legend is up for Best R&B Album for Love in the Future. If you haven't listened to the track "All of Me" off of this album, you have not discovered what should be the theme song for love!
Just recently releasing her first studio album in September of 2013 (Pure Heroine), Lorde's success is looking brighter and brighter. The young pop artist is paving her way to fame starting with her #1 single "Royals". This hit song received four nominations: Record of the Year, Song of the Year, Best Pop Vocal Album, and Best Pop Solo Performance -- she must be feeling royal indeed!
Now, for you Country lovers, the Grammys have your back! You might want to saddle up for this overwhelming lineup -- Merle Haggard, Kris Kristofferson,Willie Nelson, Blake Shelton,Taylor Swift, Hunter Hayes,Kacey Musgraves, and Keith Urban. Does it get much better? I think not!
Shelton is nominated for Best Country Album (Based on a True Story) and Best Country Solo Performance ("Mine Would Be You"). It's no surprise the talented T-Swift is bringing in four nominations: Best Country Album and Album of the Year for Red, Best Country Duo/Group Performance ("Highway Don't Care" feat. Tim McGraw and Keith Urban), and Best Country Song for "Begin Again". Musgraves is nominated for Best Country Album (Same Trailer Different Park), while Hayes is up for Best Country Solo Performance for the song "I Want Crazy". Last but surely not least, Keith Urban is nominated for Best Country Duo/Group Performance for "Highway Don't Care" featuring Taylor Swift and Tim McGraw. I think it's safe to say, we can expect a whole lot of boot-scootin' goodness at this year's Grammy Awards!
For the first time ever, P!nk and Nate Ruesswill be performing their smash-hit single "Just Give Me a Reason" on network television. Some other pop artist performances to look forward to are: Sara Bareilles and Carole King, Robin Thicke andChicago, and Bruno Mars. The Queen Bey herself, Beyoncé, will be performing with her hubby Jay-Z -- Without a doubt, this couple is bound to have the audience on their feet.
I guess I am not dreaming after all; you have outdone yourself, Grammys! Don't miss out on this event airing Sunday, January 26! We are in for some jaw-dropping entertainment!
(Photo via Judy Eddy/WENN)
- Simone Remington, YH Staff