The Peacock Gets New Feathers: What's In Store for NBC in '14-'15
Written by Sarah Osman. Published: January 23 2014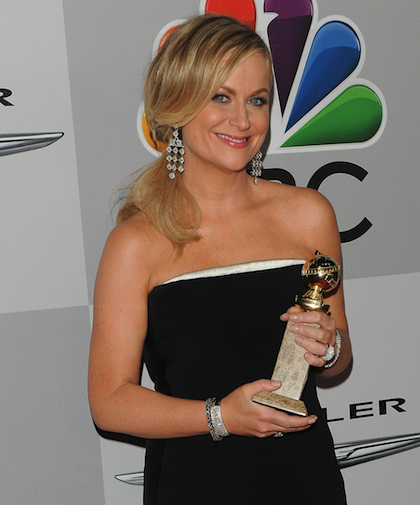 NBC has had a bit of a wild year, and the network is not about to slow down in 2014. During his session at the Television Critics Association, president of NBC Bob Greenblatt revealed what the network has in store for the future!
If you were a fan of the live staged production of The Sound of Musicfrom last month, then you're in luck: NBC will follow up with a live production of Peter Pan. Little has been said about the production, other than the fact that Peter Pan will most likely be played by a male (our own fabulous Katie Marzullo, an avid Peter Pan fan, shared her thoughts on this topic here). In the meantime, NBC has also announced that the hilarious "Parks and Recreation" will return for a seventh season, and that Amy Poehler will remain in the NBC family, as she recently inked a deal for a brand new comedy pilot. However, NBC isn't necessarily planning to keep "Parks and Recreation" or any of its comedies on Thursday nights. After a few lackluster premieres, the network is considering mixing up their genres in the new year.
Some of these are set to come in the form of miniseries. Perhaps taking a leaf out of ABC's book (think "Once Upon a Time"), NBC has announced plans for "Emerald City", a 10-episode series that will take place in the magical land of Oz. Described as a dark retelling of the famous series by L. Frank Baum, "Emerald City" will focus on a twenty-year-old gritty Dorothy, who finds herself unwittingly sent to the land of Oz amidst a giant battle. On a completely different note, NBC has also ordered "The Slap", an eight-part miniseries which follows a man who, after slapping a neighbor's child at a BBQ, in a hot pot of trouble. The series is based on an Australian miniseries of the same name.
On the late-night talk show front, NBC is in for some huge changes.Jay Leno will step down from his post asJimmy Fallon and Seth Meyers will step up to the plate. Fallon has mentioned that his first show would feature Will Smith and U2, while Meyers will welcome Amy Poehler during his debut. And thus the circle is complete!
That's a lot of information to take in! Looks like we're in for an entirely revamped NBC for the 2014-15 season!
(Photo via Daniel Tanner/WENN)
- Sarah Osman, YH Staff