Golden Globes Gift Suites Bring Out Celebs & Exciting New Vendors!
Written by Sarah Osman. Published: January 14 2014
Awards Season isn't just about handing out hardware to filmmakers and artists; it's also a golden opportunity for entrepreneurs to get the word out about their exciting new products at any of the swagtastic gifting lounges that flank the awards shows, and this past week was no different!
Secret Room Events held their annual red carpet style lounge in honor of the Golden Globe Awards last Friday at the swanky SLS Hotel in Beverly Hills. This year's luxe lounge benefited PETA (People for the Ethical Treatment of Animals), the largest Animal Rights group in the world. The lounge also paid tribute to the nominees, presenters, producers, and stylists of the Golden Globes. A slew of celebrities came out to celebrate, includingColin Walker (The Butler), Joe Lo Truglio (Golden Globe-winning sitcom "Brooklyn Nine Nine"), Jim O'Heir ("Parks and Recreation"),James DuMont (Dallas Buyers Club), and nominee Bruce Dern (Nebraska).
Yours Truly and staff editor Katie Marzullo had the honor of attending, and I can state with confidence that the lounge itself was filled with fascinating sponsors and new products to explore. PETA had a special "PETA Pet Lounge" where guests could pick up delightful treats for their furry friends (sadly, there weren't any furry friends you could take home -- just gifts for them.) Exciting sponsors in the Pet Lounge included Pet Head (sister company to haircare company Bed Head) and P.L.A.Y. Pet Life Style for You. (Editor's Note: I picked up a swag bag for my wiener dog Puddin, including some shampoo & conditioner from Organic Oscar, and even... nail polish! Who sez our fur babies can't be glamorous during Award Season too? - Katie M.)
In the adjoining room, there were a number of sponsors with treats for humans as well, including: Swiss Diamond, which produces cookware encrusted with diamonds for durability and easier maintenance (E.N.: I got a frying pan, and I must say, diamonds are a cook's best friend!- K.M.); the Kashmir Keratin Hair System, featuring a line of new hair products from Israel (E.N.: I tried out the shampoo and conditioner the same night and woke up in the morning with a head of "sex hair"! - K.M.); beautiful jewelry from the Jill Reno collection; delicious gluten-free fudge from Offenbacher Gourmet Fudge (I couldn't stop eating it);Glop & Glam, a line of organic hair care products aimed specifically as kids (E.N.: But adults like it too! I especially enjoyed the cake batter conditioner! - K.M.); as well as a number of fresh organic skincare systems from Zen Society Skincare, Astara Skin Care (E.N.: whose line of face mask treatments are absolutely refreshing and renewing! - K.M.), and coconut-based products from Joey New York (E.N.: Their blackhead treatment is actually a peel, so it makes cleaning your skin extra-fun! - K.M.). I was quite amazed by Hayari Couture's exquisite gowns from France, and desperately wanted to throw one on over my head and sashay across the floor. (E.N.: Designer Nabil Hayariwas quite impressed by my amateur French-speaking skillz. - K.M.) I was charmed by Mari Campbell, the author of children's books MaggieMoose Tracks, who introduced me to the latest adventure of Maggie, the adorable English Springer Spaniel puppy, who meets Alfonso the Alligator.
The glamorous Golden Globes lounges didn't stop there, though! On Saturday, Katie and I attended the Colgate Optic White Beauty Bar presented by Sexy Hair held at the enchanting Privé Salon in Los Angeles. The stars came out for a day of primping and pampering by some of L.A.'s finest hair, make-up, and nail stylists. While Katie and I got blow-outs and makeovers, Christina Millian popped by with her sister, happily discussing wedding plans, while "Girls" star Jemima Kirke came by for some relaxation time for her very first Golden Globes. A number of additional lovely ladies came by, including Anna Kendrick,Cassie Scerbo, Lisa Rinna,Keke Palmer, and Jessica Szohr. The go-to style seemed to be the loose, beachy waves and flowing curls, so it looks as though a more natural look is in. That's good news for those of us with wild curls!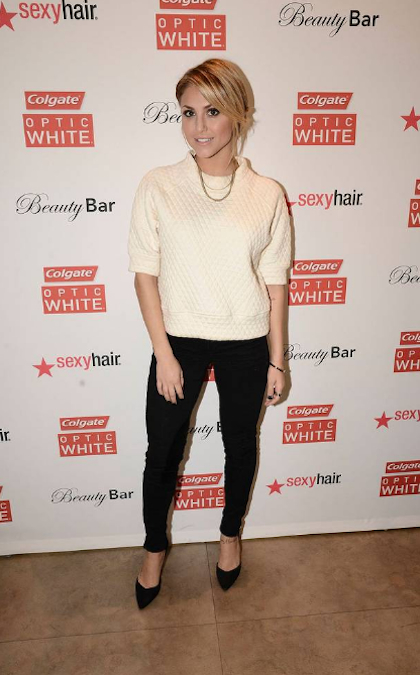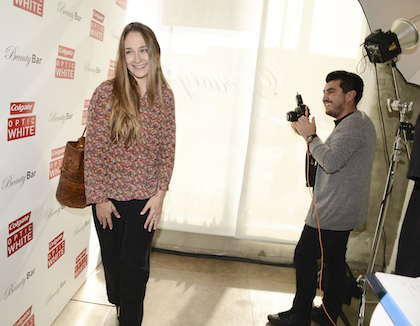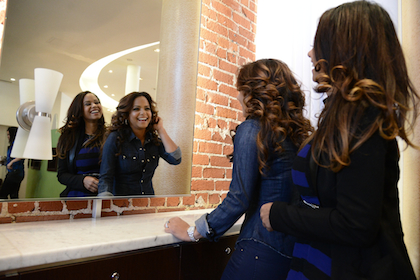 Congrats to all the winners, and best of luck to all the amazing vendors at these events!
(Top photo courtesy SRE/JC Olivera/Rita Branch/Amy Boatwright; all others via Dan Steinberg Photography)
- Sarah Osman, YH Staff; additional reporting by Katie Marzullo, YH Staff Editor