Going Viral: How the Internet Has Become the New Starmaker
Written by Audrey Cook. Published: March 07 2012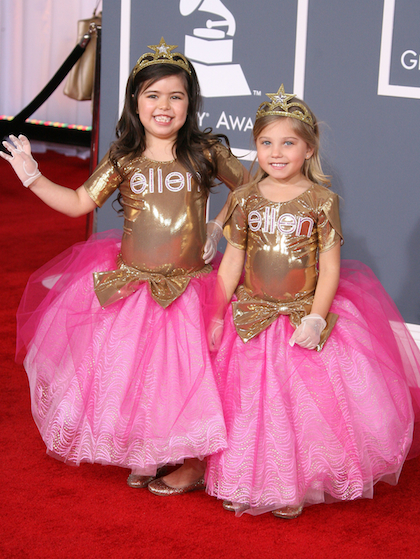 For all of you aspiring singers, forget hiring an agent to represent you. These days, all you need is access to the Internet and you can be on your way to fame. Here are a slew of musicians whose musical talents were first discovered online.
Before
Justin Bieber
was a worldwide pop star, he began his career by publishing homemade videos of his musical talent to YouTube. "It had a hundred views, then a thousand views, then ten thousand views, so I just kept posting more videos and more videos," he told ABC News. Bieber's current manager,
Scooter Braun
, initially reached out to the YouTube sensation in 2007 and flew the
Biebs
to Atlanta to meet with
Usher
. The teen singer signed on with Island
Def
Jam Recordings with Usher serving as his mentor. The teen heartthrob released his debut album,
My World
, in 2009, which launched at No. 6 on the Billboard charts, catapulting him into the spotlight at the tender age of 15.
Ellen DeGeneres
is notorious for showing her audiences YouTube videos she finds entertaining, which is how
Greyson

Chance
and duo
Sophia Grace and Rosie
were all discovered.
Greyson
Chance first hit the scene when he performed a rendition of
Lady Gaga
's  "Paparazzi" for his
6th
grade talent assembly in 2010. The performance was posted on YouTube, and more than 38 million people watched the one-of-a-kind performance, including Lady Gaga herself. At just 12 years old, Chance was invited to perform on "The Ellen DeGeneres Show" and was signed to Ellen's record label,
eleveneleven
. Since hitting the scene, Chance released his debut album,
Hold on

'Til

the Night
, and went on tour in Southeast Asia to promote it. (He's also visited the Young Hollywood Studio twice! Check out those videos
here
and
here
.)
Ellen wasn't quite done working her magic. Cousins Sophia Grace Brownlee, 8, and 5-year-old Rosie
McClelland
became overnight sensations after a YouTube video of the girls singing
Nicki
Minaj's
anthem "Super Bass" in tutus and tiaras went viral. Nearly 11 million people viewed the duet, earning them a spot on "The Ellen DeGeneres Show" where the girls met and performed with their idol Nicki
Minaj
. Since then, the pair from Essex, England, has served as DeGeneres's red carpet correspondents, interviewing stars at the
Grammys
and American Music Awards. Will Ellen also sign them to her record label? Only time will tell.
Back in 2005,
Colbie
Caillat
created a MySpace page and was urged by one of her friends to put her music up on it. "I was being lazy, so he went on there and uploaded my songs and showed me how to use it," she told
USA Today
. After she uploaded her hit song, "Bubbly", Caillat found herself surrounded by thousands of MySpace friends, leading to Universal Republic Records signing her in 2007. "I never knew I could get a career out of this," she told
OK
! magazine. "MySpace is what started it all." (Hear more about Colbie's online origins in this
exclusive interview
at the Young Hollywood Studio!)
The next time you think you have the next big hit, try posting in on YouTube; you never know what will happen!
(Photo via WENN)
- Audrey Cook, YH Staff