The Truth Behind "The Lying Game" Star Alice Greczyn
Written by Tallie Johnson. Published: March 05 2012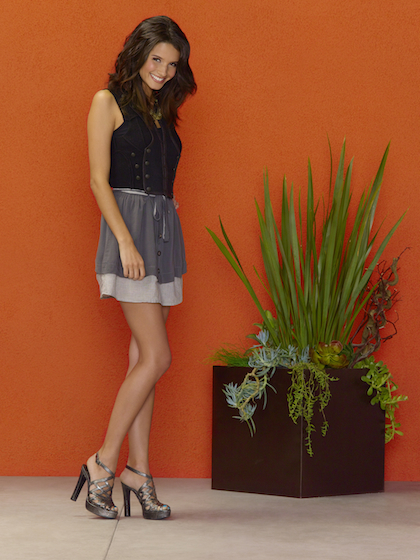 The season finale of "The Lying Game" on ABC Family tonight (March 5) will end in a cliffhanger. The story that revolves around the complexities of family, especially when you don't really know them, is going to get even more intense.
A foster child, Emma, finds out she has an identical twin sister, Sutton. Separated at birth, Sutton is adopted by wealthy parents. As all twins must do, they switch places so Sutton can search for her birth mother. Things get complicated, as Emma enters into a web of lies to become her twin.
Alice

Greczyn
plays "Mads" one of Sutton's close friends. Mads and Sutton grew up together and talk intimately, but even in this friendship there are secrets. She is there for her friend but also has to deal with her own issues. Mads struggles with both the departure of her brother, Thayer, and a disinterested father. Even being so close with her friend Sutton, she doesn't know that a stranger has replaced her.
In the finale, expect to see a fast wedding and some family secrets take center stage.
Will viewers finally know who Emma's biological mother is?
In the show, family secrets are revealed and the truth is peeled back. So, let's peel back the character and learn some secrets about Alice Greczyn! (P.S. - That's pronounced "Gre-Chen", like the girl's first name.)
1. The role was hers. Alice didn't have to audition for the role of Mads; she'd worked with ABC Family on several other shows, including "Lincoln Heights" and "Make it or Break it." They liked her work so much, they offered her the part!  
2. She can figure skate. Her character Mads is a ballerina. Alice is graceful and is often mistaken as a dancer herself! She isn't, but as a kid she was a competitive figure skater. While Alice is not classically trained in ballet, the years she put in on the rink still translate into great form.
3.
Food is her passion.
When she is not acting, she is cooking. Her Twitter handle is even @
AliceFood
. Expect to see a lot of tweets of delicious food pictures and restaurant recommendations. This foodie is even working on her own cookbook.  It won't be a traditional flipbook with recipes but more of a "cookbook memoir." Essentially, it is an autobiography where food is one of the central characters. 
4. She was almost a nurse. Since she was home-schooled, she graduated high school early. When most kids were just worried about getting their driver's license, Alice was in college studying to be a nurse at just 16! Lucky for her, in Colorado where she grew up, you had to be 18 to take the nursing exam. So she had time, and in that time she found another passion – acting.
5. She is a model. A chance encounter with Victoria Beckham at a barbeque landed her the opportunity to model for Victoria's denim clothing line. The modeling was part of an online look book.
Catch Alice Greczyn on the season finale of "The Lying Game" tonight, March 5, at 9pm on ABC Family.
(Photo via Robin Finn/ABC)
- Tallie Johnson, YH Staff