'Godzilla': The Beast is Back!
Written by Amanda Baltazar. Published: March 08 2014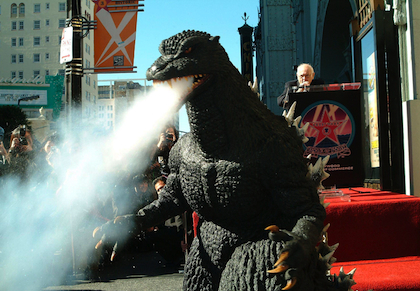 The King of Monsters is BACK!
British filmmaker, Gareth Edwards, took on a huge project of rebooting one of the most famous and iconic monsters ever to hit the silver screen.
Godzilla first appeared in Ishiro Honda's 1954 film, and since his birth as a Kaiju ("strange creature" in Japanese), the enormous monster has appeared in scores of other films likeKing Kong vs. Godzilla, Mothra vs. Godzilla, and many, many more. Godzilla has even made his way into video games, comics, and novels. Godzilla has his own star on the Hollywood Walk of Fame for goodness sake!
We last saw Godzilla in 1998 when the gigantic creature was wreaking havoc on Manhattan and Matthew Broderick. But since then, the monster has been pretty dormant…
But not for long!
A few months ago, a teaser trailer for the film was released.
For the 5-7 seconds that we saw Godzilla, he looked pretty terrifying even while being covered by fog.
Last week, the official trailer for Godzilla was released, which means that a new reboot of the film will be coming out later this year -- in May to be exact. And it's in 3D. Now, I'm not a big 3D fan, but if I were to see any movie in 3D, I would want it to beGodzilla.
The film stars Bryan Cranston (cue all the "Breaking Bad" feels), Inception's Ken Watanabe,Juliette Binoche, and my boo Aaron Taylor-Johnson.
Check out the intense trailer!
I cannot wait for the King of Monsters to make his return to the big screen in May!
(Photo via Jody Cortes/WENN)
- Amanda Baltazar, YH Staff