First Trailer for One of Robin Williams's Last Films Released
Written by Katie Marzullo. Published: October 14 2014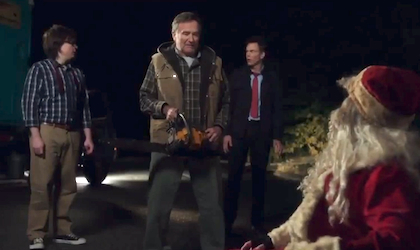 WhenRobin Williams sadly took his own life back in August, he left behind three as-yet unreleased films in his wake. The man seemed to constantly be working, adding to his already storied and impressive resume. And two of those unreleased films will see the light of day before the year is out.
The first of the two is A Merry Friggin' Christmas, and you have probably already guessed at the plot simply from the title. Judging by the just-released trailer, it looks like the typical holiday-themed comedy fare – Joel McHale and his family are forced to spend Christmas with his unpleasant father, played by Williams. And don't forget Tchaikovsky's "Trepak" from The Nutcracker, which is the official soundtrack to any wacky holiday movie! Hilarity ensues! Yes, it's been done, but the big difference here is the inclusion of the deliciously acerbic McHale and, of course, Robin Freaking Williams! Check out the trailer below:
Also sharing comedy duties are Heather Graham, Wendi McLendon-Covey, and Jeffrey Tambor.
It's still hard to believe that Williams is gone, but with 3 of his films still yet to be released, we can at least feel like he's somehow still with us.
A Merry Friggin' Christmas hits theatres in November.
(Screenshot via YouTube)
- Katie Marzullo, YH Staff Editor