'Big Lebowski'-Themed Pinball Machine in the Works for a Good Cause!
Written by Kevin Donaldson. Published: October 14 2014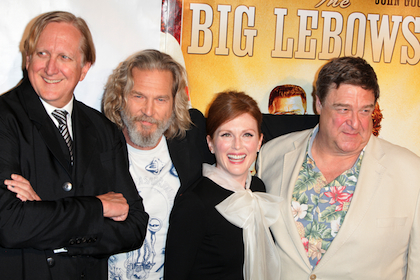 We got news that is way better than somebody peeing on your rug, dude. With pinball machines finding a resurgence in popularity, the cult classic Coen Brothers film The Big Lebowski is getting its own pinball machine! The good folks at Dutch Pinball have finally come to their senses and createda pinball machine fit for the Dude to play for hours while he enjoys several White Russians.
If you can afford to personally purchase the pinball machine, Dutch Pinball will donate part of your expenses to (what they're calling the Dude's favorite charity) No Kid Hungry. On top of that, if youpre-order before October 19, you will receive other fun prizes like a trip to the opening party in the Netherlands and lots of T-shirts! The amount of pinball machines that will be made is unknown, but if you're one of the people interested in buying one, then act quick!
As for the pinball machine itself, it is decked out with lots rad-dudical features. The setting appears to be in the bowling alley that the Dude often visits yet never actually seems to bowl in. Like any bowling alley, there is a bathroom, the parking lot from the infamous nihilist fight scene, a White Russian forever stuck on the protective glass (sorry, you can't drink it), and, of course, a bowling lane. Sadly, you won't find a rug that'll really tie the room together, but who really needs a rug when you've got frickin' pinball machine to do that for you?! But enough of reading about it, check out a video of the prototype below:
                                                                                                                                                                                     Video courtesy of Pinball News
Lebowski fans, I hope you're excited about this pinball machine too! Just remember when you start playing it… This isn't 'Nam. This is pinball. There are rules. When you don't abide by the rules:
That's right, you FIND a stranger in the ALPS!
(Photo via WENN)
- Kevin Donaldson, YH Staff