Fall Film Festival Lineup!
Written by Mollie Davis. Published: August 28 2023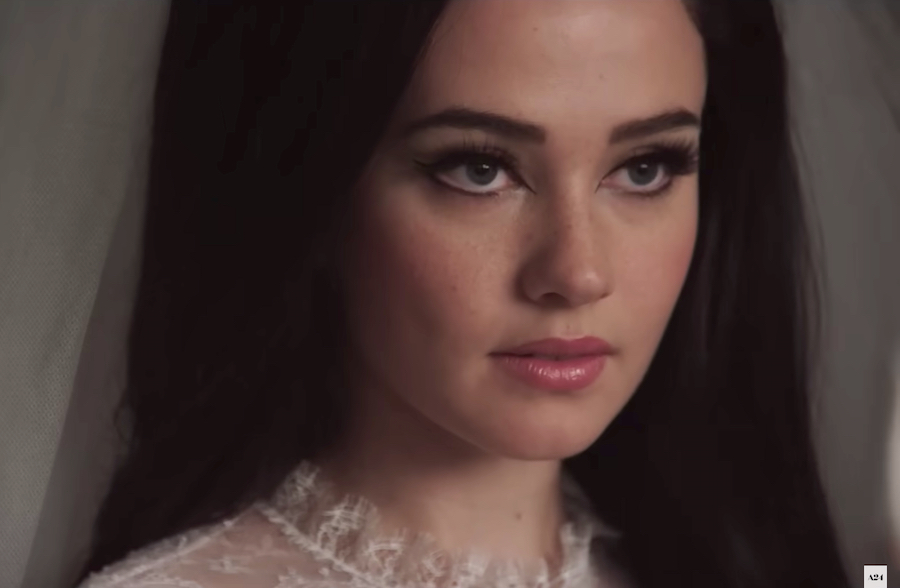 (Photo: A24)
Fall means the return of Pumpkin Spice Lattes, apple-picking, scarf-wearing… and a slate of major film festivals! Here's a quick brief of what movie fans can expect from the festival lineup of the season!
1. Venice Film Festival: August 30 - September 3
The first major film festival on the fall roster takes place in glamorous Venice, Italy. In years past, the festival has been known for all the photographs of movie stars traveling across the canal to premieres in mid-sized boats, and while the ongoing SAG-AFTRA Strike will mean less of that, it's still a weekend of movies to keep an eye on! The most anticipated new film of the festival among critics and movie fans is Priscilla, Sofia Coppola's new book-to-screen adaptation ofPriscilla Presley's autobiography Elvis and Me. The Priscilla cast recently received an interim-agreement from SAG-AFTRA to promote the film in Venice, which could mean appearances from stars Jacob Elordi and Cailee Spaeny alongside Coppola and Presley themselves, who are already scheduled to attend. Michael Mann and team also received an interim agreement to promote their movie premiering in VeniceFerrari, a biopic about the founder of the car manufacturer by the same name; star Adam Driver is expected to attend the festival.
2. Telluride Film Festival: August 31 - September 4 
Having taken place in the mountains of Colorado since the mid-1970s, the unique aspect of this film festival is that the lineup isn't revealed until the start of the festivities! And every film that runs at Telluride is an American premiere, audiences in Colorado having been the first ever to see iconic titles like Brokeback Mountain, Slumdog Millionaire, and Lady Bird. Another tradition of this unique festival is the awarding of silver medallions to selected film creatives, which in years past have included Francis Ford Coppola,Meryl Streep, and Cate Blanchett. Stay up to date with the festival by bookmarking the news section of their website!
UPDATE: As of 8/30/23, the Telluride lineup has been released! Among the films slated to make their world premieres include Oscar-winning Promising Young Woman writerEmerald Fennell's much-anticipated new directorial effort Saltburn, starring Jacob Elordi,Barry Keoghan, and Rosamund Pike. 
3. Toronto International Film Festival (TIFF): September 7 - September 17
This film festival taking place across 10 days in Toronto, Canada, will showcase over 200 movies before its conclusion! Among the hundreds of films to be showcased include the based-on-a-true-story adaptation of when GameStop shook the stock market, Dumb Money, starring America Ferrara andShailene Woodley. But the lineup also includes smaller indie documentaries like Summer Qamp, which tells the story of a summer camp for LGBTQ youth in Alberta, Canada. TIFF also prides itself on hosting a number of industry conferences during their festival -- this year's conference topics range from inclusion for people with disabilities in the screen industry to environmentally sustainable filmmaking. 
4. New York Film Festival (NYFF): September 29 - October 15
Films that had their world premiere in Cannes back in May, or that are slated to premiere in Venice, will also take the show on the road to New York City for NYFF! This 16-day festival will take movie-goers around all 5 boroughs of New York City and feature films from over 15 different countries. Among the anticipated feature films such asThe Zone of Interest and May December is the North American premiere of Pier Paolo Pasolini – Agnès Varda – New York – 1967, a short film that was shot during the 4th ever New York Film Festival 5 decades ago!