EXCLUSIVE CLIP: 'Maze Runner: The Death Cure' Cast & Crew Pay Tribute to The Final Chapter of the Saga Ahead of DVD Release!
Written by Melissa Breccia. Published: April 23 2018
After years of compelling storylines, heartfelt characters, and box office success, the Maze Runner trilogy has been completed. Based on the book series of the same name by author James Dashner, the films explore a world that has been devastated by a terrifying virus called the "Flare". Every turn becomes more threatening as young people known as "Gladers", who are immune to the virus, are endangered by both the WCKD organization—known for using torturous experiments in search of a cure—and the virus-infected "Cranks". The latest and final film,Maze Runner: The Death Cure, follows protagonist Thomas (Dylan O'Brien) and his fellow Gladers as they continue the battle against WCKD in an attempt to save their friends. However, they must now face the deadliest maze of all if they want the answers to their long-harbored questions.
If you're wishing for that last bit of new content before re-watching the series (we're already preparing our popcorn), then look no further! 20th Century Fox has just released an exclusive clip to bring us some much-needed closure at the end of this journey.
Emphasizing the visionary behind the saga, the clip focuses on directorWes Ball and his passion for developing the films. As actress Kaya Scodelario, who plays Teresa, says, "He lives and breathes these movies." The chemistry between the cast and crew is already evident in the films, but this clip really sums up the joy that shooting the trilogy has brought to everyone on set. Ball appropriately labels the finale "bittersweet," as they all express gratitude to have been able to unite as a family for this stunning series. Their dedication has paid off, and you don't want to miss their sweet triumph in wrapping up this chapter.
While it might be hard to let go, the good news is that you can still relive the action in the comfort of your own home! Maze Runner: The Death Cure will be available TOMORROW, April 24, on Digital via Movies Anywhere, as well as on 4K, Blu-ray, and DVD. It even comes with The Maze Runner Origins comic book, a 24-page original comic book by Maze Runner screenwriterT.S. Nowlin, whose other credits includePacific Rim: Uprising and Godzilla vs. Kong. Of course, you'll probably want to go for the complete trilogy box set, which will also be out on the 24th! This includes the comic book plus a limited edition bandana that was chosen by fans for the world to own! The bandana's deep teal coloring against golden labyrinthine patterns makes for the perfect accessory to pay homage to your favorite dystopian series. You'll inevitably have to set up an all-night screening with your friends once you get this bundle!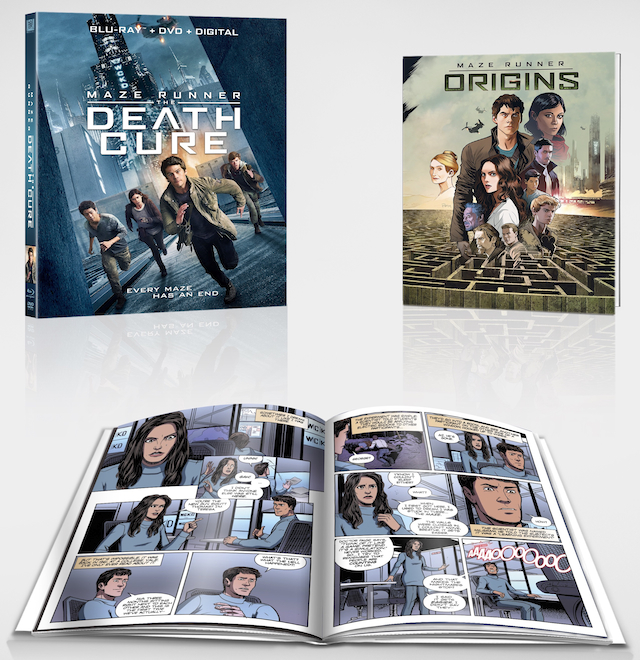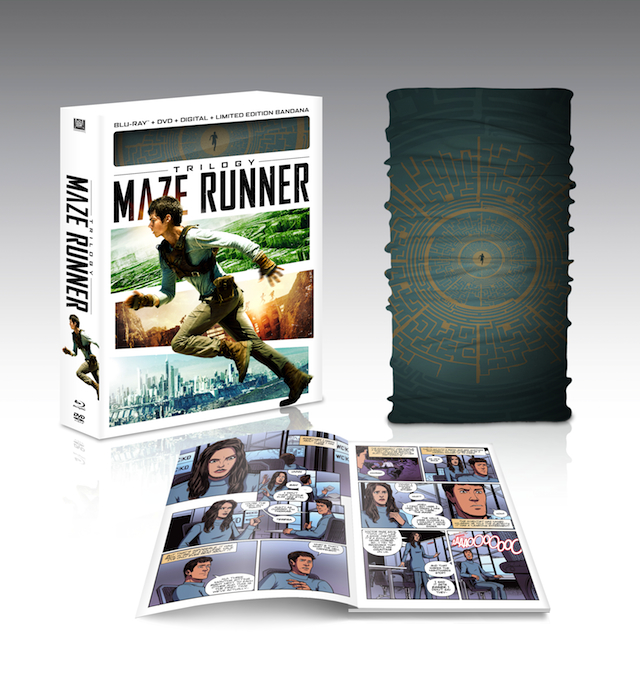 Whether you're already a fan or just jumping into the world that isMaze Runner, you're sure to enjoy this exclusive clip and exciting release. Here's to the end of a legendary saga! We can't wait to see what's next for all of the great talent that was involved!
Also be sure to check out stars Thomas Brodie-Sangster, Kaya Scodelario, and Dexter Darden's visit to the YH Studio to dish on all things Death Cure, below!
(Images via 20th Century Fox)
- Melissa Breccia, YH Contributing Writer