Everything We Learned About Season 2 of "High School Musical: The Musical - The Series" From the Trailer!
04-14-2021 by Julie Fenske
  ( © Disney+/Fred Hayes)  
Wildcats, are you ready to go back to East High?!
Disney+ recently released the Season 2 trailer for "High School Musical: The Musical -- The Series", and we can't stop thinking about it! Last season left us wondering about the fate of characters like Gina (Sofia Wylie), who had to leave East High due to her mom's job, and Nini (Olivia Rodrigo), who was accepted into a performing arts boarding school in Denver. Will they still be hanging in the halls with our favorite theater kids? Another relationship that might have to survive a distance is Nini and Ricky (Joshua Bassett). Since Ricky's insanely romantic love confession in the Season 1 finale, Nini found out about her drama school acceptance but hadn't told Ricky. Will they stay together, or will they fail to navigate high school while being apart? 

We scoured the new trailer for all the details we could find, so sit back and let us share all the info about new cast members, plot, and when the episodes will air! 
The beginning of the trailer drops us back at East High for the spring semester, where the students and Miss Jenn (Kate Reinders) are hyped about following up their production of High School Musical with High School Musical 2. However, they run into new character Zach, played by "Dancing With the Stars" proDerek Hough, Miss Jenn's ex and the theater teacher at rival school North High. (A missed opportunity to include the West High Knights as an Easter egg from the original movie trilogy, imo). When he tells Miss Jenn he's putting onThe Little Mermaid, she decides to go Disney too and put on Beauty and the Beast instead. Plus, he reveals he's entering his production in the Alan Menken Awards, a fictional awards ceremony for excellence in high school musical theater. The stakes just got higher!
The next section leads us into Nini and Ricky's relationship status. It looks like they're going to try and make long-distance work, although, from a couple emotional-looking shots, we might just end up in a Troy and Gabriella "Gotta Go My Own Way" situation. The creators surely know how invested their audience is in this relationship (we know we are), and so they're holding the outcome of this situation close to the vest.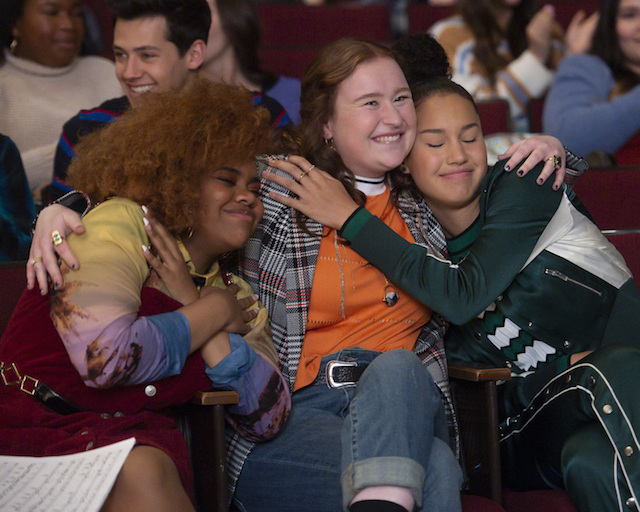 ( © Disney+/Fred Hayes)
New characters will certainly come in to shake things up with this tight-knit crew of friends, like Lily (Olivia Rose Keegan), who tells the group they should "stick to the stuff you know." She even tells Ricky, "Sounds like your girlfriend wants some space. Let me know if you're looking for one who doesn't." Uh-oh. Could she be a new student looking to compete for a starring role? Plus, Dear Evan Hansen starsAndrew Barth Feldman and Roman Banks are joining the fun as characters named Antoine and Howie, respectively, so we know that they'll be even more serious talent in the mix.
As Carlos (Frankie Rodriguez) says in the trailer, "Is thisMamma Mia 2? 'Cause here we go again!" From the looks of the trailer, this season is sure to bring in the laughs, heartfelt friendships, incredible songs, and relatable characters that we've come to know and love. The season premiere drops on Disney+ on May 14th, and you won't want to miss it!