Everything Is Awesome Again at LEGOLAND California With New LEGO Movie World Addition!
06-24-2021 by Lesley Robins
  ( ©LEGOLAND California Resort)  
So, yes, the song "Everything is Awesome" is the theme song to the 2014 Warner Bros. Pictures film The LEGO Movie – but here in 2021, LEGOLAND California is actually continuing to up its awesomeness by not only the reopening of the entire park since the COVID-19 pandemic showed up but also with the newest addition to the park, LEGO Movie World, based on the films The LEGO Movie and The LEGO Movie 2: The Second Part!
And the fact that the awesome actors John Stamos ("Fuller House") and Jeremy Maguire ("Modern Family") recently paid the theme park a visit just ups this place's awesomeness a few notches!
( © LEGOLAND California Resort)
( © LEGOLAND California Resort)
This new LEGO Movie World brings guests into the LEGO-built animated film town of Bricksburg, along with the various quirky characters from the LEGO Movie film franchise. LEGO Movie World — the largest addition in LEGOLAND California's history — debuted on May 27, adding to the Carlsbad theme park's new attractions, eateries, play areas, and a meet-and-greet location. Check it out!
( © LEGOLAND California Resort)
Emmet's Flying Adventure
The flagship ride, Emmet's Flying Adventure, is staged on a triple-decker flying couch.  Kids of all ages can tap into this thrill-seeking virtual escape featuring cutting-edge technology, 180-degree turns, and flights above Middle Zealand, Cloud Cuckoo Land, and Pirates Cove.  
Unikitty's Disco Drop
Unikitty's Disco Drop lifts riders 35 feet into the air to the top of Cloud Cuckoo Land, offering a 360-degree view of the park, before sending them bouncing back toward the ground as the seats spin around the town.
( © LEGOLAND California Resort)
Meet & Greet
Take a socially-distanced photo with the films' favorite characters -- Emmet Brickowski, Wyldstyle, Spaceman Benny, or General Sweet Mayhem -- in Emmet's downtown Bricksburg apartment called Emmet's Super Suite.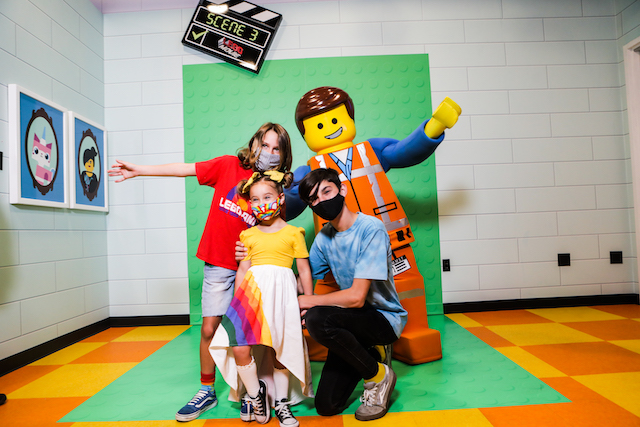 ( © LEGOLAND California Resort)
Benny's PlayShip
You can't beat a fun place where kids can be kids and run free. Benny's PlayShip is a space-themed, ultra-high climbing structure where the little ones can climb up alongside each other and then take a solo trip down a winding slide – and then do it all over and over and over and over again!
After being closed for 13 months due the coronavirus crisis, the park was able to reopen on April 1. (The pandemic-delayed LEGO Movie World themed land was supposed to open in Spring 2020.) But that's all in the past and everything is turning awesome again. So, if you find yourself doing some post-COVID traveling soon, hit up LEGOLAND California, or if you're venturing a bit further out, similar LEGO Movie World themed lands have also opened in LEGOLAND Florida and LEGOLAND Billund in Denmark.
See? Awesome.