Emotions Run High at Powerful Message-Heavy Grammy Awards!
Written by Nicole Wert. Published: January 29 2018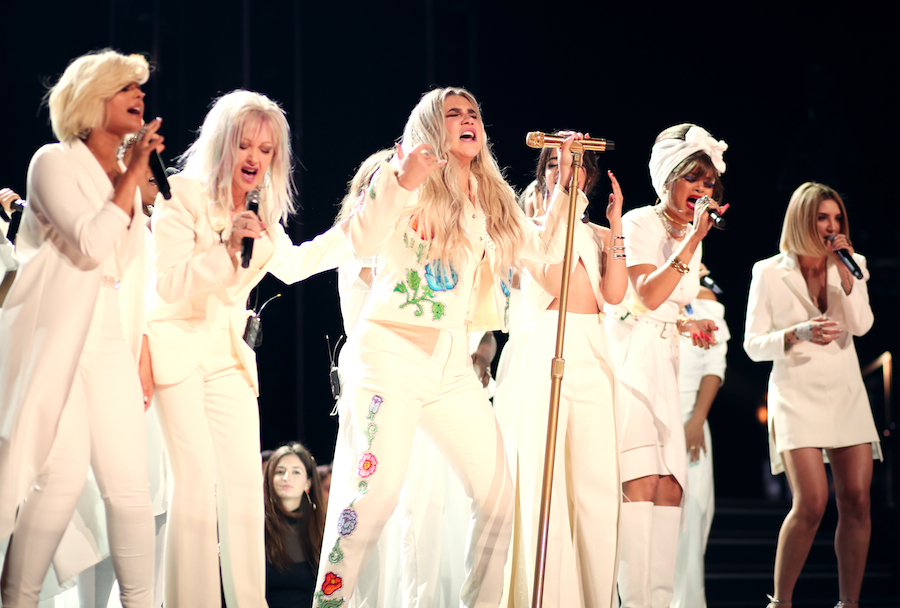 The 60th annual Grammy Awards definitely left everyone with a whirlwind of emotions! The Grammys came back to New York City for the first time in 15 years, and everyone was celebrating the incredible performances, well-deserved winners, and breathtaking speeches.
The show opened up with a phenomenal performance by Kendrick Lamar performing his song "XXX" accompanied by U2'sBono and The Edge as well as comedian Dave Chappelle. Lamar went on to sweep the Rap categories, taking home 4 Grammys for the night -- Best Rap Album (DAMN.), Best Rap Song ("Humble."), Best Rap Performance ("Humble."), and Best Rap/Sung Performance ("Loyalty" ft. Rihanna).
Nearly everyone at the Grammys carried or wore a white rose, representing women's suffrage, in honor of the #MeToo Movement, signifying a new beginning as women come together to support one another. One moment (of many) that left everyone in tears was the powerful performance by Kesha singing her hit "Praying", supported by other fierce female artists such asCamila Cabello,Julia Michaels, Bebe Rexha,Cyndi Lauper, Andra Day, and theResistance Revival Chorus. The performance was so powerful, as they were all wearing white and Kesha absolutely sang her heart out on that stage, that the singer was left visibly overwhelmed by emotions at the end of it... and so were we!
After one empowering performance after another, Camila Cabello lead right into introducing the band U2 and took the moment to share her background, recognizing all the children of undocumented immigrants who are fighting to stay in the United States. Cabello came from Cuba, and mentioned that her journey was no different from theirs. Cabello mentioned, "I'm a proud Cuban-Mexican immigrant, born in Eastern Havana, standing in front of you on the Grammy stage in New York City, and all I know is, just like dreams, these kids can't be forgotten and are worth fighting for." The impactful speech led into U2 performing on a boat next to The Statue of Liberty singing their song "Get Out Of Your Own Way".
A much-needed tribute to the victims of the Las Vegas shooting and the Manchester Bombing Attack took place at the Grammys as well. Artists who performed the Rt. 91 Harvest Music Festival in Las Vegas reunited on stage Sunday night, including The Brothers Osborne, Maren Morris, and Eric Church, where they sang Eric Clapton's heartbreaking "Tears in Heaven" in memory of the victims. It was extremely moving and left the whole room in hushed awe. 
Speaking of awe, the OG queen herself, Patti Lupone, returned to the Grammys stage 38 years later to bring the house down old school-style by performing her signature jam, "Don't Cry For Me Argentina" from Evita. Check it out below, followed by her original performance in 1980 for comparison!
But it wasn't all sadness and activism last night. One of the more upbeat performances of the evening came from Cardi B andBruno Mars singing the "Finesse" Remix! They definitely brought the '90s vibes to the stage just like they did in their music video. It was definitely Bruno's night -- not only did he perform at the Grammys, but he brought home 6 awards! He swept away the biggest awards of the night, including Album of the Year (24K Magic), Song of the Year ("That's What I Like"), Record of the Year ("24K Magic"), Best R&B Song ("That's What I Like"), Best R&B Album (24K Magic), and Best R&B Performance ("That's What I Like"!
A little later in the night there was an unforgettable duet performed bySir Elton John and Miley Cyrussinging John's classic hit, "Tiny Dancer". Elton John of course did what he does best, and played the piano while singing, and Miley Cyrus stood at the end of the piano accompanying him with her angelic voice. John just recently announced his farewell tour,Farewell Yellow Brick Road, and a Grammy Tribute to the singer himself will air on CBS sometime later in 2018.
Ending out the night of absolutely incredible performances,Logic of course brought his powerful song "1-800-273-8255" to the Grammy stage. Khalid and Best New Artist winner Alessia Cara joined him on stage along with survivors wearing shirts that read "You Are Not Alone," and "1-800-273-8255", which is the National Suicide Prevention Hotline. During his performance, Logic made an incredible speech, and later on posted it to Twitter addressing some minor last minute changes to the speech that had the crowd cheering.
The 2018 Grammys were definitely one for the history books this year! Each performance was outstanding, and each served very important messages that were powerful and uplifting in so many different ways. Congratulations to all of the winners who brought home Grammys!
(Image via Christopher Polk/Getty Images)
- Nicole Wert, YH Contributing Writer