Easy Last-Minute DIY Treats For Your Next Holiday Party!
Written by Amanda Baltazar. Published: December 05 2021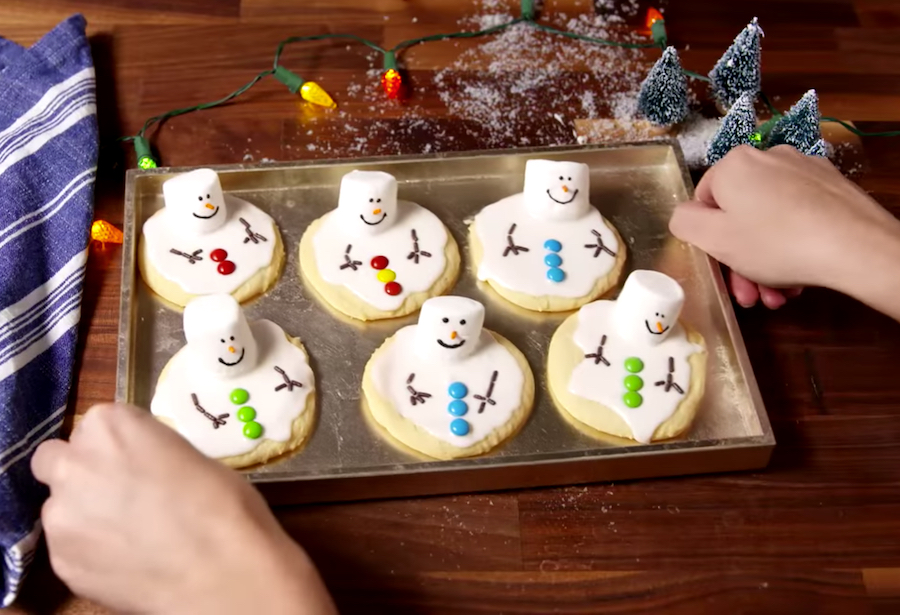 (Delish/YouTube)
Holiday parties, family & friend get-togethers, and potlucks. It's that time of year.
I'll be the first to admit that I'm not the best cook; actually I don't cook, but I can DIY! And cooking is just like DIY-ing but with food, right? Right! All you need is a little creativity, determination, and a good recipe! Once Thanksgiving ended, I scoured YouTube for some easy, tasty, and awesome holiday DIY treats, and I was blessed with a ton of options, from rice crispy treats and smoothies to muddy buddies, I was in holiday DIY treat heaven.
So this year, while my family dishes out the side dishes, main dishes, and desserts to various members of the family, I'll be ready to bring a few sweet holiday treats for everyone in the family to enjoy. I plan on making the Chocolate-Covered Pretzel Sticks and the Melted Snowman Cookies that you'll see below! 
Here are a few of my favorite holiday DIY treats from awesome DIY YouTube channels!
1. NORTH POLE HOT COCOA STIRRERS
What You'll Need:
Candy Cane Sticks
Marshmallows
Marshmallow Fluff
Sugar Sprinkles
Skip to 2:05 to see how Bethany Mota makes these awesome treats! They are so cute and perfect for hot cocoa!
2. CHOCOLATE MARSHMALLOW MUGS
What You'll Need:
Jumbo Marshmallows
Mini Marshmallows
Cookies & Creme Stuffed Marshmallows
White & Milk Chocolate (to melt)
Mini Candy Canes
3. PEPPERMINT OREO BARK
What You'll Need:
Oreos
White & Milk Chocolate Melts
Candy Canes
4. MELTED SNOWMAN COOKIES
What You'll Need:
Sugar Cookies (Store-bought or from scratch)
Black & White Cookie Icing
Marshmallows
M&Ms
Black & Orange jimmies
5. CHOCOLATE PRETZEL STICKS
What You'll Need:
Pretzel Rods
Chocolate (white, milk, dark are all great!)
M&Ms (optional)
Sprinkles (optional)
Chopped Nuts (optional)
Chocolate Chips (optional)
Skip to 0:20 to see how Lovebites makes these amazing pretzels! I'll be trying these out this year!
And those are just a few of the amazing DIY holiday treats I found! Be sure to check out all the DIY channels that we got these recipes from because they are all super awesome and creative! 
We hope you all have a happy holiday and let us know if you make any of these sweet treats!