Easy Last-Minute DIY Treats For Your Next Holiday Party!
12-18-2018 by Amanda Baltazar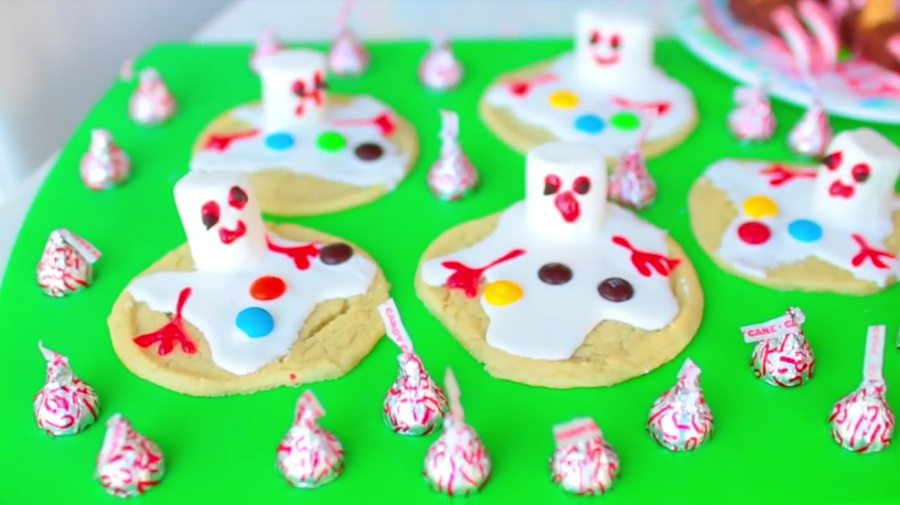 Holiday parties, family & friend get-togethers, and potlucks. It's that time of year.
I'll be the first to admit that I'm not the best cook; actually I don't cook, but I can DIY! And cooking is just like DIY-ing but with food, right? Right! All you need is a little creativity, determination, and a good recipe! 
Once Thanksgiving ended, I scoured YouTube for some easy, tasty, and awesome holiday DIY treats, and I was blessed with a ton of options from rice crispy treats and smoothies to muddy buddies, I was in holiday DIY treat heaven.
So this year, when my family dished out the side dishes, main dishes, and desserts to various members of the family, I was ready to bring a few sweet holiday treats to bring for everyone in the family to enjoy. I myself will be planning on making the Chocolate-Covered Pretzel Sticks and the Melted Snowman Cookies that you'll see below! 
Here are a few of my favorite holiday DIY treats from awesome DIY YouTube channels!
1. NORTH POLE HOT COCOA STIRRERS
What You'll Need:
Candy Cane Sticks
Marshmallows
Marshmallow Fluff
Sugar Sprinkles
Skip to 2:05 to see how Bethany Mota makes these awesome treats! They are so cute and perfect for hot cocoa!
2. CHOCOLATE MARSHMALLOW MUGS
What You'll Need:
Jumbo Marshmallows
Chocolate (to melt)
Mini Marshmallows
Sprinkles
Mini Candy Canes
Go to 1:58 to see how AlishaMarie creates these cute Marshmallow Mugs!
3. PEPPERMINT OREOS
What You'll Need:
Oreos
White Chocolate Melts
Candy Canes
Skip to 1:23 to see LaurDIY show us how to make these simple oreos with a twist!
4. MELTED SNOWMAN COOKIES
What You'll Need:
Sugar Cookies (Store-bought or from scratch)
White Cookie Icing
Marshmallows
M&Ms
Black Food Coloring Gel
Check out MissRemiAshten make these tasty cookies at 3:29!
5. CHOCOLATE PRETZEL STICKS
What You'll Need:
Pretzel Rods
Chocolate (white, milk, dark are all great!)
M&Ms (optional)
Sprinkles (optional)
Chopped Nuts (optional)
Chocolate Chips (optional)
Skip to 0:20 to see how Lovebites makes these amazing pretzels! I'll be trying these out this year!
And those are just a few of the amazing DIY holiday treats I found! Be sure to check out all the DIY channels that we got these recipes from because they are all super awesome and creative! 
I hope you all have a happy holiday and let us know if you make any of these sweet treats!
(Image via MissRemiAshten)
- Amanda Baltazar, YH Contributing Writer