Don't Be a Tulle: How to Style a Tulle Skirt!
Written by Rita Korkounian. Published: June 16 2014
Ladies, this day has finally come. Tulle skirts are taking the fashion world by storm. And guess what? You don't have to be a ballerina, princess, or fairy to take a whirl at this trend. Oh, and being a child under the age of five is not a requirement either. In fact, this style session is just for adults.
Now, styling a tulle skirt is a lot trickier than it may seem. First of all, it's not the most slimming skirt, so finding a flattering fit/length is key. Second, it's not very work-friendly either (unless you work in the fashion industry, of course), so it's best to save it for weekends and/or special occasions. Third, we need to be careful about entering kiddie territory. Having said that, I've gathered a few looks from the blogosphere to show you how it's done. These blogger babes definitely master the ultimate tulle skirt styling challenge!
So, it's time to channel your sassy, fabulous, and fashionable inner Carrie Bradshaw. The first 3 set of looks come to you from Bows and Depos, Hello Fashion, and Wendy's Lookbook. When you think of a tulle skirt, what are the first few words that come to mind? Soft, feminine, and dainty, right? These ladies have definitely added elements of surprise and edge to their outfits with bold colors, statement accessories, and contrasting textures. If you could rock a tulle and leather ensemble, then you are a person after my own heart!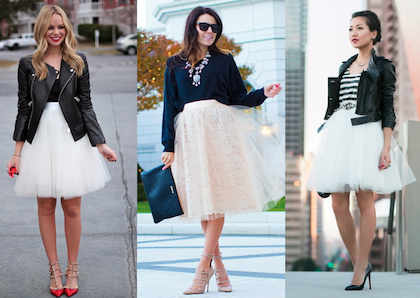 The next three bloggers, Fashion Hippie Loves, Stylish Petite, and For All Things Lovely, definitely speak to my fun-loving, girly side. Anni styles her skirt with a striped blouse and killer lace up booties. Annie looks Spring/Summer ready in her adorable pastel ensemble. Megan stuns in her classy lace & tulle outfit! The bow pumps add the perfect finishing touch to her look.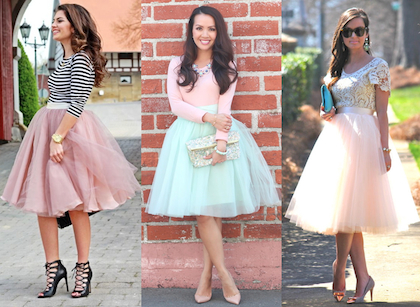 The last set of looks are styled by Atlantic-Pacific, Bows & Sequins, and Bows and Depos. Blair looks like a modern-day ballerina in her outfit; I adore her polka dot sweater with the tulle skirt and ballet flats. Jessica styled her skirt with an embellished chambray shirt and nude sandals. Most of us probably have similar pieces in our closets and can easily recreate this look. Last, Emily puts a unique spin on her outfit by pairing her fluffy tulle skirt with a blue sleeveless button-up top and metallic pumps.
It takes a lot of courage, confidence, and attitude to rock a tulle skirt, so I hope you feel more prepared to tackle this next trend. P.S. If you're looking to buy one, check out Space 46 Boutique. Till we meet again, friends!
(Top photo via Suburban Faux-Pas / Anna with Love Photography)
Rita Korkounian is a blogger from Los Angeles. She is shy and introverted, but her personality shines through her quirky writing style. She is a lover of all things food, fashion, and music.
Coast on over to her blog for life/style inspiration or follow her on Twitter @RitaKorkounian.