Details From The "Loki" Trailer You May Have Missed!
04-06-2021 by Shanel Haynes
(Marvel Entertainment/Disney+)
The complete trailer for Marvel's Disney+ "Loki" series has just dropped, along with a release date of June 11, 2021. Viewers will remember that Loki was killed by Thanos in the first-half of Avengers: Infinity War; but in Endgame, Loki managed to escape his own death thanks to the time travel shananigans of the Avengers.

The trailer not only gives viewers a glimpse into what the series will entail but also highlights some potential new characters. As with all Marvel properties, there is always something to be found in the details, so let's take a look at some of the most notable details from the trailer!
1. Statues of Timekeepers
In the beginning of the trailer, we see that Loki has been taken by the Temporal Variance Authority (TVA). The TVA timekeepers are in charge of protecting the timeline of the universe, and because Loki bent time by using the Tesseract to teleport away, he has ended up being taken by the timekeepers. According to Loki, he has been here before and we will soon find out why.
(Marvel Entertainment/Disney+)
2. Judge Renslayer
The trailer introduces us briefly to a character we assumed to be Judge Renslayer, played by Gugu Mbatha-Raw. Marvel confirmed that the star would indeed be playing a character called Judge Renslayer in the series. What adventures are in store for her character still remains unknown.
(Marvel Entertainment/Disney+)
3. Loki Broke Reality 
Loki's past actions have broken reality and he supposedly has become a variant of himself, which may have come from him branching off from his current timeline when he escaped with the Tessract. We see in a scene from the trailer Loki with the word "Variant" written in bright orange on his back. 
(Marvel Entertainment/Disney+)
4. Roxxon Corporation
As seen throughout the Marvel universe, a Roxxon Corporation store sign is shown in the trailer. For what reason this store is shown is still a mystery, but the name Roxxon Corporation has been mentioned before in previous Marvel TV series. 

(Marvel Entertainment/Disney+)
5. The Avengers Tower Destroyed 
If you look closely in the background of the trailer, you can see what used to be New York and the Avengers tower completely destroyed. The scene looks as though it's a ghost town that was decimated by something or someone.
(Marvel Entertainment/Disney+)
6. Loki Runs for President
What could be another variant of Loki is shown in the trailer with a button pinned to his jacket reading "Vote Loki". This version of Loki may be running for president, which is very interesting and leaves viewers with more questions on time travel.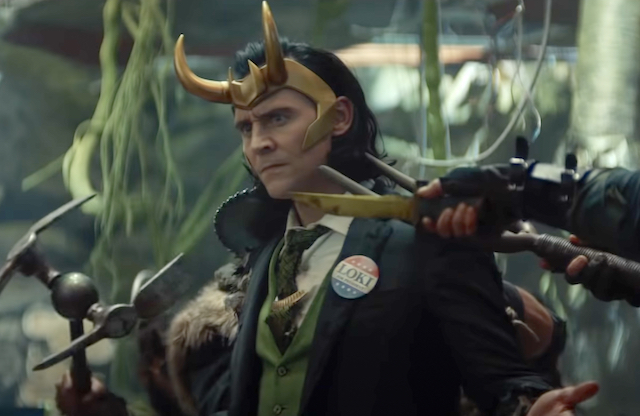 (Marvel Entertainment/Disney+)
7. A New Purple Planet
There seems to be some sort off battle taking place on a purple-colored planet. Where this planet maybe is still unknown, but the fight scene looks like one to watch.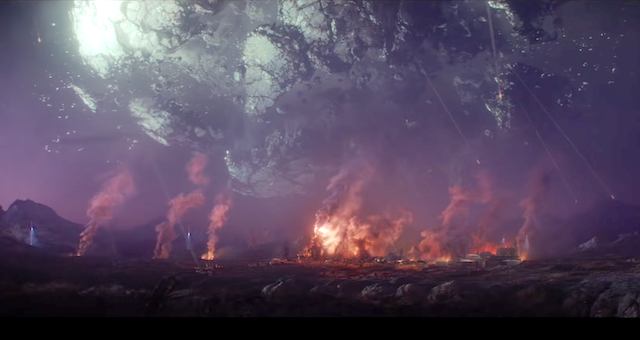 (Marvel Entertainment/Disney+)
Whatever is in store for the "Loki" series will surely be one for the books considering one of Marvel's most-loved villains is always up to something!