Highlights from 2015 D23 Expo!
Written by Sarah Osman. Published: August 17 2015
As we all know, Disneyland is the Happiest Place on Earth. But this past weekend, the 2nd Happiest Place on Earth was the Anaheim Convention Center, which played host to the annual D23 Expo celebrating all things Disney! (And Marvel. And Star Wars. And Muppets. And Pixar. And Avatar. And...)
YH Staff Editor Katie Marzullo and I donned our Mickey Mouse ears and headed to the spectacular Disney convention yesterday, where we saw the cast of ABC's hit show "Fresh off the Boat", an original car from Autopia, and toured an exhibit through the history of Disneyland. We met some fierce Disney cosplayers (my favorites were the penguins from Mary Poppins), took a look at original handdrawn sketches from classic Disney films, saw Wall-E and EVE finally go public on the red carpet, and got a sneak peek at some upcoming Disney projects. And in proper Disney fashion, a dream came true for Katie (a huge, lifelong Peter Pan fan) when we met Margaret Kerry, the real-life model for Disney's most mischievous fairy, Tinkerbell. Chatting with Kerry was delightful -- she has a bubbly personality and even reminded us to sit up straight for pictures!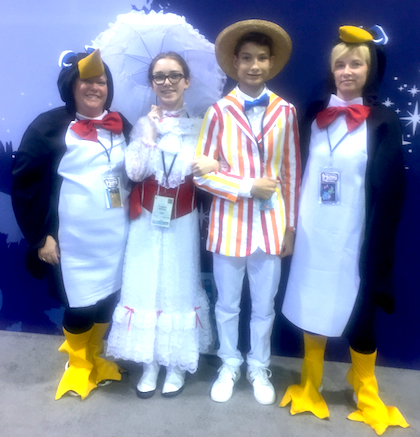 In addition to our adventures, Disney made a number of exciting announcements about their upcoming films. Here were a few of the highlights:
Shakira will shake up Zootopia
I'm so excited to hear that my spirit animal, Shakira, will be lending her voice to a Disney character! The queen of belly dancers everywhere will voice a hot pop star in Disney'sZootopia, which will hit theaters on March 4, 2016. Her character, named Gazelle, performs for the various characters inZootopia, and she will sing an original song called "Try Everything". Directed by the same helmers of Tangled andWreck-It Ralph, Zootopia follows a strict bunny-cop (Ginnifer Goodwin) as she takes on a sly fox (Jason Bateman) in a city entirely inhabited by animals, Zootopia.
The songwriters from Frozen are coming back with another animated musical
Oscar-winning songwriters Kristen Anderson-Lopez andRobert Lopez, otherwise known as the adorable songwriting pair behind "Let it Go", are about to pen some more sing-along tunes. After the stunning success of Frozen, it's not much of a surprise that these two have been brought back to Disney to bring us another fairytale. Gigantic, set during the Age of Exploration in Spain, follows Jack (of "...In The Beanstalk" fame) as he discovers a world of giants in the clouds. However, instead of discovering a rather grumpy giant, he meets Inma, a gigantic 11-year-old girl, who is just trying to find her way home. Jack agrees to help her, and the two set off an adventure together. Not much else has been said about Gigantic, other than the fact that Inma is apparently based on a real person(!). Gigantic will crash into theaters in 2018.
The Rock will play a demi-God in Moana
It is fairly surprising that it has actually taken The Rockthis long to voice a Disney character, as he's actually kind of perfect for it. But finally, Dwayne Johnson will appear in a Disney film as a demi-God named Maui in Disney's Moana. Set in the South Pacific, Moana follows a spirited teenage girl who sets sail to fulfill her ancestor's unfinished quest. She is joined by Maui, who helps her out on her voyage. The film is directed by Disney legends Ron Clements andJohn Musker (The Little Mermaid,Aladdin) and will feature music from Opetaia Foa'i. I'm excited to see yet another Disney princess, especially one who sails around the South Pacific on her own (she's bound to be fierce!). Moana sets sail on November 23, 2016.
Star Wars: Rogue One has begun principal photography
The first in the standalone Star Wars films, Star Wars: Rogue One has begun its mission! To be released in December 2016, the film is directed by Godzilla's Gareth Edwards and focuses on a group of resistance fighters who plan to steal the dreaded Death Star! The film starsFelicity Jones, Diego Luna,Forest Whitaker, and "Firefly" favorite,Alan Tudyk. I'm happy to see Tudyk pop up in aStar Wars film; he was so perfect as Wash on "Firefly" that I think anything in space suits him. (I wonder if his "Firefly" costar and buddy, Nathan Fillion, will show up in an upcoming film as well. I certainly hope so!)
Speaking of Star Wars, a Star Wars Land is coming to Disneyland and Walt Disney World
Since Disney first purchased Star Wars, fans have wondered when the series would make its way into the theme parks -- and it looks like that's about to finally happen. CEO Bob Igerannounced that a brand new Star Wars land will be built at Disneyland and at Walt Disney World, both of which will make up a whooping 14 acres of Star Wars-themed attractions. The lands will include a Millennium Falcon-themed ride as well as an "epic Star Wars adventure" (whatever that means). And of course, the lands wouldn't be complete without the great Cantina from Star Wars: A New Hope, where there will be actual alien bartenders (or, since this is Disney, waiters) on deck. In addition to the new Star Wars land, Walt Disney World will receive two more new lands -- a Toy Story-themed land and The World of Avatar, a land that will transport guests to Pandora, the land of the blue folks from James Cameron'sAvatar. It looks like I will need to plan a trip to Disney World!
Finding Dory will include some familiar and new faces
The sequel to 2003's Finding Nemo is going to include some adorable new crustaceans. The film, which focuses on Dory (Ellen DeGeneres) as she tries to find her family, will see her encounter a grumpy octopus (aptly voiced by "Modern Family's"Ed O'Neill), a confused beluga whale ("Modern Family's" Ty Burrell), and Dory's parents (Diane Keaton and Eugene Levy). Of course, Dory's friends Marlin and Nemo will join her on her adventure, and we will get to solve a few mysteries about Dory, like where did she learn to speak whale? Finding Dory will swim into theaters on June 17, 2016.
The Pirates are going to set sail once again
It's been a while since the pirates of Pirates of the Caribbean have taken off for the high seas, but they're back, and Orlando Bloom will be among them! Johnny Depptook the stage dressed as the wonderful Captain Jack Sparrow, where he told fans that the fifth film in the franchise will be entitledPirates of the Caribbean: Dead Men Tell No Tales. The film follows a down-on-his-luck Sparrow as he comes across deadly ghost pirates led by his nemesis, Captain Salazar (Javier Bardem). In order to defeat the ghost pirates, Sparrow must track down the legendary Trident of Poseidon. Yar, me mateys, Yar.
- Sarah Osman, YH Contributing Writer; additional reporting by Katie Marzullo, YH Staff Editor