Comic-Con 2015: The Dos & Don'ts of Cosplay with Cosplayer Extraordinaire Meghan Camarena!
Written by Sarah Osman. Published: July 24 2015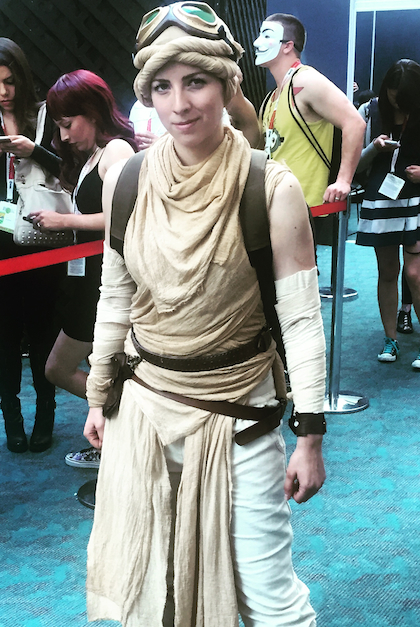 One of the most important (and unique) aspects of any major pop culture convention is the cosplayers, and Comic-Con is their Mecca! We witnessed epic group cosplay (including all of the Disney villains) to couple cosplay (Harley Quinn and the Joker seemed to be the most popular) to awesome girls rocking superhero and hot anime looks. Comic-Con is the Con for cosplayers to bust out their best outfits, and one of the queens of cosplay, Meghan Camarena, showed us how it's done.
AKA Strawburry 17, Camarena is a cosplay enthusiast who modeled multiple looks during Comic-Con, including Spider Gwen, Annie fromAttack on Titan, and, when we met with her, Rey fromStar Wars Episode VII: The Force Awakens. In addition to being an avid cosplayer, Camarena is a YouTube star who is known for her fun and vibrant channel. She also appeared on Season 22 of "The Amazing Race" with fellow YouTuber Joey Graffeca, and is currently the backstage correspondent for truTV's "Fake Off". She is one busy girl!
Camarena filled us in on how she got into cosplaying, her favorite look to cosplay as, and how to break into cosplaying:
YH: How long have you been cosplaying?
MC: I've been cosplaying since 2011. My best friend, Joey, got into the cosplay scene as well, and we would go together. We've been coming to Comic-Con since 2011.
YH: What was your first ever cosplay?
MC: It was Princess Mononoke. I sewed the cape by myself. It was made out of silk. It was hand-sewn, so that was a big accomplishment.
YH: What inspired you to cosplay as Rey today, a new character in the upcoming film, Star Wars Episode VII: The Force Awakens? Especially since she is a character that many are not even fully aware of yet?
MC: That's the thing to do in cosplay; you do the character before it's even out there. That way, when people look up how to cosplay the character, you're on the front page. But beyond that, once I saw her cosplay, I thought that she was so cool, and she's one of the leads in Star Wars. She's super BA, and I'm all about that -- I love strong female leads. I thought, "I want to be her."
YH: How long does it take to get a costume together? Do you have to get up super early, or does it depend on the costume?
MC: My Rey cosplay is a bit more simple. It's just linen that you dye with coffee, and a lot of the stuff you can find online and just put it together. My pants are from Forever 21, and my belts are just regular belts. However, certain cosplays take longer. I will be cosplaying as Annie from Attack on Titans tomorrow, and that one takes about 5 to 6 hours of me just sitting still in makeup. It just depends.
YH: If you could only cosplay one character forever, who would you choose?
MC: It would have to be Spider Gwen. I'm really into the comics, and I think she's the coolest character. That's my favorite comic right at this moment.
YH: How do you pick certain characters to cosplay?
MC: Well, obviously, the character has to inspire me. You could do stuff based on popularity, but I want to be that character. That's the cool thing about cosplay -- you choose someone who inspires you and you get to be them for a day.
YH: What advice would you have for those looking to break into cosplay?
MC: I would say for beginner cosplayers, don't overwhelm yourself. You can find the base of everything that you want to do on Amazon or online. That's where I find all of my stuff, because I plan last minute. Start there, and then add pieces to it. If you're going shopping and something reminds you of a character -- like, "that's a really good cosplay boot" -- start keeping a part of your closet dedicated to cosplay. I would say that's the best place to start; not with a sewing machine, but with what you can work with.
YH: How far in advance would you recommend people start planning for Comic-Con?
MC: Give yourself at least a month to prepare.
YH: Do you have a favorite Con to cosplay at?
MC: Comic-Con's the best. It's the Con you train all year for. All the other Conventions are really great. I love Anime Expo and Comikaze, but Comic-Con is the kingdom of nerds from every single culture. They come from animation, entertainment, comics, whatever... everyone's all here and we're all super passionate.
YH: In the world of "geeks" online, there is a big debate between "fake" geek girls and "real" geek girls. Do you have any thoughts on that?
MC: That whole thing bums me out in general. If someone is passionate about something, why don't you encourage it? I'm so tired of this whole I-can-be-the-only-girl-that's-on-top, I-can-be-the-only-girl-that's-the-queen-of-the-nerds. How about we take creative people and we encourage them together? That's what I'm about. I'm not about trying to tear down someone else. In this whole industry, online and everywhere, people just kind of want to have all that to themselves. But I think the whole world misses out when we're not sharing in other people's gifts and talents. I think that's garbage. I think people need to spend a little bit more time on what they are passionate about. Get over it and focus on you!
You can keep up with Meghan on instagram and on YouTube!
- Sarah Osman, YH Staff