Comic-Con '12 Wrap-Up: Day Three!
Written by Katie Marzullo. Published: July 15 2012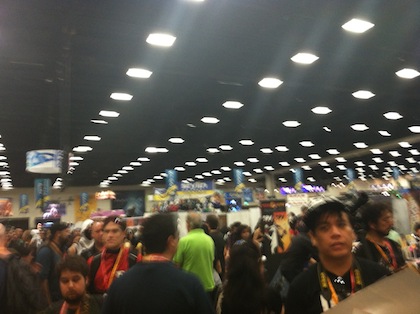 It's a madhouse... A MADHOUSE!!!
Today, in lieu of my usual Sunday Music Vids, I figured it would make more sense to continue you real-time(ish) coverage of the 2012 San Diego Comic-Con!
On Day 3, I found myself able to wonder off from the production team to really immerse myself into the Comic-Con experience. So, I threw on my half-assed Harry Potter "costume" and hit the floor! Right off the bat, the immensity of the space hits you. The venue is pretty huge to begin with, but every square inch was filled, either with a booth or a body. Artists and independent filmmakers shared the same space with major movie studios and video game brands; vendors and craftspeople sold their wares; Trekkers mingled with Star Wars geeks... mass hysteria!!! And I made a few new friends along the way too.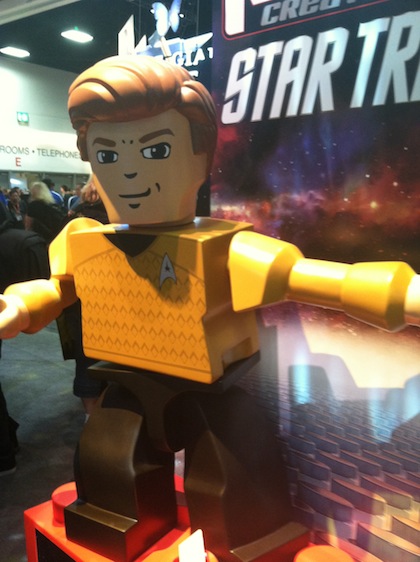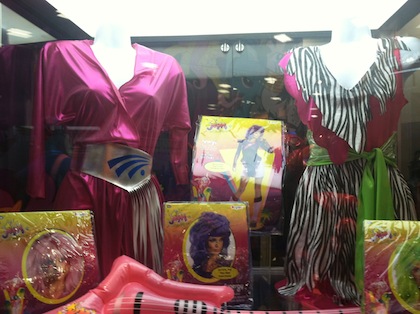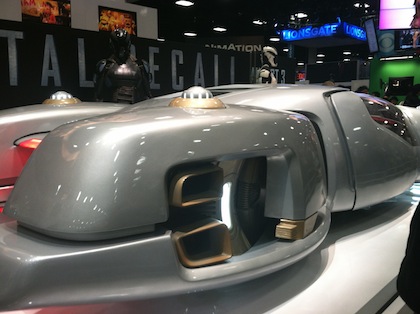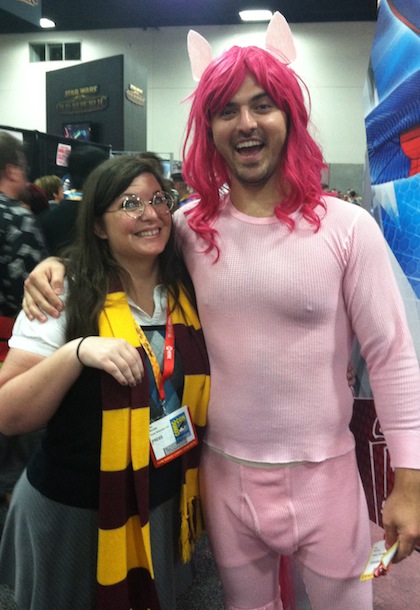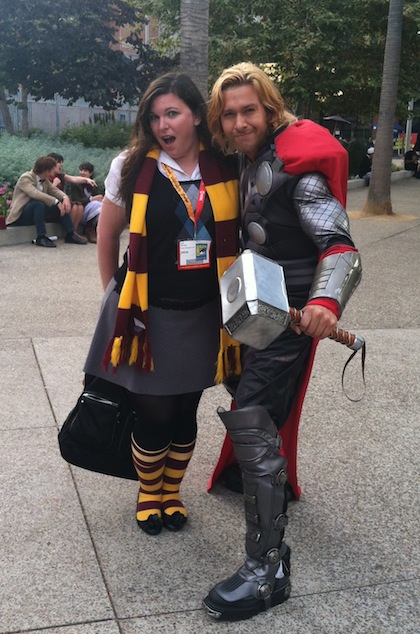 On a personal side note, I noticed that A&E had sent some peeps out on the street in Bates Motel robes, handing out little Bates Motel soaps, in an effort to raise awareness for their upcoming prequel series, "Bates Motel". It always warms my heart to see the Psychotrain at full-throttle...
After my harrowing trip to Ground Zero of Comic-Con, I met back up with our crew for some interviews. First up, we had Thomas Jane, accompanied by artist Tim Bradstreet, to chat about their comic book collabo. We presented Thomas with a hand-drawn portrait of himself, which Tim promptly autographed for us!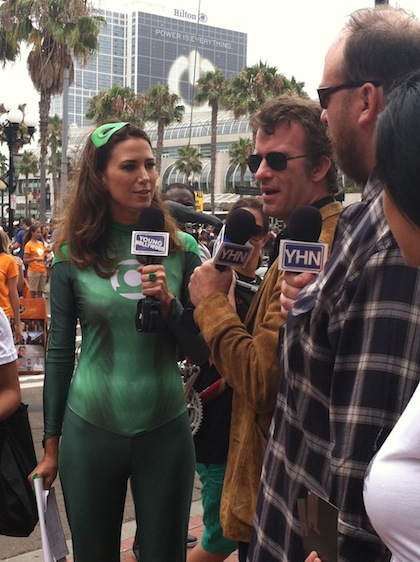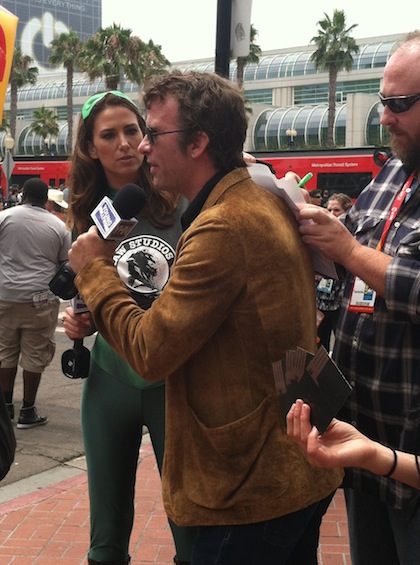 Later, we headed to the Hilton and jumped into the press line for the cast of "Glee"! Unfortunately, though, they wouldn't allow us to take still photographs, so I have no personal evidence of this, nor of the fact that I finally got to see Darren Criss in person, nor that when he first walked in the door, which was right next to me, he saw my HP ensemble and said, "Sweet!" ... Sweet, indeed. Meanwhile, we also got to chat with Lea Michele, Cory Monteith, writerIan Brennan, and executive producer Brad Falchuk -- definitely keep an eye out for that segment(s)!
Then, we headed back out to the waterfront where we got to sit down and be in the general presence of a true legend -- B-movie extraordinaire,Roger Corman! Flanked by a couple beauties from his latest masterpiece, Attack of the 50ft Cheerleader, Mr. Corman was the epitome of class and humor. They don't make 'em like this anymore!
The day ended with quite a bang. AMC's hit series "The Walking Dead" transformed nearby Petco Park into a zombie wasteland, setting up an elaborate obstacle course which they dubbed The Walking Dead Escape. We strapped cameras onto our own Nikki Novak and an intern and set them loose into the fray, dodging the undead while making their way through different obstacles. From my vantage point, it was quite a spectacle. Thankfully, our crew made it out alive, although Nikki did manage to get zombie-tagged...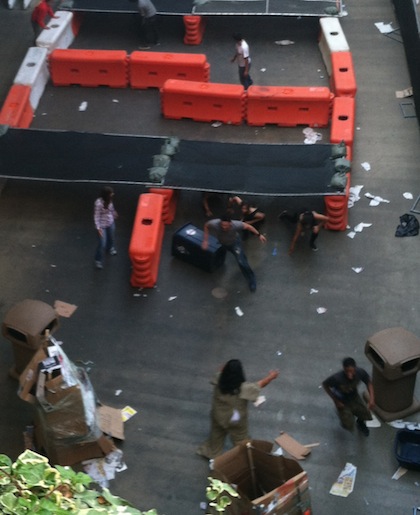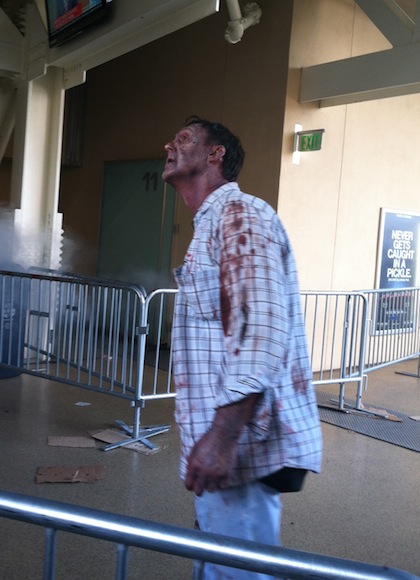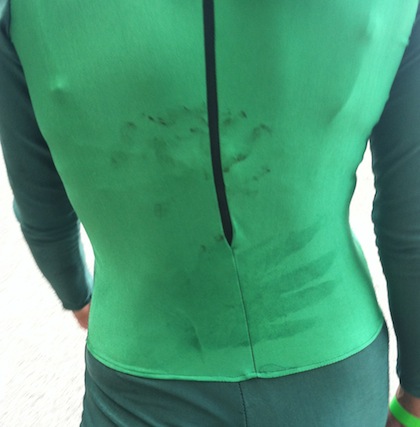 San Diego continues to provide quite the unforgettable experience. And we still have one day left to go! Bring it on!
- Katie Marzullo, YH Staff Editor