Coachella Must-See Artists Guide!
Written by Samantha Atkin. Published: April 09 2015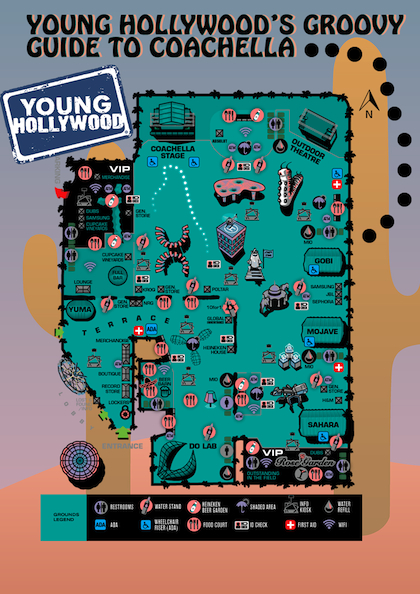 With the arrival of April comes many things, including Passover, Good Friday, Easter, and COACHELLA — the true kick-off to the music festival season! Among the many music fests I have attended, Coachella in Indio, CA, is one of my favorites. Taking place over not one but two weekends in mid-April, Coachella has grown to become one of the most anticipated festivals out there, and for good reason. With the great artist lineups, warm weather, beautiful people, and numerous celebrity sightings, you can understand why people yearn for this time of year.
Since so many cool bands and DJs perform at Coachella, it is impossible to see every artist you want to see if you only go one weekend. We are forced to make the agonizing decision of choosing one artist over the other due to the same or overlapping set times, large crowds, and spread-out stages. I know that we all have "that friend" who is a huge music lover and becomes the pack leader all weekend. They have a premade schedule of which artists they want to see, and you're totally fine with following their lead. But if there happens to be a clash of opinions, or just a state of uncertainness, I have created a Must-See Artists Guide to ensure you don't miss out on any great performances and that you have zero regrets... at least in the music watching department.
Friday
5:00 PM -Azealia Banks -Coachella Stage
7:00 PM -Alabama Shakes - Outdoor Theatre
9:15 PM -Tame Impala - Coachella Stage
OR
9:35 PM -Nero - Outdoor Theatre (depends on if you want a good rock performance or a fun DJ)
Saturday
1:25 PM -Matthew Koma - Sahara Tent
5:10 PM -Chet Faker - Outdoor Theatre
6:00 PM -Hozier - Coachella stage
7:30 PM -Alt-J - Coachella Stage
OR
7:10 PM -Glass Animals - Gobi Stage
OR
6:55 PM -Run The Jewels - Mojave
9:15 PM -Jack White - Coachella Stage
OR
9:35 PM -FKA Twigs - Gobi Stage (who knows, maybe you will be lucky enough to see her rumored fiancé Robert Pattinson)
Sunday
4:30 PM -St. Lucia - Coachella Stage
5:30 PM -Vance Joy - Mojave Stage (fun fact: He is going on tour with Taylor Swift & is completely drool-worthy, both in his looks and his voice)
6:20 PM -Madeon - Sahara tent
7:25 PM -Kaskade - Coachella Stage
8:20 PM -Jamie XX - Gobi Stage (he is the lead singer of one of my all-time favorite bands, The xx; he is super artistic and creates mesmerizing music on stage)
(Disclaimer: All performance times and locations are subject to change; I made my list taking into consideration the day and set time of all the artists. Some of the big headliners who I think are a must-see, like Drake and AC/DC, are not included in my list due to having no other time conflicts with other artists!)
- Samantha Atkin, Guest Contributor