Celebs Get Their Swag On At Secret Room Events Oscars Gifting Lounge!
Written by Sarah Osman. Published: March 01 2016
Awards season isn't just about pretty statues; it's also a chance for up-and-coming entrepreneurs to show off their hardware and celebs to collect some new and exciting swag! Our own YH editor extraordinaire, Katie Marzullo, and I headed to the W Hotel in Westwood last week for the Secret Room Events Red Carpet Style and Beauty Lounge to celebrate the 88th Annual Academy Awards, where we learned about the hottest new products to hit the market. And since this was a pre-Oscars soiree, a number of celebs came out to partake as well, including Renee Lawless ("The Haves and the Have Nots"), Tahj Mowry ("Baby Daddy"), Katrina Bowden ("30 Rock"), and Michael Madsen (The Hateful Eight).
Katie and I snacked on delicious treats from The Perfect Bite Co. (frozen hors d'oeuvres you can pick up at the store; we highly recommend them) as we chatted with the different vendors.

We learned about Reptile Eyewear (see above) and their many varieties of styles and lenses, which offers an unheard-of lost or stolen guarantee. Yea, that's right -- if you lose your sunglasses, you can receive a brand new pair within one year of purchase! This is definitely ideal for those of us (like me) who are constantly losing our sunglasses.
Jan Peyser gifted each of us with one of her stunning handmade necklaces, all of which she designs herself.
We learned how to make our hair shiny and fabulous with label.m haircare, who have created a line of shampoos, conditioners, and body lotions speckled with diamond dust to give you that extra red carpet sparkle this award season! I've been using their curl cream -- it really works! -- and Katie reported her color-treated locks looking more vibrant than usual after air-drying her hair following label.m's shampoo and conditioner treatment.
We got a demo of how
Cure
, the most popular exfoliator from Japan, works.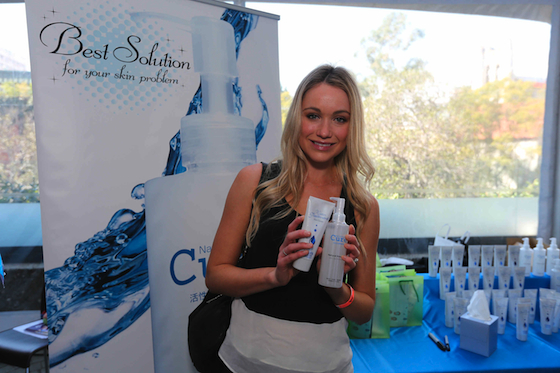 I picked up a few bathing suits for my friend's child from
Rashoodz
, which specializes in reusable, water-safe diapers with cute designs to keep both your child and the water clean!
Katie picked up some treats for her puppy via
Petzi
, an innovative little device that allows you to talk to and dispense treats for your pet when you're not home!
IvyJade
introduced us to their brilliant idea of stylish handbags that already come equipped with everything a gal-on-the-go needs for a night out, including mini-deodorant, Tic-Tacs, chapstick, and (ahem) condoms.
PocketPeople
gifted us with a unique, handmade mini-doll carrying inspiring and comforting messages, with their overall credo being "Everyone Matters." Aww!
Katie and I each picked out our own perfect shade of lipstick from
Cailyn Cosmetics
, which goes on wet but has a matte finish that doesn't fade or smear -- crucial for a long night at an awards show!
Amy's Social Butterfly
showed off their super adorable hand-made, custom greeting cards for just about any occasion you can think of (their Oscars-themed card was fabulous!).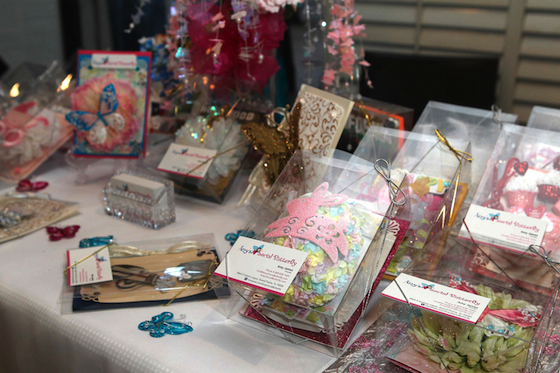 We sampled some Twisted Cherries inside jell-o shots -- for 21 & over only, please!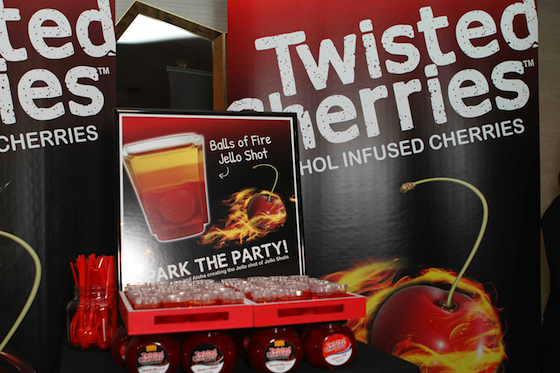 Additional sponsors included Airelle and Dam Good Soap.
Take a look at the pictures and tell us which product you'd be most excited to try!
(Photos via Secret Room Events)
- Sarah Osman, YH Contributing Writer; additional reporting by Katie Marzullo, YH Staff Editor