Celebs Brave Wind & Rain for Indie Spirit Awards Gift Lounge!
Written by Sarah Osman. Published: March 04 2014
Despite it being a chilly, rainy afternoon, the stars came out in style the day before the Oscars to honor the unspoken heroes of indie film at the Independent Spirit Awards.
A commune of pop-up tents on the beaches of Santa Monica protected the celebs from the elements, and inside one of those tents was the Official Backstage Gift Lounge! Breyers Gelato Indulgences immediately hooked us up with an entire tub of gelato as we settled in to meet some of Hollywood's finest and watch the show. Breyers was the primary charity for the event and asked celebrities to write down what would be included in their perfect date night, and some of the answers were quite interesting: "American Horror Story" starAngela Bassett wrote that hers would include being comfy in her PJs with snacks that are a little sweet, a little salty, and a little crunchy, while everyone's favorite cheerloading coach on "Glee," Jane Lynch, said that hers would include reading a great book and gelato.
Lynch actually gave me a quick sneak peek on what we can expect to see coming up next on "Glee": "We have the 100th episode coming up. It's a two-parter. Gwyneth Paltrow andKristin Chenoweth are in it. The Glee Club has been abolished because they didn't win Regionals, so you know, bye-bye... so they're trying to figure out a way to get it back in the auditorium. It's a lot of fun. A lot of the numbers are numbers that were done throughout the season, and viewers got to vote on which numbers they'd like to see again."
I also got to speak with funny ladies Natalie Morales andMichaela Watkins, who told me what to expect from ABC's sleeper comedy, "Trophy Wife": "We got a wedding episode coming up and a lot of great guest stars," Morales told me, while Watkins added, "There will be a wedding, there will be a death, ooooh, and Sad Steve comes back and meets my son."
And in even more exciting news, Watkins recently created a show called "Benched" that was just picked up by USA Network. The show will star Eliza Coupe and focuses on public defenders.
I also had the chance to chat with a true darling of independent film,Paul Dano. Dano filled me in on a few of his favorite authors and how he got into character for his role in12 Years a Slave: "I have a lot of favorite writers. A few include John Steinbeck and Haruki Murakami. For my role in 12 Years a Slave, I focused on what came beforehand and what leads a person to that point, and you end up finding an entry point somehow. It was not easy."
Fred Armisen, the star of IFC's oddball sketch show, "Portlandia", filled me in on the weirdest thing that he has ever seen in Portland, and what will pop up next on the show: "I once saw a naked bike ride in Portland. That was different. In this season, we'll definitely get into getting to know the characters in the show, and we'll deal a lot with the idea of getting away."
I even got to chat with the marvelous June Squibb, nominated for an Oscar for her role in Nebraska, who has clearly been enjoying herself this Awards Season: "I feel good! I'm really excited. I get to get all dressed up, I have a really pretty gown to wear. I'm enjoying the Indie Spirit Awards for now, I've actually never been to these!"
Other vendors at the lounge included Dark Horse Wine, Manito Linens, New Balance, Sabra, Murad, and DJI Phantom 2 Vision Flying Cameras!
Check out more pics from the gift lounge below: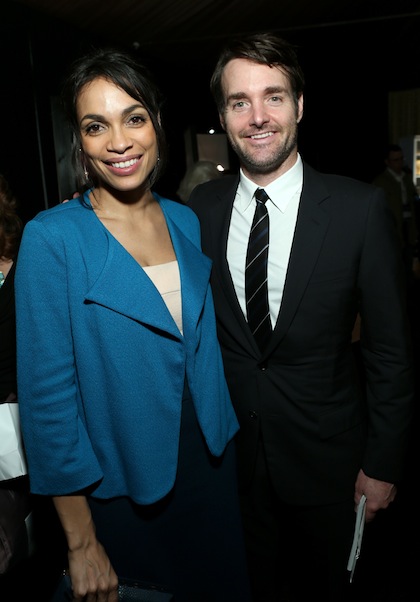 As for the Awards ceremony itself, big winners included eventual Oscar winnersMatthew McConaughey (Best Male Lead), Cate Blanchett (Best Female Lead), Lupita Nyong'o (Best Supporting Female), Jared Leto (Best Supporting Male), and Best Feature victor12 Years a Slave, while its director Steve McQueen took home Best Director. Fruitvale Station was awarded Best First Feature, and Nebraskascribe Bob Nelson won Best First Screenplay. Congrats to all the winners!
(Photos via LFB Media Group)
- Sarah Osman, YH Staff; additional reporting by Katie Marzullo, YH Staff Editor