Cast of "Dancing With The Stars" Season 27 Revealed!
Written by Brooke Sharland. Published: September 12 2018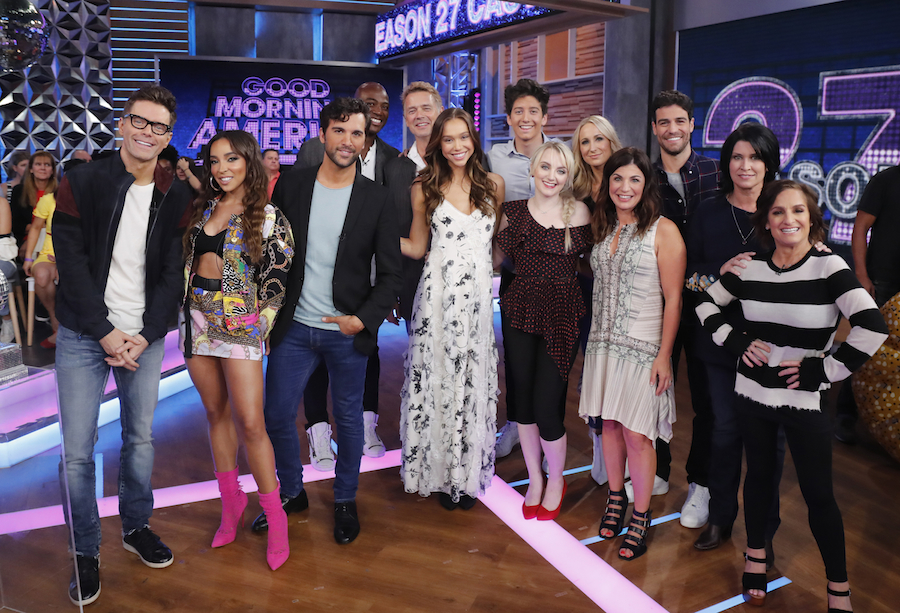 This morning (September 12), the "Dancing With The Stars" cast was revealed for the upcoming 27th season. FINALLY!!
Fans have been speculating for months on who this season's cast would be, and now, we finally have answers! Let's take a look at our couples that will be entering the ballroom this fall, shall we?
Juan Pablo Di Pace (withCheryl Burke)
You may recognize Juan Pablo from one of his most recent roles as Fernando, Kimmy Gibbler's husband in "Fuller House". This is the third "Fuller House" star to hit the "DWTS" dance floor, followingCandace Cameron Bure in Season 18 andJodie Sweetin in Season 22. He is paired with two-time "DWTS" winner Cheryl Burke.
John Schneider (with Emma Slater)
From the 1980s hit series "The Dukes of Hazzard", "Bo" Duke himself John Schneider with take the dance floor with Season 24 winner, Emma Slater.
Milo Manheim (withWitney Carson)
17-year-old Milo Manheim joins the "DWTS" cast after recent stardom with this Summer's new Disney Channel Original Movie, Z-O-M-B-I-E-S.Manheim pairs up with Season 19 winner Witney Carson.
Joe "Grocery Store Joe" Amabile (with Jenna Johnson)
Fan favorite from "The Bachelor" and "Bachelor in Paradise", "Grocery Store Joe" will woo his way into the ballroom with recent "Dancing With the Stars: Athletes" winner, Jenna Johnson. Heads up, Joe -- roses can't save you from eliminations in the ballroom! Once you're eliminated, it's clean up on aisle DWTS!
Evanna Lynch (with Keo Motsepe)
Something wicked this way comes! Evanna Lynch, aka Luna Lovegood from theHarry Potter film franchise, will take the ballroom with pro Keo Motsepe. Keo is notorious for getting voted off the show early each season, so let's hope Evanna can cast the perfect spell to have them dancing all the way into the finals!
Nancy McKeon (with Val Chmerkovskiy)
Another star from a 1980s hit series, "The Facts of Life" star Nancy McKeon will pair up with two-time winner (and seven-time finalist), Val Chmerkovskiy.
Mary Lou Retton (with Sasha Farber)
She may have won a gold metal, but can she take home the Mirrorball Trophy? Olympic gymnast, '80s icon, and one-time America's Sweetheart Mary Lou Retton will pair with Sasha Farber, who came in 3rd last season with Olympic ice skater, Tonya Harding.
Tinashe (with Brandon Armstrong)
With hits like "2 On" and "Body Language", it's no secret that hit singer Tinashe should have a good sense of rhythm, but will it translate into the ballroom? The singer pairs with the NEWEST "DWTS" pro, Brandon Armstrong, who was upgraded from troupe dancer to pro for the upcoming 27th season.
Nikki Glaser (with Gleb Savchenko)
Comedian Nikki Glaser joins the cast with pro Gleb Savchenko. Fans may recognize Glaser from her stand-up specials, or her appearance inAmy Schumer's 2015 comedy hit,Trainwreck. Will she go far, or will she have us laughing her all the way to elimination?
For those of you that aren't up to date on the latest social media influencers, Alexis Ren is one of the top Instagram models, with just shy of 13 million followers on the platform. In 2018, she was namedSports Illustrated's Swimsuit 2018 Rookie. She pairs up with newer pro, Alan Bersten.
Danelle Umstead (withArtem Chigvintsev)
Paralympian and Alpine skier Danelle Umstead will join Artem Chigvintsev this season. Umstead has a genetic condition called retinitis pigmentosa, meaning her vision is impaired.
Bobby Bones (with Sharna Burgess)
On-air radio personality Bobby Bones is best known as the host of nationally syndicated radio show "The Bobby Bones Show". Bobby pairs up with fiery redhead pro Sharna Burgess, who came in second place with partner Josh Norman on the recent "Dancing With The Stars: Athletes" season.
DeMarcus Ware (with Lindsay Arnold)
Former linebacker for the Denver Broncos, DeMarcus Ware will join this season's cast with Season 25 winner Lindsay Arnold. Will this season be a touchdown for the pair?
So, what do you guys think? Who will exit the ballroom first? Have any predictions of who will take home this season's coveted Mirrorball Trophy? The Season 27 two-night premiere of "Dancing with the Stars" airs LIVE on September 24 at 8/7c on ABC!
(Image via Lou Rocco/ABC/Getty Images)
- Brooke Sharland, YH Contributing Writer